Madonna Brought Her Holograms To The 2019 BBMAs & Twitter Had A LOT To Say
By Paris Close
May 1, 2019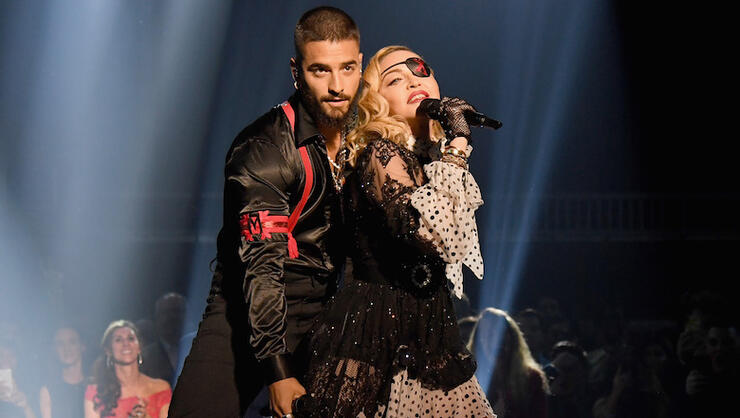 Madonna spiced up her performance at the 2019 Billboard Music Awards with some special effects — and Twitter had a lot of questions. (Like, What's with the eye-patch? and Is she a pirate?)
On Wednesday night (May 1), the Queen of Pop delivered a theatrical and surprisingly techy presentation of her seductive new single "Medellín" alongside featured artist Maluma. Expecting nothing less, the 60-year-old pulled out all the stops for her production, including holograms of herself that projected her in different costumes to resemble the titular persona of her latest album era, Madame X. As you know, it was reported that the legendary pop star blew $5 million on what was hyped to be the most iconic performance of the evening.
Even as Madonna and her Columbian collaborator joined backup dancers — and Madonna's digital clones! — for an all-out cha cha-train, viewers at home couldn't pull their attention away from all the CGI action taking place on their television screens. Needless to say, watchers had plenty of mixed feelings about the display.
From the praise-worthy to the hilarious to the downright rude — see the best tweets in response to Madonna's BBMAs performance below.
Chat About Madonna Brought Her Holograms To The 2019 BBMAs & Twitter Had A LOT To Say