Madonna Announces Intimate 'Madame X' Theater Tour: See The Dates
By Paris Close
May 6, 2019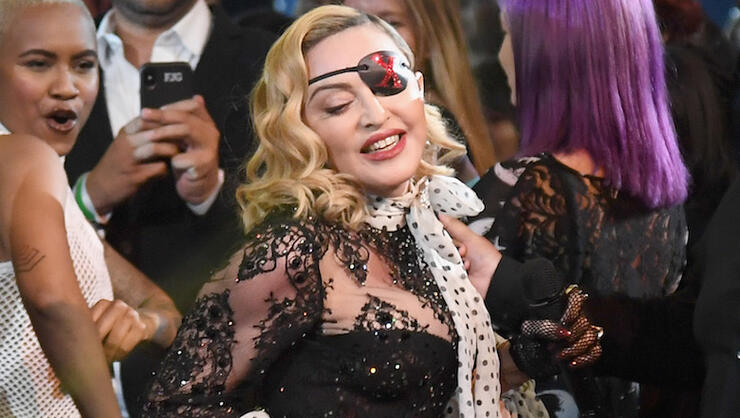 Madonna is bringing Madame X to a theater near you!
The Queen of Pop herself announced a brand-new tour early Monday morning (May 6) in support of her upcoming album, Madame X, dropping June 14. The 60-year-old entertainer unveiled the North American dates of her forthcoming "Madame X Tour" via a video announcement on social media.
Madonna's U.S. concerts will kick off with rare and intimate theater showcases, including a seven-night stay at New York's BAM Howard Gilman Opera House in September, followed by a four-night residency at Chicago Theatre in Illinois in October, and then five shows at Los Angeles' The Wiltern in November. (Request tickets via Live Nation here through Friday, May 10.)
Per the press brief, the "Material Girl" singer is also slated to stop in Boston, Philadelphia, Boston, Las Vegas, Miami, and elsewhere. The trek will then continue through 2020 with sets in Lisbon, London, and Paris.
The tour reveal comes less than a week after Madonna delivered an unforgettable performance of her smash single "Medellin" at the 2019 Billboard Music Awards alongside Columbian singer Maluma, who also appears on the track "B**ch I'm Loca" on Madame X. Additional artists to featured on Madonna's long-awaited fourteenth studio album include rappers Swae Lee for "Crave" and Quavo for "Future," as well as Brazilian singer Anitta for "Faz Gostoso."
Madonna's "Madame X Tour" U.S. 2019 Dates below.
09/12 - New York, NY — BAM Howard Gilman Opera House
09/14 - New York, NY — BAM Howard Gilman Opera House
09/15 - New York, NY — BAM Howard Gilman Opera House
09/17 - New York, NY — BAM Howard Gilman Opera House
09/19 - New York, NY — BAM Howard Gilman Opera House
09/21 - New York, NY — BAM Howard Gilman Opera House
09/22 - New York, NY — BAM Howard Gilman Opera House
10/15 - Chicago, IL — Chicago Theatre
10/16 - Chicago, IL — Chicago Theatre
10/17 - Chicago, IL — Chicago Theatre
10/21 - Chicago, IL — Chicago Theatre
11/12 - Los Angeles, CA — The Wiltern
11/13 - Los Angeles, CA — The Wiltern
11/14 - Los Angeles, CA — The Wiltern
11/16 - Los Angeles, CA — The Wiltern
11/17 - Los Angeles, CA — The Wiltern
Photo: Getty Images
Chat About Madonna Announces Intimate 'Madame X' Theater Tour: See The Dates