The Lumineers Cover Creedence Clearwater Revival In A Bathroom: Watch
By Katrina Nattress
May 7, 2019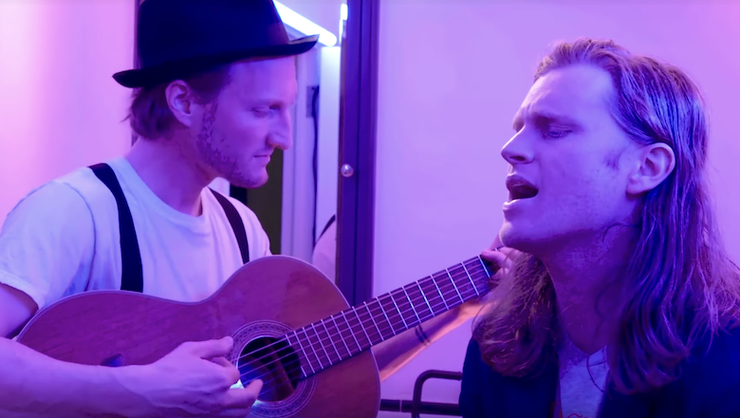 The Lumineers recently performed their new single "Gloria" on The Late Show With Stephen Colbert, and during that visit founding members Wesley Schultz and Jeremiah Fraites snuck into their greenroom bathroom to cover one of their favorite songs — Creedence Clearwater Revival's "Have You Ever Seen The Rain?" Fraites took a break from his usual percussion duties to strum an acoustic guitar, while Schultz sang. After the performance, the duo explained the reasoning behind the peculiar locale.
"We found ourselves in the bathroom here, in our green room. We chose this very special spot, because this is where the magic happens when you make music and you can't afford expensive reverb, and things like that," Schultz explained. "You get natural reverb right here: in the shower, in the bathroom. There's so much tile, and this is how we used to make demos back in New Jersey 12 years ago, 15 years ago."
Watch Schultz and Fraites cover "Have You Ever Seen the Rain?" below.
The Lumineers are gearing up to release their third studio album, appropriately titled III, in September. iHeartRadio recently sat down with Schultz and Fraites to chat about the new project, and what listeners can expect. Read that interview here.
Photo: YouTube
Chat About The Lumineers Cover Creedence Clearwater Revival In A Bathroom: Watch