Tom DeLonge Teases 'Triumphant, Soaring' New Angels & Airwaves Song
By Katrina Nattress
May 7, 2019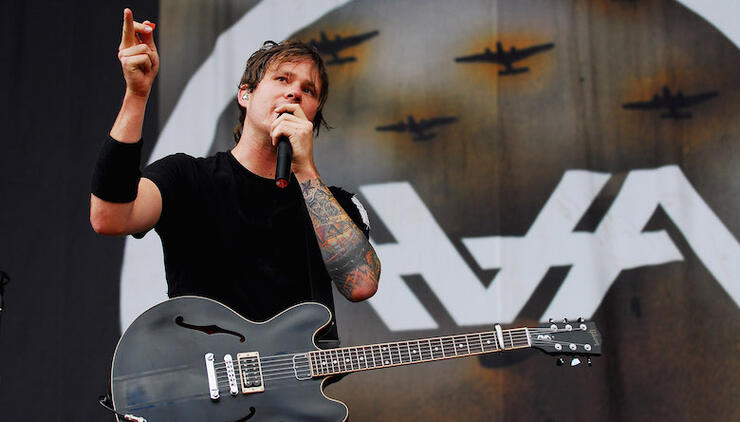 Last week, Angels & Airwaves gifted fans with new music in "Rebel Girl" and announced their first tour in seven years, now Tom DeLonge is giving fans even more to be excited about.
On Monday (May 6), the frontman took to Instagram to confirm that a new album is in the works, tease a new song, and let fans know what to expect from the new project and tour.
"My LOVE of punk rock will show on this new album and tour," he wrote alongside a portrait of himself. "I plan to build upon that rebellious, musical foundation for the rest of my life..."
"#RebelGirl is def one of my favorite tracks on the album so far - as I am addicted to 80's NEW WAVE," he continued. "Most of those bands from the 80's were just punk bands whom discovered electronic instruments at some point. But, this next /\\//\ song- Well, it's the triumphant, soaring, and goosebumps-giving song by Angels And Airwaves that you have been waiting for. :)"
Check out the post and AVA tour dates below.
Angels & Airwaves 2019 Tour Dates
09/04 – Phoenix, AZ @ Marquee Theatre
09/06 – Austin, TX @ Emo's
09/07 – Dallas, TX @ House of Blues
09/09 – Atlanta, GA @ The Masquerade
09/10 – Orlando, FL @ House of Blues
09/11 – Charlotte, NC @ The Fillmore
09/13 – Silver Spring, MD @ The Fillmore
09/14 – Philadelphia, PA @ The Fillmore
09/15 – Boston, MA @ Paradise Rock Club
09/17 – New York, NY @ PlayStation Theater
09/18 – Cleveland, OH @ House of Blues
09/20 – Detroit, MI @ Saint Andrews Hall
09/21 – Chicago, IL @ House of Blues
09/22 – St. Louis, MO 2 The Pageant
09/24 – Denver, CO @ Summit
09/25 – Salt Lake City, UT @ The Union
09/27 – Seattle, WA @ Showbox SoDo
09/28 – Portland, OR @ Roseland Theater
09/30 – San Francisco, CA @ The Regency Ballroom
10/01 – Los Angeles, CA @ The Belasco Theater
10/02 – Anaheim, CA @ House of Blues
10/04 – Las Vegas, NV @ House of Blues
10/05 – San Diego, CA @ House of Blues
Photo: Getty Images
Chat About Tom DeLonge Teases 'Triumphant, Soaring' New Angels & Airwaves Song