Meghan Markle, Prince Harry Break Away From Kate Middleton, Prince William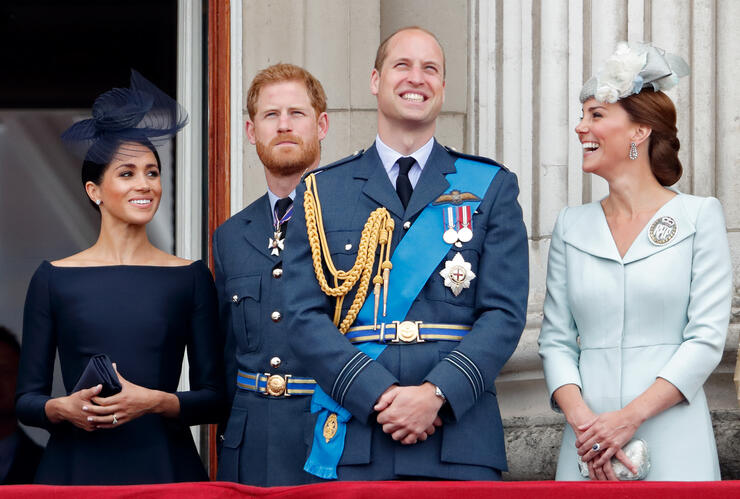 Breaking up is hard to do. Well, it is for us, anyway. This particular break up seems like it's actually a really positive thing for everybody involved. And by "everybody involved" we mean, of course, Prince Harry, Meghan Markle, Prince William, and Kate Middleton. Not only have the Royal Fab Four split up their royal households/offices, the latest reports suggest the Duke and Duchess of Sussex plan to step away from their joint charity with the Duke and Duchess of Cambridge.
Harry, William, and Kate established The Royal Foundation together back in 2011, while Meghan officially joined as a patron in February 2018. According to The Sun, Meghan and Harry will break away from this group project in order to pursue individual charitable efforts. Us Weekly has also confirmed the rumors that this separation will be definitely happen, though no exact date has been reported yet.
While this means there will be less joint appearances of all four royals for official royal duties, this decision has reportedly helped mend the rift between William and Harry. "Certainly the animosity over status, money and Meghan meant that the split in their joint households had to be brought forward much more quickly than anticipated, so perhaps it was inevitable that their joint charity has to be split too," a source told The Sun.
"Meghan and Harry want to do things differently to William and Kate. William is the future king and so is sometimes restricted in what he can do," the insider continued. "The Sussexes want the flexibility of more commercial decisions. But the brothers' relationship has vastly improved since their working lives have separated."'
News of the split is expected be announced at the next board meeting for The Royal Foundation, which will be held on June 19. Though the split will be announced, it will take some time for the separation to go through. "Nothing will be done quickly and it'll be a phased untangling of many of the joint initiatives, not an overnight chop," another source explained.
Though we won't see these four carrying out official royal duties together, we'll still get to see them gather together for important family events. Trooping the Colour will take place next Saturday (June 8) and Archie's christening should be right around the corner, as well.
Photo: Getty
Chat About Meghan Markle, Prince Harry Break Away From Kate Middleton, Prince William