Snooki Shares Full-Body Photo 4 Days Postpartum, Gets Slammed Over Caption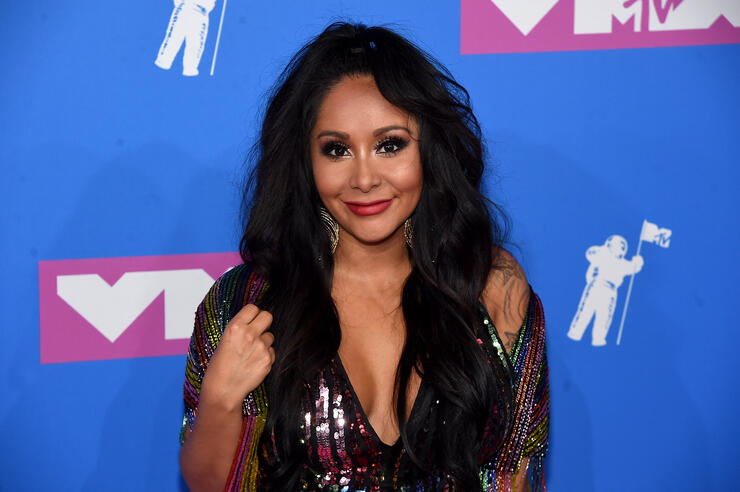 Snooki is feeling good just four days after welcoming her third child Angelo James Lavalle into the world. The Jersey Shore star shared a photo of her post-baby body on Instagram, updating her followers on how she was feeling after the birth.
Snooki isn't one to shy away from keeping things pretty real on social media, either. She showed off her still-present bump and revealed she's experiencing cramps, as well. Despite her honesty, the 31-year-old faced backlash from mom-shamers over her caption.
"4 days postpartum & body is feeling good besides the fact that my cramps still feel like contractions!" Snooki wrote. "Still healing but can't wait to jump back into the gym hardcore this summer! Time to be a fit mawma again for my nuggets."
Not long after sharing she was excited to get back to the gym, Snooki's post was flooded with comments shaming her for her desire to get fit. "Is this really necessary? God forbid you don't look skinny days after birth...there's women out here struggling months after to lose weight but you just HAVE to show everyone how thin you look already! This is like the fourth pic of your body you posted.. we get it!" one follower wrote.
"Why is there so much pressure to bounce back? Why is there so much focus on how flat a new moms belly is?" another chimed in.
Snooki edited her original caption to respond to the backlash with her signature candor. "Everyone is entitled to their own opinion, but don't attack me for wanting to become strong and fit again after my pregnancy. My boobs are leaking and pulsating, my butthole is sore and my cramps are unbearable & I'm still wearing a diaper the size of Texas. Postpartum is a bitch. But I'm allowed to look on the bright side of things and want to get back into shape. Don't punish me for that," she wrote.
Despite the Instagram criticism, it's clear Snooki is enjoying her new life as a mom-of-three. How could she not? Her kids are *so* cute! Congratulations again, Snooki!
Photo: Getty
Chat About Snooki Shares Full-Body Photo 4 Days Postpartum, Gets Slammed Over Caption