Chris Brown Is Not Sorry For His Offensive Lyrics About Black Women's Hair
By Peyton Blakemore
July 2, 2019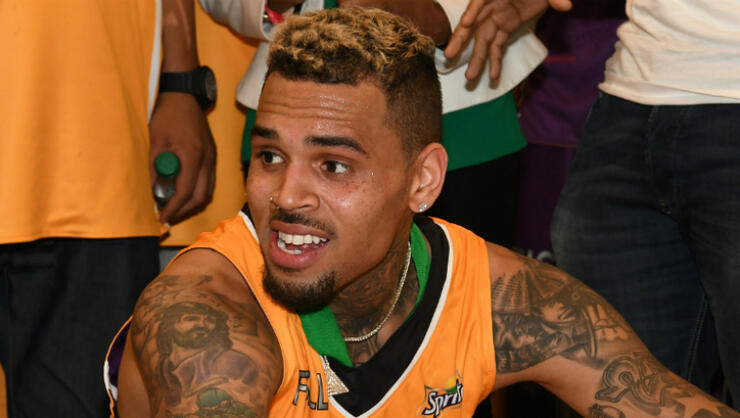 Chris Brown is not sorry for his controversial lyrics about black women's hair in his new song "Need a Stack." In fact, he's so not sorry, he's dug himself an even deeper hole while defending the offensive bars.
Earlier this week, Chris began receiving backlash for the track — which features Lil Wayne and Joyner Lucas — following the release of his lengthy new album Indigo.
"Diggin' it, then I'm lickin' all on that pu**y, put it right there/Only wanna f**k the black b*tches with the nice hair," he raps on the song. The offensive line caused many of Chris' fans to take to social media to ask him what he meant by it, as the line clearly means to imply that there are "good" and "bad" types of black hair.
Chris has since responded to the criticism of his lyrics with a number of even more offensive comments and videos. First, he issued a reply in the form of an Instagram comment. "HAAAAAAA," he wrote, responding to an Instagram post about his controversial lyrics. "Y'all trippin trippin. Y'all b*tches don't wanna f**k da n***a with f**ked up teeth do you??? Only b*tches upset is the uglies (not the black queens)."
Since the 30-year-old singer chose to respond in the way that he did, he drew even more criticism, which he also chose not to ignore. Hours after his first post, he replied to a fan's comment that called him out for discriminating against his "own kind."
"Weird a** angry people," he responded. "Sincerely, from the bottom of my ballss ... I DON'T GIEV A F**K BOUT YALL NEGATIVE BOOTYFACE A** B*TCHES. IM START GIVING AWAY FREE LACE-FRONTS FOR ALL YOU WIERD FEMALES WITH THE SKID ROW EDGES AND LOW SELF ESTEEM."
"ASIDE FROM THAT," Chris continued. "HOP OFF THESE N*TTS. Half y'all look like the BUDWEISER FROGS.. SO PLEASE DONT COME WIT DA BULLS*T. I WILL FIRE DAT A** UP AND ROAST THE HELL OUT YOU OVERLY SENSITVE DUCKHEAD A** WEIRDOS."
And Chris being Chris, the defense of his lyrics didn't end it there. He then issued a challenge to his critics on Instagram. "Okay, challenge. All the angry uglies that's mad at what I said. Post a picture of what you look like, please," he said in a video. The "Back To Love" singer later posted a second video, saying, "Y'all ain't send no pictures in. Ohhhh. You feel dumb don't you? Exactly!"
Chat About Chris Brown Is Not Sorry For His Offensive Lyrics About Black Women's Hair