Dog The Bounty Hunter Tearfully Mourns Late Wife Beth At Colorado Memorial
By Peyton Blakemore
July 14, 2019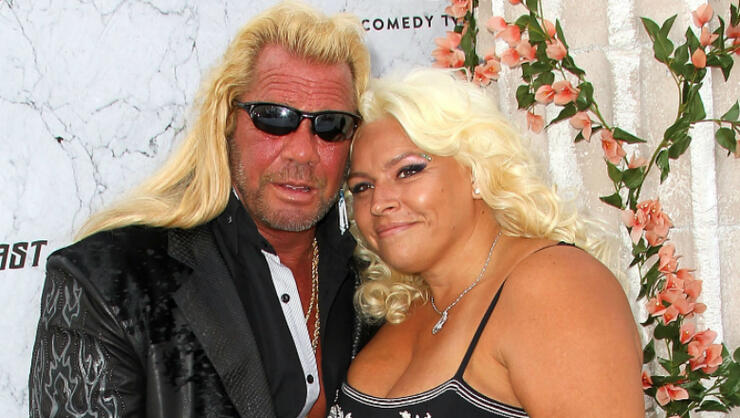 Dog the Bounty Hunter misses his wife.
On Saturday (July 13), the 66-year-old reality star fought back tears as he said his final goodbye to his life partner Beth Chapman during her second and last memorial service in Aurora, Colorado. "I cannot believe that she's gone," he said on stage during his nearly 30-minute remarks, per People. "This is not possible, I want to wake up from a dream."
He added, "In the '70s, I did 18 months in the Texas penitentiary and I told God yesterday I'd do five years, ten years day to day just to kiss her again. I never felt like this."
Dog went on to say how he'll never be able to come to terms with the fact that she's no longer with him. "She will never be dead to me. She is in another place," he shared. "I'm gonna get to heaven and make her so proud. She's gonna say like she said here, 'That's my man right there, that's big daddy right there.' "
Beth passed away on June 26 after battling throat cancer. "She'd gotten sick, they told her she got cancer. They said she could do chemo though, they said she would have to sit at home while Dog films the show. The show did not kill her but she died for it," Dog explained of his wife's final days. "She said, 'Do you think I'm going to let you go out by yourself and film [our upcoming spinoff] TV show [Dog's Most Wanted]?' 'You're out of your mind.' I said, 'Honey you might have to do chemo and stuff.' "
"She goes, 'All it'll do is keep me alive six months longer and I'm not going to do that because I want to be by your side.' " he recalled. "She would tell these guys on the show, 'You're trying to die doing these drugs and I'm trying to live.' Those guys started bawling and crying.' "
Later, Dog began breaking down as he remembered one of his last conversations with Beth. "She lost a lot of weight, she was down to 119 [lbs.]. She said, 'Please big daddy, please let me go.' I said, 'No, I can't. I'm not gonna let you go.' I still haven't let her go," he said, later adding, "If there's a God, He won't let me live that long without her."
Days after Beth's passing, the 51-year-old's family, friends, and fans gathered at Fort DeRussy Beach in Waikiki to say goodbye with a beachside memorial service that included a Hawaiian chant known as an oli, a prayer, and a paddle out with family and friends in Beth's honor.
Photo: Getty Images