Billie Eilish Becomes 3rd Woman In History With Multiple ALT Chart Toppers
By Katrina Nattress
August 9, 2019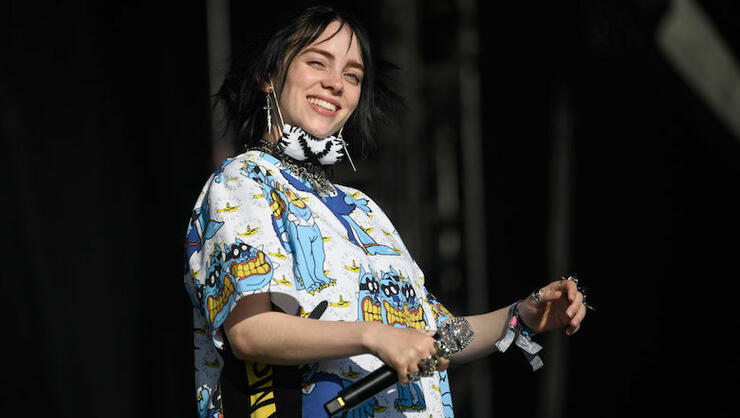 Billie Eilish's success just continues to soar, and on Friday (August 9) she made history by becoming the third solo female artist to record multiple No. 1 singles on Billboard's Alternative Songs Rad Airplay Chart after her latest hit "Bad Guy" landed in the top spot for the week of August 10. This marks her second track to top the chart after "Bury a Friend" reigned for two weeks in May.
The 17-year-old is in good company, joining the ranks of Sinead O'Connor and Alanis Morissette, who boasted two and three No. 1's on the ALT chart, respectively. O'Connor's "Nothing Compares 2 U" topped the chart for a week in March 1990, as did its follow-up "The Emperor's New Clothes" that May. Morissette's "You Oughta Know" reigned for five weeks beginning in July 1995, "Hand in My Pocket" hit No. 1 for a week that October and "Ironic" took the top spot for three weeks in March 1996, giving her the most ALT chart toppers of any solo female artist. Eilish is currently the youngest solo woman to snag multiple No. 1 entries in that particular category.
Aside from topping the charts, "Bad Guy" has also been receiving the cover and parody treatment. YouTubers have reimagined the song in the style of Green Day, in the style of blink-182, and as a "Frat Guy" parody.
Billie Eilish is performing at this year's Daytime Stage at the iHeartRadio Music Festival in Las Vegas on September 21st alongside a lineup of incredible rising stars. A lineup of superstars are also set to perform on the main stage at T-Mobile Arena throughout the weekend, and fans across the country can tune in and watch an exclusive live stream of the show via The CW App and CWTV.com. Then, on October 2nd and 3rd, relive all of the epic performances from the weekend during a televised special on The CW Network at 8pm ET/PT. And leading up to the official television special, The CW will also air an hour-long Best Of Special on Sunday, September 29th at 8 p.m. ET/PT.
Photo: Getty Images
Chat About Billie Eilish Becomes 3rd Woman In History With Multiple ALT Chart Toppers