'Harry Potter' Fans Think Emma Watson And Tom Felton Are Dating
By Emily Lee
August 19, 2019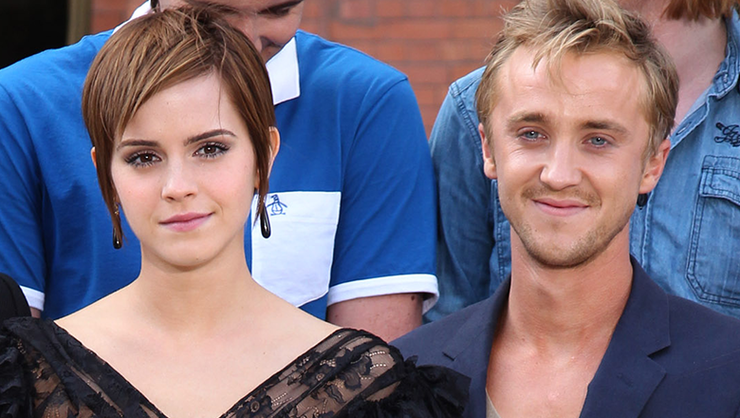 It's been nearly a decade since the final Harry Potter film premiered, but fans are *still* passionately shipping their favorite characters from the blockbuster series. One of the most popular pairings, of course, is Hermione Granger and Draco Malfoy. Even though Dramione never became canon, that didn't stop fans from loving the pairing and even writing novel-length fan-fiction stories about them.
So, it comes as no surprise that some of these fans are reading into some recent Instagram posts shared by Emma Watson and Tom Felton (aka the two actors behind Hermione and Draco). After Tom shared a very cozy photo with Emma on Monday (August 19), fans started to speculate the pair are in a relationship. The photo in question shows Tom teaching Emma how to play guitar, with the 32-year-old actor captioning the shot "quick learner." Both Tom and Emma are in their pajamas, as well, and the location is tagged as South Africa.
This isn't the first time in recent months that Tom and Emma have reunited and shared their hang out on social media. Back in November, Emma posted a cute beach snapshot with her longtime friend, as well as a video of them riding on a skateboard together. In the video of them skateboarding, Tom teases Emma for "wobbling" and "dancing around the board like a clown." It's all very sweet. 
Following their skateboarding adventure, Tom spoke about his friendship with Emma to Us Weekly. "Lovely Emma. We do see each other quite a lot actually. We just don't always post pictures about it," he revealed "Everyone loves the reunion of it. We're reuniting all the time we just don't always post it on Instagram. She was in my neighborhood and I hadn't seen her for a few months. And I decided to take her for a skateboarding lesson, which she was very good at. She's quite hard on herself. But she's actually very good at it. So yeah, that was fun. I always enjoy spending time with her."
Emma has previously admitted to having a crush on Tom while filming the first few Harry Potter films, as well. "For the first two movies, I had a huge crush on Tom Felton. He was my first crush," she told Seventeen. "He totally knows. We talked about it – we still laugh about it. We are really good friends now, and that's cool." How adorable would it be if they finally got together all these years later?
Photo: Getty
Chat About 'Harry Potter' Fans Think Emma Watson And Tom Felton Are Dating