Billie Eilish Sings Radiohead, Avril Lavigne In Song Association Game
By Katrina Nattress
September 7, 2019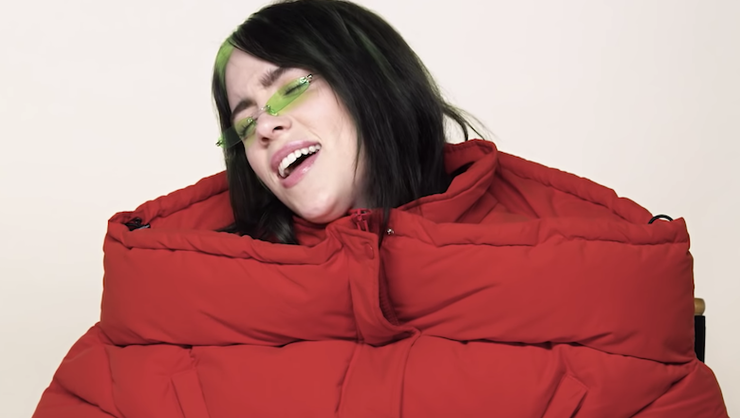 Billie Eilish recently visited Elle's office to play their famous "Song Association" game, and after getting off to a slow start she totally nailed it.
The anti-pop star ended up getting 14/15 after totally blanking on the first word, "Dance," but our favorite moments were when she showed her love for ALT music. When given the word "Complicated," the 17-year-old immediately started singing the song of the same name by her idol Avril Lavigne. Next was the word "When," which she used in a haunting rendition of Radiohead's "Creep."
She also sang songs by everyone from Big Sean to her other idol Justin Bieber, and plugged a few of her own songs, including "Lovely," "Ocean Eyes," "Bad Guy," and "Strange Addiction" — which she notes is so fun to play live.
Watch Billie play "Song Association" below.
Billie will be making her Saturday Night Livedebut later this month, as she's set to perform during the show's 45th season premiere on September 28.
A week before, she'll be performing at this year's Daytime Stage at the iHeartRadio Music Festival in Las Vegas on September 21st alongside a lineup of incredible rising stars. A lineup of superstars are also set to perform on the main stage at T-Mobile Arena throughout the weekend, and fans across the country can tune in and watch an exclusive live stream of the show via The CW App and CWTV.com. Then, on October 2nd and 3rd, relive all of the epic performances from the weekend during a televised special on The CW Network at 8pm ET/PT. And leading up to the official television special, The CW will also air an hour-long Best Of Special on Sunday, September 29th at 8 p.m. ET/PT.
Photo: YouTube
Chat About Billie Eilish Sings Radiohead, Avril Lavigne In Song Association Game