J Balvin's 'Arcoiris Tour' Makes A Psychedelic Stop In New York City
By James Dinh
October 1, 2019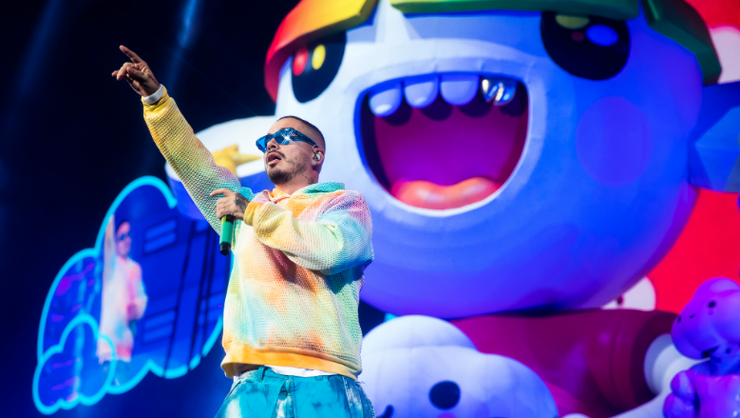 NEW YORK CITY — J Balvin just doesn't stop or maybe the superstar doesn't want to. Either way, the fruits of his labor in 2019 have been immense. Not only did he become the first reggaetonero to perform on Saturday Night Live, but his sets at Coachella and Lollapalooza brought Latino Gang to the main stages for the first time ever. With a batch of recent collaborations with Bad Bunny, Major Lazer and Maluma under his belt, the star is also on the road with his North American "Arcoíris Tour" and almost exclusively booked until the end of October. Sunday night (September 29) saw him bring the trippy affair to Madison Square Garden in New York City for a jam-packed evening of bombastic hits and colorful staging designed by Los Angeles-based art collective Friends With You. Yet, the tone, messaging and mood of the evening went far beyond the setlist and aesthetics.
During the almost-two-hour show, which was premiered in its infancy during Coachella, the Colombian superstar took attendees down the rabbit hole for a party that only stopped at his discretion. At the top of the set, he lifted the veil on an LED-filled staircase with a colossal figure, letting the audience bask in a psychedelic mix of bright colors, inflatable stage props and equally animated wardrobe. Think Candylane but through somewhat of a demented lens. With back-to-back anthems, Balvin, 34, kicked off the sold-out show with cuts like "Reggaeton," "Machika" and "Con altura" (sans Rosalía). Longtime DJ and hypeman David Rivera Maz, as well as a small band, were also in-tow, but the evening's spectacle didn't distract attendees from getting intimate with the star. In recent years, he's made a point to remain grateful for his blessings, open to last-minute bookings, especially if you name is Beyoncé, and quick to take shots when the industry isn't adapting. Less than a week ago, the star and a slew of other artists, slammed the Academy for the lack of urbano artists nominated for the upcoming 20th Annual Latin Grammys. Sunday evening might have felt unconventional to let loose, but reality was almost non-existent inside of Balvin's kaleidoscope-esque show as he performed older tracks like "Ginza" and "Safari" and paid tribute to an earlier era of reggaeton with a medley of N.O.R.E.'s 2004 "Oye Mi Canto" featuring Nina Sky, Daddy Yankee, Big Mato and Gem Star, Wisin y Yandel's "Rakata" and Yankee's signature smash, "Gasolina." It was high on Latino pride and yet vulnerable enough to tap into a topic that isn't explicitly spoken about at reggaeton shows.
"If you've ever felt empty, anxious, depressed or are going through a tough time, let me tell you that I also go through the same thing and I have to accept that I am human just like everyone else," he told the crowd in Spanish on a separate stage as an instrumental break of "La Canción" played. "I am also there in the battle, in the fight to always get ahead. It also happens to me; I also get sick. This also makes me anxious. This also scares me. I also cry. I also feel days that I don't want to get out of bed. It also makes me want to call my mom and run away, and tell her 'Mother, I love you. I need a hug right now. I need your company with me at this time.'"
Balvin continued his speech by advocating for the importance of mental health. "Be clear that mental health is something real and you are not crazy about feeling crazy at some point. It is a subject that few dare to speak on and I have the pants and the balls to say that we are human beings," he declared to the crowd. "For us Latinos, we are here and we know what it is to be an immigrant. . . .I also once worked illegally here in the United States painting houses. Today I am living a dream. Not only of having MSG sold out from side-to-side, but of having your love. You continue to give me love and help me when I need you anytime of the day."
While Bad Bunny nor Cardi B appeared in the flesh, their likeness took the stage later on as his dancers dressed up with oversized, prosthetic headpieces resembling their renowned looks for a performance of "I Like It." Longtime collaborators Jhay Cortez ("No Me Conoce"), Karol G ("Mi Cama" remix) and Alex Sensation showed up to give the set some extra star power, but they were mere icing on an already sweet cake. Balvin went on to wrap the night with "Qué Pretendes," before offering a flashy encore performance of his biggest hit, "Mi Gente." Just like the encore should, it brought the show to new heights, courtesy of a fist-pumping remix, a shower of confetti and a giant rainbow that inflated from one side of the arena to the other. As his star power continues to grow, J Balvin's set proved once again that while he's good, if not great, at delivering the bold and bizarre, he's even better at bringing people together.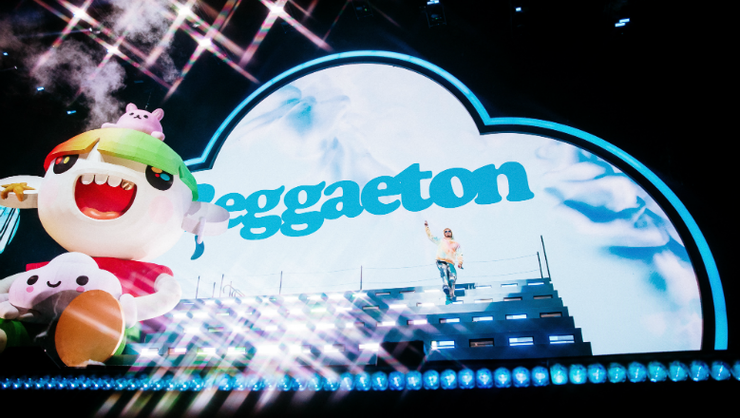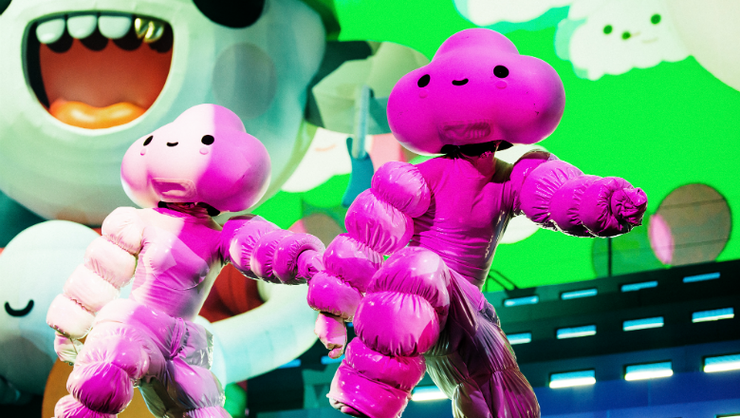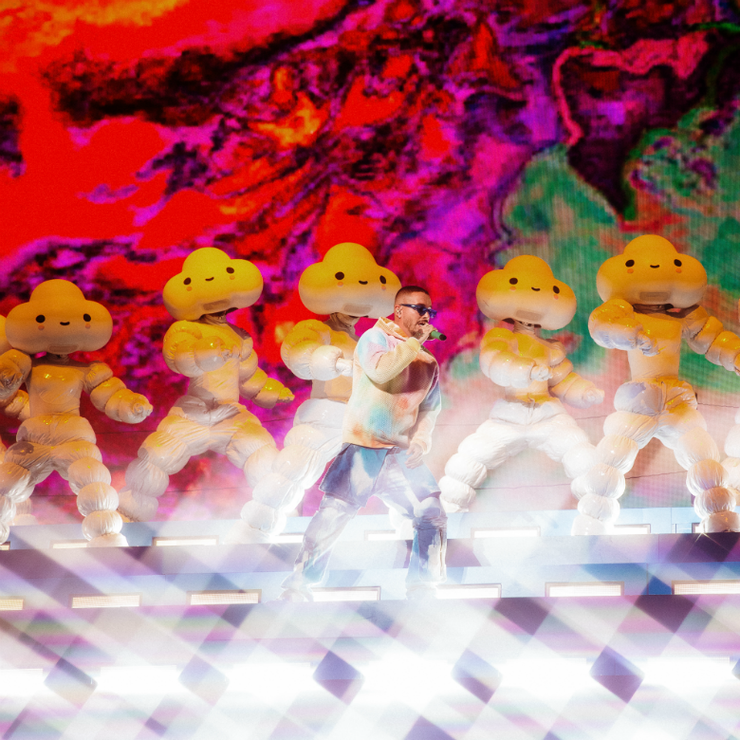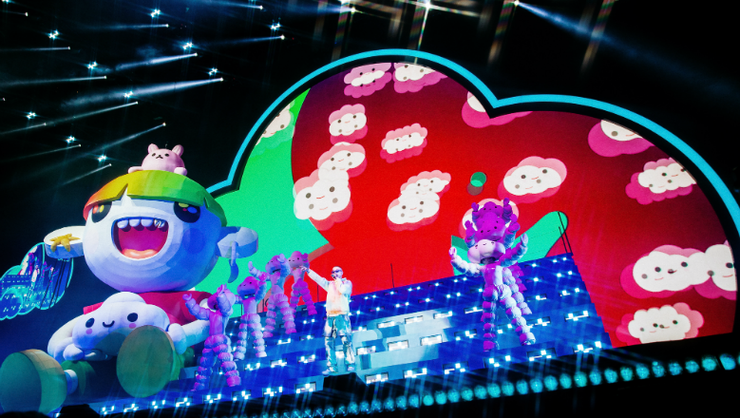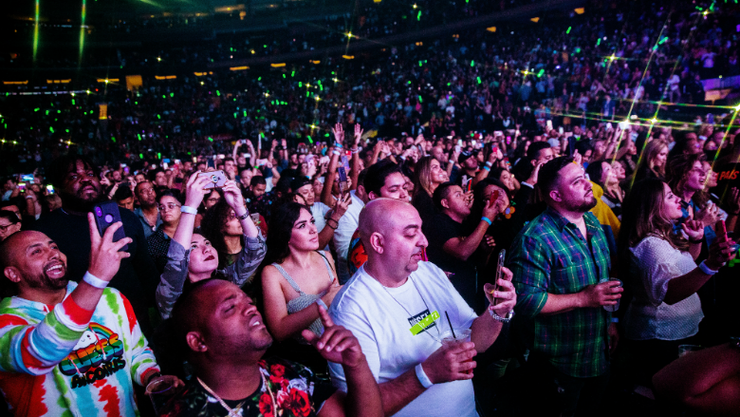 Photo: Rachel Kaplan for iHeartRadio
Chat About J Balvin's 'Arcoiris Tour' Makes A Psychedelic Stop In New York City