Justin Timberlake Reacts To Paris Fashion Week Ambush In New Instagram Post
By Hayden Brooks
October 2, 2019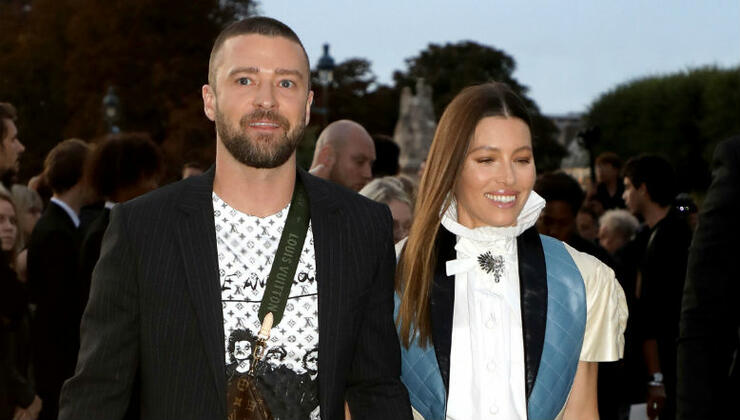 Justin Timberlake's ambush outside of the Louis Vuitton Spring 2020 fashion show during Paris Fashion Week spread like wildfire around the blogosphere, but the pop vet has laughed off the incident.
After infamous celebrity prankster Vitalii Seduik attacked the star on Tuesday (October 1) and held onto his ankle while walking into the event in the courtyard of the Louvre, Timberlake has since reacted to the incident. Less than a day later, the superstar hopped on Instagram to share photos of himself and wife, Jessica Biel, at the event and his caption to the post said it all. "Last night at @louisvuitton. Human anklet not included. Congrats on the collection @nicolasghesquiere," he wrote alongside the shots.
Meanwhile, the Ukrainian prankster, who is a self-described "Entertainment Hollywood Reporter," took to Instagram and argued that the incident was far from an attack on the chart-topper. "Before media says that my prank was an 'attack' (as always), I want to explain what attack means. This summer my friends and me were attacked and injured by an aggressive homophobe at a gay beach in Kyiv," he wrote via CNN. After sharing photos of the bruises that he received from the attack, Seduik said that the authorities "did nothing," while the media just went on to cover up the attack. "I hope now something will change to LGBTG community in my country and all over the world feels safe," he continued.
Seduik has previously pulled shenanigans on the likes of Will Smith, Kim Kardashian, Adele and more.
Chat About Justin Timberlake Reacts To Paris Fashion Week Ambush In New Instagram Post