New Trailer Shows How 'Riverdale' Will Deal With Luke Perry's Absence
By Emily Lee
October 7, 2019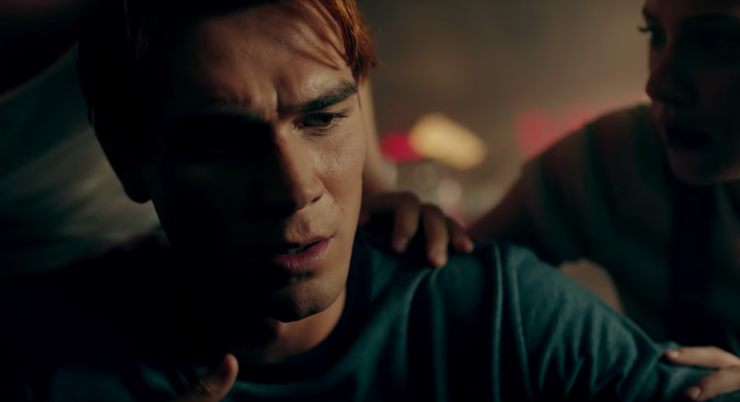 Riverdale is set to return to The CW in just a few days. Ahead of of the upcoming fourth season premiere, which will address the death of Luke Perry for the first time, a heartbreaking new trailer was released. The late actor played Fred Andrews during the first three seasons of the hit teen drama. Perry passed way after suffering a massive stroke during production of season three.
While the cast and crew of Riverdale have spoken about Perry's tribute episode, few other details about how the show would honor their late cast member, as well as how the death of Fred Andrews would effect the show, were released. Now, though, fans get a glimpse of the moment Archie Andrews finds out about his father's passing in the new teaser. Suffice it to say, tissues will be needed for this episode.
It appears Archie will get a call with the tragic news while hanging out with his best friends, Betty, Veronica and Jughead, at Pop's Chock'lit Shoppe. Archie drops to the ground after hearing the news and his friends rush over.In a voiceover, Archie then says, "Fred Andrews will always be a part of Riverdale."
The cast addressed Perry's tragic, unexpected passing, as well as the tribute episode, during a panel at New York City Comic Con last week. "It was very difficult for us all," Skeet Ulrich said during the panel. "To me, in some ways, it meant reliving something incredibly painful. We felt the need and the want [to pay him tribute]. But I don't think any of us wanted to live in that again — [the first episode of the season was] a beautiful episode, but incredibly hard to perform."
Riverdale returns to The CW on Wednesday (October 9). Will you be tuning in?
Photo: The CW
Chat About New Trailer Shows How 'Riverdale' Will Deal With Luke Perry's Absence