Read Trump's Extraordinary Letter to the Turkish President Here
By R.J. Johnson - @rickerthewriter
October 17, 2019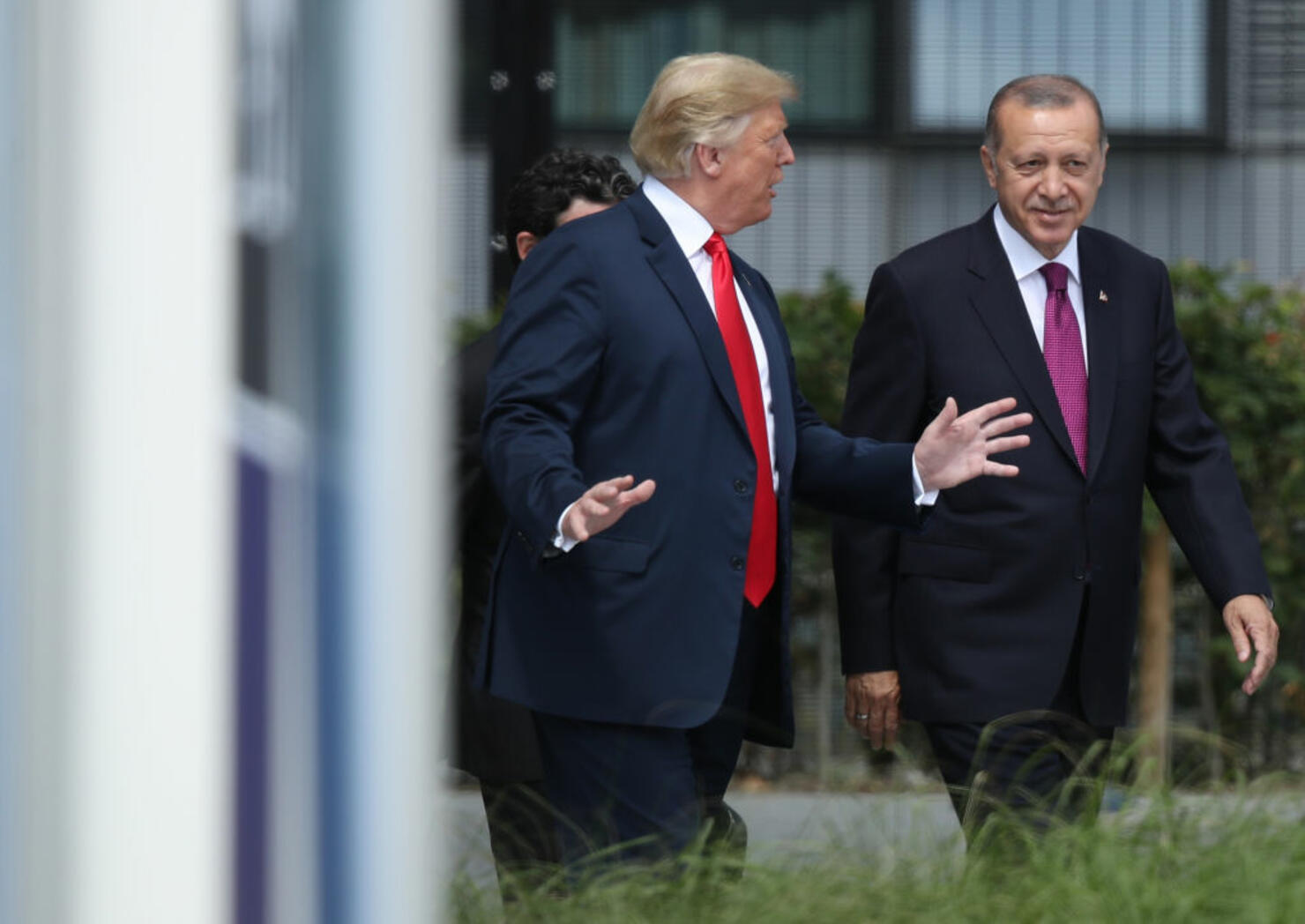 An extraordinary letter sent by President Donald Trump to the president of Turkey warning him not to be a "tough guy" or a "fool" as Turkish forces rolled into Syria, was released yesterday, with the White House confirming the contents as genuine.
The letter, addressed to Turkey's leader, President Recep Tayyip Erdogan, was sent the same day the Turkish military began attacking Kurdish forces in the region who'd previously allied with the U.S. in the fight against the Islamic State or ISIS). Turkish forces launched their attack shortly after Trump ordered American forces to be withdrawn from the area, a decision that has been met with bipartisan anger and condemnation on both sides of the aisle.
Dear Mr. President:
Let's work out a good deal! You don't want to be responsible for slaughtering thousands of people, and I don't want to be responsible for destroying the Turkish economy — and I will. I've already given you a little sample with respect to Pastor Brunson.
I have worked hard to solve some of your problems. Don't let the world down. You can make a great deal. General Mazloum is willing to negotiate with you, and he is willing to make concessions that they would never have made in the past. I am confidentially enclosing a copy of his letter to me, just received.
History will look upon you favorably if you get this done the right and humane way. It will look upon you forever as the devil if good things don't happen. Don't be a tough guy. Don't be a fool!
I will call you later.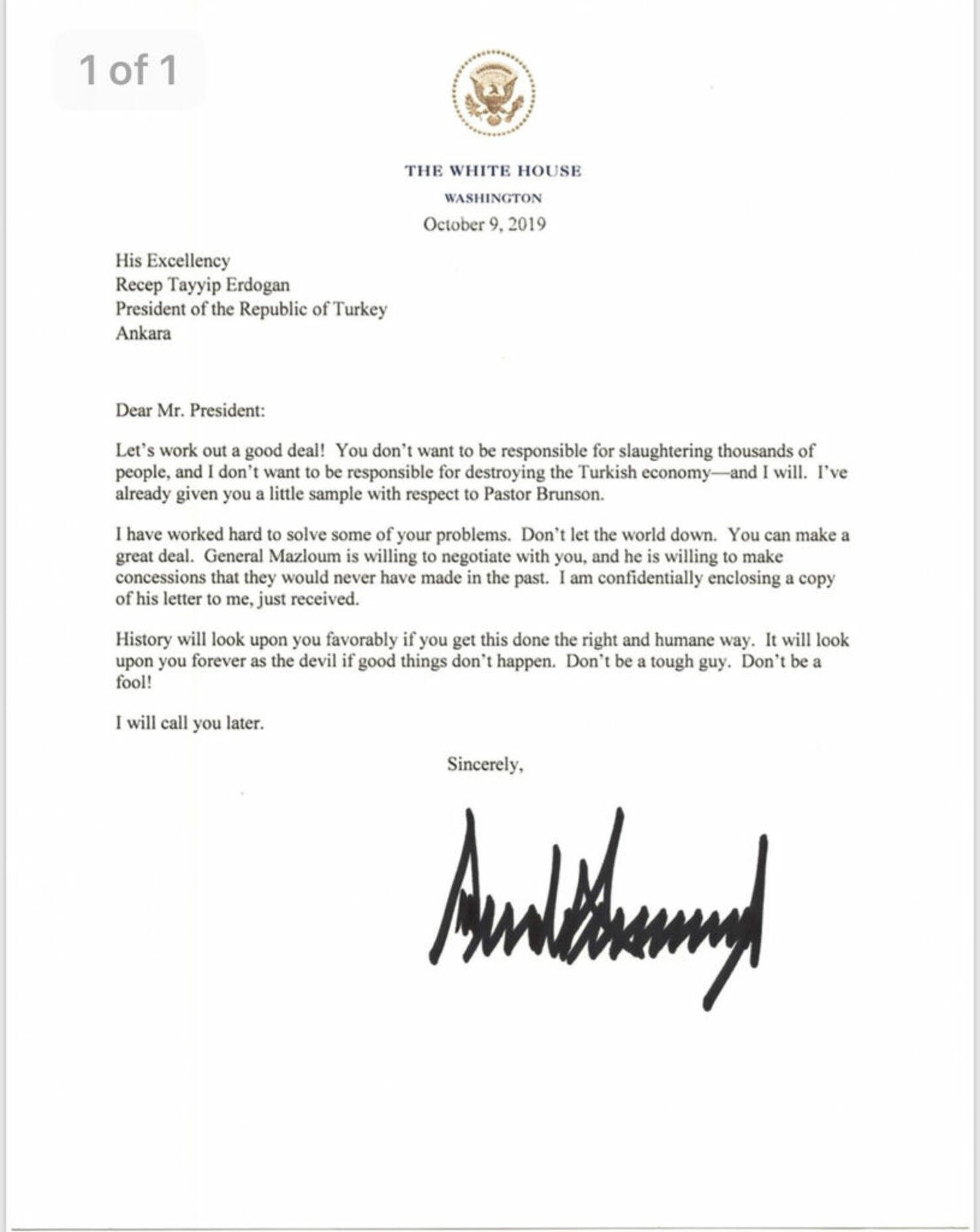 The letter, was first reported by Fox Business, who confirmed the letter was genuine with the White House. Trump appeared to be proud of the diplomatic letter as he reportedly handed out copies during an acrimonious meeting with Congressional Democratic leaders at the White House on Wednesday, Senator Chuck Schumer (D-NY) told reporters.
"The president is always tough at the wrong times. He should have been tough on the phone with Erdogan, not in a letter after he already green-lit Erdogan's invasion of Syria," Schumer said.
Ahead of the meeting, Democrats in the House were joined by more than two-thirds of the Republican caucus in voting to condemn Trump's decision to withdraw troops from Northern Syria in a 354-60 vote.
"I think that vote, the size of the vote - more than 2 to 1 of the Republicans voted to oppose what the president did - it probably got to the president, because he was shaken up by it," House Speaker Nancy Pelosi (D-CA) said. "That's why we couldn't continue in the meeting because he was just not relating to the reality of it."
During a joint press conference with the Italian President on Wednesday, Trump told reporters he hadn't given Turkey the 'green light' to invade Northern Syria, saying the situation on the ground there "has nothing to do with us."
"If Turkey goes into Syria, that's between Turkey and Syria," Trump told reporters in the Oval Office. "It's not between Turkey and the United States, like a lot of stupid people would like us to - would like you to believe."
Photos: Getty Images