50 Halloween Freebies, Deals And Treats You Need To Know About
By Emily Lee
October 28, 2019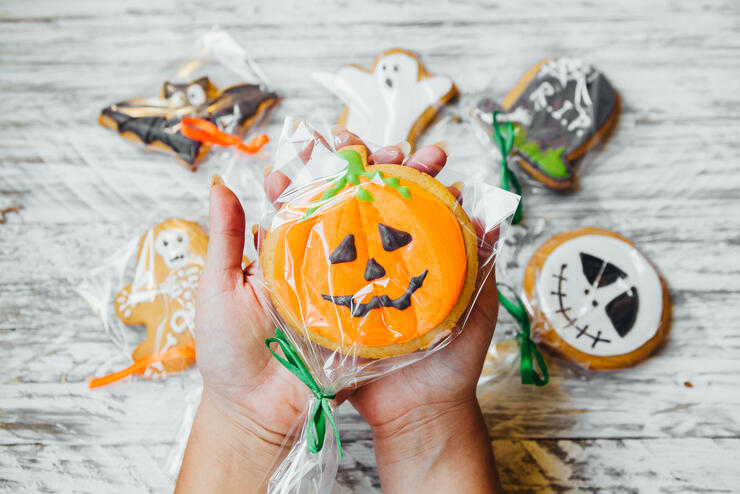 Halloween is right around the corner. If you haven't grabbed candy for trick-or-treaters or picked out the perfect costume yet, don't panic. Thanks to Offers.com, we've got all the best freebies, deals and treats you need to know about before Thursday (October 31) rolls around. Here's the full list:
Halloween food freebies and specials:
Amazon: Use Amazon coupons to get 30% off REESE'S and KIT KAT Bulk Halloween Candy Variety Mix and HERSHEY'S Halloween Chocolate Candy Variety Mix.
Applebee's: The $1 cocktail for October is the Vampire. It's bright purple and contains rum, strawberry, dragon fruit, pineapple and a cherry on top. Plus, it comes with its own set of vampire fangs for you to wear.
Baskin Robbins: On Oct. 31, get $1.70 scoops in honor of Baskin's original 31 flavors.
Meanwhile, October's flavor of the month is the Candy Mashup. This ice cream features chocolate ice cream, Snickers, caramel cup pieces and a salty caramel ribbon. Order it by the scoop or as a sundae. Better yet, order it as the Fright Night Scoop, which gets you a scoop of Candy Mashup ice cream topped with sprinkles and a white chocolate zombie hand.
Also available for Halloween is the Ghost Cake, a colorful striped cake with buttercream ghosts, Kit Kat pieces and Reese's Peanut Butter Cups.
Bass Pro Shops: Join the Halloween fun during the Great Pumpkin Celebration (Oct. 19 and 20; and 25 to 31) at Bass Pro Shops stores. Features a free 4 × 6 photo with the Peanuts Gang on Halloween night. Kids can participate in a costume parade, make free crafts, play games and enjoy free treats.
Beef 'O' Brady's: Kids in costume eat free on Halloween. Get one kids meal per purchase of adult entree. Good Oct. 31 only. Each child also get s a bag of goodies. No coupon required, just a costume. Limit of one free kids meal per adult entree.
BJ's Restaurant & Brewhouse: Get a free Pizookie with any $9.95 purchase from Oct. 10 to Oct. 24. 
Try the new Count Chocula Cereal Pizookie, which contains a warm chocolate cookie with chunks of Ghirardelli chocolate and is topped with vanilla bean ice cream and sprinkles of Count Chocula cereal.
BlackJack Pizza: The Triple Threat deal (available through Oct. 31), includes two large one-topping pizzas and a 2-Liter soda for $16.99. Use promo code SPOOKY online.
Bojangles': Dress up on a Bojangles'-themed costume for a chance to win a $200 gift card.
Bubba Gump Shrimp Co.: Kids get a free kid's meal on Halloween when you purchase an adult entree.
Carvel: Carvel is partnering with Freeform to offer several delicious tie-ins for the latter's 31 Nights of Halloween promo. Limited-time treats include the new 31 Nights of Halloween Slime Shake, which is available through Oct. 31 only. It includes a cookies-and-cream-flavored shake made with vanilla soft serve ice cream, Oreo cookies, edible slime and whipped cream.
Cheesecake Factory: Order from The Cheesecake Factory via DoorDash, and use code TREATORTREAT at checkout to get one complimentary slice of REESE's Peanut Butter Chocolate Cake Cheesecake or HERSHEY's Chocolate Bar Cheesecake with an order of $30 or more.
Chili's: The $5 Margarita of the month is the Fangtastic 'Rita. It features a blend of Lunazul Blanco Tequila, Cointreau, Monin Blood Orange and fresh sour.
Chipotle: The Boorito deal is back for 2019. On Halloween, from 3 p.m. to close, you can get a burrito, bowl, salad or order of tacos for $4. You need to be in costume to snag this deal.
Chuck E. Cheese: Kids get 50 free tickets when they play in costume all month long. 
Cold Stone Creamery: Enjoy Boo Batter Ice Cream for a limited time. This flavor is Cold Stone's cake batter ice cream turned black, containing pieces of Halloween Oreos, Kit Cats and M&Ms. You can add a black or orange waffle cone for extra Halloween fun.
Disney: Disneyland has some spookie treats and delectable goodies for those in the know this year. Examples include Vampire Alien Macarons, Halloween Churros, Trick-or-Treat Sundaes and Pickwick Ghost Punch. 
Dunkin' Donuts: Halloween treats are back at Dunkin' for October, including the beloved Spider Donut, which is frosted with orange icing and topped with a spider made from a Munchkins donut hole.
Friendly's: Children 12 and under in costume on Halloween will get a free kids meal with adult entree purchase.
While you're there, try the new S'mores Monster Shake, which features ice cream and chocolate cake topped with hot fudge, graham cracker crumble, whipped cream, hot fudge and gooey marshmallow.
Gourmet Gift Baskets: The Candy Stash basket is $29.99 with free shipping and contains plenty of Trick-Or-Treat favorites, including Skittles, Starbursts and Twix.
IHOP: Kids eat free 4 p.m. to 11 p.m., including on Halloween, with the purchase of an adult entree.
Plus, the new, limited-time Addams Family menu includes limited-time themed goodies, including Wednesday's Web-Cakes pancakes and Uncle Fester's Chocolate Ice Cream Shake.
Insomnia Cookies: On Oct. 31, guests wearing Halloween costumes can visit a store to get a free Traditional cookie, no purchase necessary. Shopping online? Get 10% off your online delivery order of $10 or more Halloween Week through Nov. 4 by using code TREAT10.
Jeremiah's Italian Ice: Free small menu item for anyone in costume (6 p.m. to close).
Joe's Crab Shack: Kids eat free on Halloween. Costumes not necessary, but are welcomed! Must purchase an adult entree.
Krispy Kreme: Show up in costume on Oct. 31, and get a free doughnut of your choice.
Wondering which donuts to get? The Halloween Monster Batch features limited-time doughnuts, including Slimon, Mumford and Hypno-Henry. These doughnuts' icing and toppings make them look like monsters. Buy them individually, or get a Halloween Dozen.
McAlister's Deli: Free kids meal (with adult meal purchase) for kids in costume from Oct. 26 to Oct. 31. Age 12 and under only. You can get two free kids meals per adult entree purchased. Participating locations only, so be sure to contact your local McAlister's before heading out. See more details on McAlister's Facebook page.
Monterey's Little Mexico: From Oct. 25 to 27, get a kids meal for 99 cents when you purchase an adult entree. Valid for ages 12 and under. Not valid on delivery orders. Can't be combined with other discounts.
Ninety Nine Restaurants: Kids Eat Free with the purchase of an adult entree on Oct. 31.
On the Border: The Hallow'Rita is $5 and available until Nov. 3. Features Candy Corn and a spider ring.
Papa John's: The Jack-O'-Lantern Thin Crust Pepperoni Pizza is back for 2019 at participating locations. Decorated to look like a grinning pumpkin, it costs $11.
Papa Murphy's: The 14-inch $9 Jack-O-Lantern Pizza is back for a limited time. Get it through Nov. 3.
Petsmart: Don't leave your dog out of the best part of Halloween — treats. Save 20% when you buy three or more Halloween dog treats and chews. Plus, PetSmart is hosting a "Treat Your Boo" event on Oct. 26 from 12 p.m. to 2 p.m. Pets in costume have a chance to win a prize. Plus, you and your pet can enjoy trick-or-treating for dogs, photos with PetSmart's Chance the Dog and other exclusive offers and freebies. 
Potbelly: Get free delivery plus a free cookie on orders placed through Grubhub Oct. 25 to Oct. 31. Find this deal in the Perks section of the Grubhub app. Just add your choice of cookie (sugar, oatmeal chocolate chip or chocolate brownie), and it will automatically be discounted when you check out.
Ruby's Diner: Kids in costume eat free in October from 4 p.m. to close. Age 12 and under only. Must purchase an adult entree to get the free kids meal. Details.
Taco Cabana: The Frozen Witches' Brew cocktail is $4 and is made with Tito's Vodka, pineapple juice, Blue Curacao and grenadine.
Uberrito: Get a kids meal for just 99 cents with purchase of an adult entree from Oct. 25 to 27. Not valid on delivery or online orders. Can't be combined with other discounts.
Walmart: Shop Halloween candy starting at $2, and pick it up for free with in-store pickup.
Wendy's: Boo Books are back. Purchase your book for $1, and receive five free Jr. Frosty treats. Books are available in stores until Oct. 31, or via the Wendy's app and DoorDash.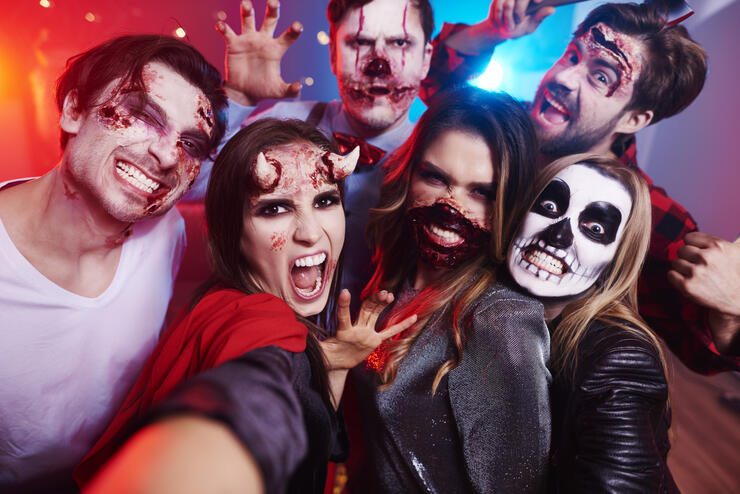 Halloween retail sales:
While these retailers are offering deals in the weeks before Halloween, it's smarter to wait until the very last minute or day after, when stores are desperate to sell remaining decor and costumes.
Carter's: The Halloween Bootique contains plenty of adorable options for up to 55% off the entire month of October.
Halloween Empire: Use a promo code to get 15% off your order of $50.
Hobby Lobby: Get 40% off Halloween crafting items, decor and more through Oct. 31.
Home Depot:Get up to 50% off Halloween decor until Oct. 31
Kmart: Get up to 50% off Halloween costumes until Nov. 2.
Lindt: While handing out the cheaper candy to trick-or-treaters, enjoy these deals yourself: truffle-filled Halloween caskets priced at two for $12 and Halloween boxes priced at two for $20.
Nordstrom Rack: Find Halloween decor, makeup and more for as low as $10.
Petco: Get up to 30% off your pet's Halloween costume.
PetSmart: Thrills & Chills Halloween costumes start at $19.95, and Top Paw glow-in-the-dark collars start at $12.99. Plus, buy one, get one 50% off on Halloween dog and cat toys. Get fast and free store pickup with any order.
ShopDisney: Costumes and accessories are 30% off for the month, so you and your kids can dress up as your favorite characters for less.
Spirit Halloween: Through Oct. 31, get 20% off on one Fortnite item. The selection includes costumes, weapons and popular in-game items, including Boogie Bombs and Port-A-Forts.
Target: Get kids Halloween clothing as low as $6.
Walmart: Get kids' Halloween costumes for up to 49% off.
Happy Halloween!
Photo: Getty
Chat About 50 Halloween Freebies, Deals And Treats You Need To Know About