Whitney Houston & Robyn Crawford Once Planned To Confront Wendy Williams
By Peyton Blakemore
November 12, 2019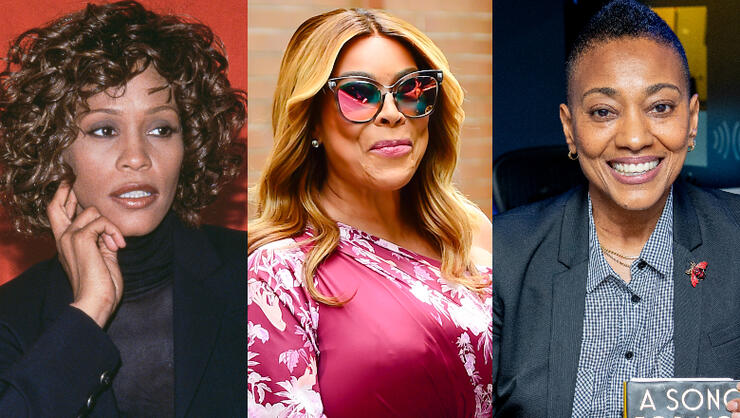 Robyn Crawford held nothing back when she came face-to-face with Wendy Williams nearly twenty years after the former radio host's notorious interview with the late Whitney Houston.
During the sit-down, Robyn, who's currently promoting her new memoir A Song For You: My Life with Whitney Houston, discussed the 2003 interview, in which Whitney confronted Wendy over her years of gossip about her, including her drug use, financial issues, marital struggles (Whitney was married to Bobby Brown at the time), and her then-speculative romantic relationship with Robyn.
"I've never met Whitney, I had never met her," Wendy told Robyn, who quickly retorted: "You act like, you talk like you did."
"I've only seen her in concert once and that was at the Beacon Theater in Boston when I was a burgeoning radio star in college radio," Wendy clarified, seemingly ignoring Robyn's jab. "I've only talked to her once, and that was on the radio. And that was that interview."
"I heard that interview, I got a call from my former assistant. I wasn't working with Whitney. And she said Whitney's going to be on Wendy Williams. I said, 'What do you mean she's going to be on Wendy?'" Robyn recalled. "That was the cumulative, fed up Whitney Houston that I heard."
Wendy then asked if Whitney was "fed up with me or fed up with the world?" To which, Robyn responded, "You had been talking about Whitney and myself for so long," referring to rumors that she and Whitney, who were longtime best friends, had been in a romantic relationship.
"But it all came true. A lot of what I said is in this book. A lot of things I said were in this book," Wendy replied, noting that in Robyn's new memoir she confirms their relationship and reveals details about their love story.
However, Robyn seemed to ignore Wendy's comment, only acknowledging the far reach of Wendy's seemingly hurtful words. "Everyone lived by the radio back then. We're in the car, you're talking like you lived with us, like you're roommates with us. We're in the car, sitting still and Whitney would say, 'Who the… who is she? Who is this woman? I don't even know what she looks like,'" Robyn shared before adding that she and Wendy planned to do something about Wendy's loose lips.
"We were gonna… We didn't know what you looked like and our plan was to go down to Hudson Street … and wait for you right outside," Robyn told Wendy, who looked completely shocked.
"I can't even fight. I would have run," the 55-year-old host replied.
"We weren't gonna fight, we just wanted to see you face-to-face and have a chat," Robyn's said with a mischievous smile.
Williams then said with a sigh of relief: "I'm frightened. Oh my gosh, I dodged that bullet."
As previously reported, Robyn opened up about her romantic relationship with Whitney as well as their decades-spanning friendship in her memoir.
To find out more about their love story, click HERE.
Photo: Getty Images
Chat About Whitney Houston & Robyn Crawford Once Planned To Confront Wendy Williams