President Trump Calls Trudeau "Two-Faced" After Viral Video Surfaces
By R.J. Johnson - @rickerthewriter
December 4, 2019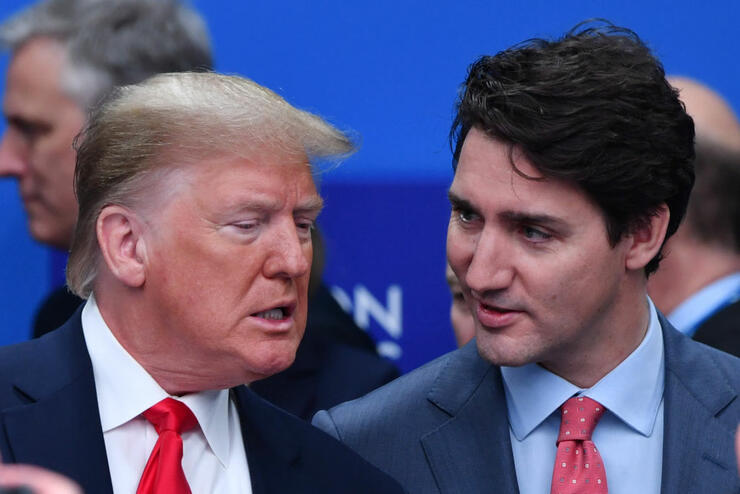 President Donald Trump didn't hold back when he was asked about viral video footage of Canadian Prime Minister Justin Trudeau apparently making fun of him with several other world leaders during a reception Wednesday night.
The 25-second clip featured Trudeau speaking with UK Prime Minister Boris Johnson, French President Emmanuel Macron, and Dutch Prime Minister Mark Rutte laughing over Trump's behavior during a lengthy press conference at the NATO summit on Tuesday went viral overnight. Microphones only picked up small portions of the conversation, which began with Johnson asking Macron why he was late.
Macron's answer can't be heard, but he can be seen nodding as Trudeau commented that the French president was late "because he takes a ... 40-minute press conference at the top."
Trump was asked by reporters about his reaction to Trudeau's comments on Wednesday during a joint press conference with German Chancellor Angela Merkel.
"He's two-faced," Trump said. "And honestly, with Trudeau, he's a nice guy, I find him to be a very nice guy."
A spokesperson for Dutch Prime Minster Mark Rutte told CNN that they do not comment on closed door sessions with a spokesperson for Macron declining to comment, saying, "This video does not say anything special.
"The truth is I called him out on the fact that he's not paying 2% and I guess he's not very happy about it," Trump said adding "He's not paying 2% and he should be paying 2% ... I'm representing the U.S., and he should be paying more than he's paying and he understands that."
World leaders have been in the United Kingdom as part of the 70th anniversary of the North Atlantic Council.
Trump announced in a tweet Wednesday morning that he and his team would be leaving the anniversary meeting after his scheduled meetings conclude today.
Photo: Getty Images
Chat About President Trump Calls Trudeau "Two-Faced" After Viral Video Surfaces