Tim McGraw Recalls Youngest Daughter Audrey's Frightening Premature Birth
By Blake Taylor
December 10, 2019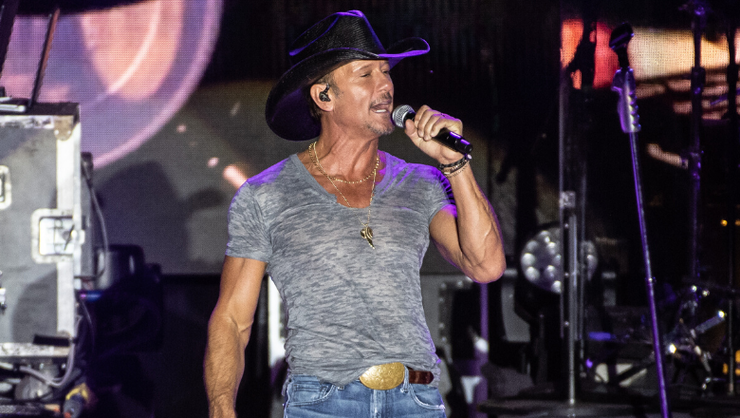 Tim McGraw and Faith Hill welcomed their youngest daughter, Audrey, into the world in 2001. Today, she's a bright, talented teenage girl who just recently turned 18-year-old.
In honor of his daughter's 18th birthday, McGraw took to social media to recall the day Audrey entered the world. "I woke up this morning and thought a long time about this day 18 years ago. This little angel came to us 7 1/2 weeks early," he writes alongside two videos of a young Audrey.
"Faith and I did a lot of praying and stayed all day every day for 2 1/2 weeks in the NICU at Baptist Hospital with such incredible nurses. And now she is beautiful, vibrant and the most remarkable young woman who lights up the life of everyone she knows," he continued.
"She is a young woman who knows her true north. She loves her family fiercely. An honest and dedicated friend. Her mother and I couldn't be more proud of her and her sisters," he adds. "Today is a joyful day indeed. We love you so, our sweet baby girl. Happy 18th birthday. The world is yours my love! Dad."
McGraws heartfelt words were posted along with two videos of Audrey from when she was a little girl. One of the videos shows Audrey singing years ago and the other one has photos of her growing up over the years with his song "My Little Girl" playing in the background.
Hill also turned to social media to give her daughter a birthday shout out. "I couldn't resist posting this today in honor of Audrey's 18th Birthday," she wrote in the caption of the video. "My little sparrow with her head full of dreams. Oh, the places you will go my sweet. Happy Birthday. I love you, Mom."
Both sweet birthday posts to Audrey can be seen below.
Audrey and her two older sisters, Gracie and Maggie were actually McGraw's inspiration behind getting in shape. Back in 2008, McGraw starred in the movie Four Christmases. While watching her father in the movie, the then 11-year-old, Gracie, commented that her dad looked "big on the screen."
After that one comment, McGraw decided to make the choice to get his health back on track. He shares further details on his journey to a healthier lifestyle in his new book Grit & Grace: Train the Mind, Train the Body, Own Your Life.
Photo: Getty Images