Ariana Grande Celebrates 1-Year Anniversary Of 'Thank U, Next' Album
By Paris Close
February 8, 2020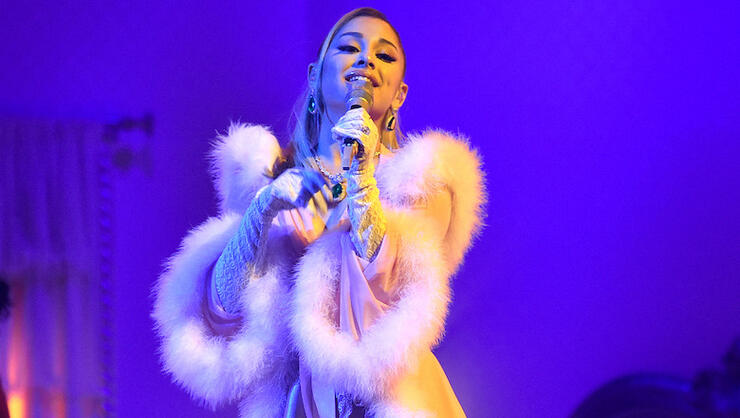 Ariana Grande's so effin' thankful for Thank U, Next.
On this day a year ago (February 8), the pop star answered her Arianators' prayers with the highly-anticipated arrival of her fifth studio album. Carried to the top of year-end charts as one of the best albums of 2019, Thank U, Next garnered early appeal with support from Grande's number-one title track and follow-up bops like "7 Rings" and "Break Up with Your Girlfriend, I'm Bored."
Now, a whole 365 days later, the powerhouse behind the masterpiece has taken to social media to celebrate the one-year anniversary of her anthemic album. "Happy birthday thank u next. making this project with so many dear friends quite literally saved my life and gave me the courage to be vulnerable and be honest with people," Grande expressed, pairing her emotional tribute with an intimate black-and-white snapshot.
"Thank u for making me feel heard, safe and incredibly human. it is nice (and so healing) to know that i don't have to hide behind a weird, polished pop star facade and that i'm able to connect with so many people over my truths and pain," she continued. "I know that should have clicked for me sooner but it didn't and i want to thank u for showing me first hand that it is okay. all of it."
Despite teasing new things to come, Grande says she's "in no rush to pop anything out of the oven yet !! but i do look forward to this new chapter and sharing more stories / life with u. :) sending a tremendous, warm hug."
Ariana Grande is nominated at this year's iHeartRadio Music Awards in several categories, including Female Artist of the Year, Best Music Video and Best Fan Army! Social voting is open now, and will close on Monday, March 23rd at 8pm ET/5pm PT for all categories, except for Best Fan Army which will continue through Friday, March 27th at 9am ET/6am PT. Fans can vote using the appropriate category and nominee hashtags or by visiting iHeartRadio.com/awards.
Fans can watch the 2020 iHeartRadio Music Awards live on FOX on Sunday, March 29th at 8pm ET. The event will also be broadcast on iHeartMedia stations nationwide and on iHeartRadio.
Photo: Getty Images
Chat About Ariana Grande Celebrates 1-Year Anniversary Of 'Thank U, Next' Album