Chrissy Teigen Reveals What Plastic Surgery She Had At Age 20
By Hayden Brooks
March 4, 2020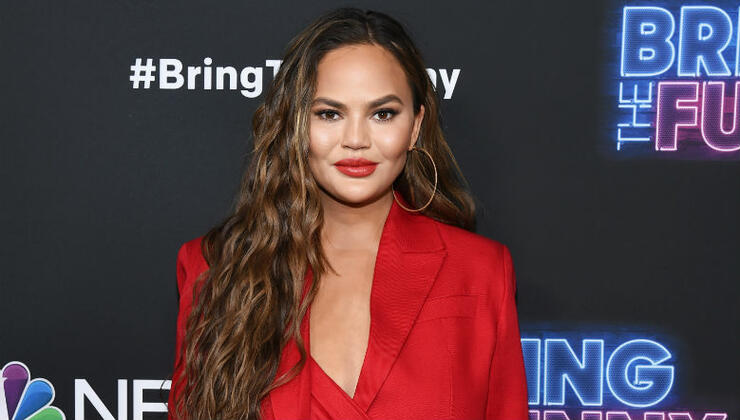 Chrissy Teigen has had plastic surgery and she's not afraid to admit it.
Speaking with Glamour UK, the TV personality, 34, detailed her history with cosmetic procedures, admitting that she had breast implants when she was 20-years-old. "It was more for a swimsuit thing. I thought, if I'm going to be posing, laid on my back, I want them to be perky!" she told the outlet in their Spring/Summer 2020 issue. "But then you have babies and they fill up with milk and deflate and now I am screwed."
Asked whether she had the procedure done to boost her self-esteem, Teigen had offered a more logistical reasoning. "Honestly, I kept them the same cup size. I just filled them out, so they are rounder and firmer," she explained. "I had a quarter 'teardrop' cup in the bottom and filled out the breast line. But I want them out now. If I could do one thing, it would be to have a lift. I think you're supposed to replace [implants] every ten years. But when you have kids you think about [the risks] of surgery and I think, 'This is not the way I want to die, in boob surgery.'"
Elsewhere in the feature, the mother of two spoke about her mental health journey and she didn't hold back on the severity of her struggles. "The last month has been really tough. I'll tell John [Legend], 'Deep down, I know I am happy.' But I think anyone with anxiety knows it's physically painful to think about doing things. Sometimes reaching for your medication is like picking up a 60kg dumbbell that I don't feel like picking up and I don't know why," she said. "But I also know I haven't been good to myself. I wasn't managing my pills. I was just taking them when I remembered. My chemistry got thrown off. So, I'm building myself back up. There are times I go to bed at 6.30pm and wake up at 6am and lie in bed just thinking – it's like you can't get enough sleep."
Chat About Chrissy Teigen Reveals What Plastic Surgery She Had At Age 20