Elton John Vs. Billy Joel: Dueling Piano Men On Rivals
By Diana Brown
March 5, 2020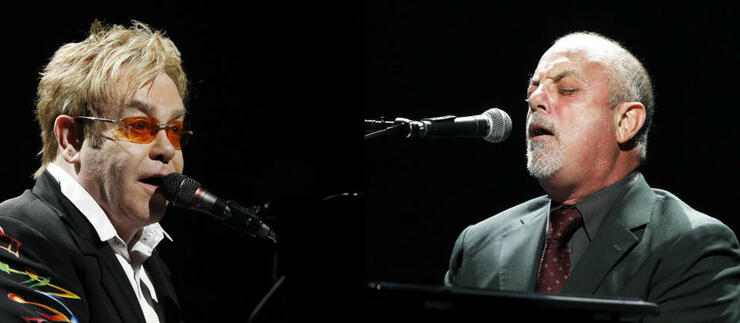 Rivals, a podcast hosted by music journalists Steven Hyden and Jordan Runtaugh, focuses specifically on high-profile feuds between musicians and pop stars. From Taylor Swift vs. Kanye West to Notorious B.I.G. vs. Tupac Shakur to the Beatles vs. the Rolling Stones, Steve and Jordan take a look at how the feuds start, compare and contrast the careers of the stars involved, and try to figure out what's really going on. On this episode, "two piano men enter; one piano man leaves" as they examine the decades-long rivalry between Elton John and Billy Joel. For awhile, they were friendly, even touring together for years, until Elton told the press that Billy had a drinking problem. Since then, it seems nothing can bring these two Ivory Princes back together.
First, the guys go through each of the musicians' careers, discussing Elton John's early career in England, his name change, working with the lyricist Bernie Taupin, and releasing huge hits every decade. He's in "the highest echelon of pop stars...in terms of the body of work and the success that he's had," Jordan says; he's even been named the "most successful male artist in Billboard history," beating out Michael Jackson and Elvis Presley. Billy Joel had similar humble roots and a slow start to success; in fact, his record label was about to drop him when he released The Stranger, which went multi-platinum. Initially, the two seemed friendly, even going on tour together in 1994 and "rolling in cash like pigs in slop," Steve says. 
But then, in 2010, Billy pulled out of several dates, and Elton told the press it was "because Billy is a big boozehound." Elton is, Steve points out, a notorious trash talker, even about his friends; "Elton is like, 'I like you, but I'm still going to talk smack about you'...it's beautiful." So publicly, Billy was able to laugh off the accusations of alcoholism, but privately, he was pissed, sending Elton a note telling him "we are done." For the rest of the decade, they're continuing their feud entirely through the press. Elton went on The Today Show and told them Billy wanted to "punch me in the face;" Billy made a crack that Elton had "mom hair," that kind of thing. Throughout it all, Billy kept telling Elton to simply pick up the phone and call him, instead of talking about him to the media, which Steve and Jordan find reasonable, but Elton never has. Can anyone manage to bring these two piano men back together again? Who would play Billy Joel in his biopic? Would Jordan even exist today without Elton John's music? Find out on this episode of Rivals. 
If you want to be sure you're listening to the podcasts everyone else is checking out, iHeartRadio has you covered. Every Monday, iHeartRadio releases a chart showing the most popular podcasts of the week. Stay up to date on what's trending by checking out the chart here. There's even a chart just for radio podcasts here, featuring all your favorite iHeartRadio personalities like Bobby Bones, Elvis Duran, Steve Harvey and dozens of others.
Photo: Getty Images
Chat About Elton John Vs. Billy Joel: Dueling Piano Men On Rivals