Billie Joe Armstrong Performs A Green Day Classic In Living Room Concert
By Hayden Brooks
March 30, 2020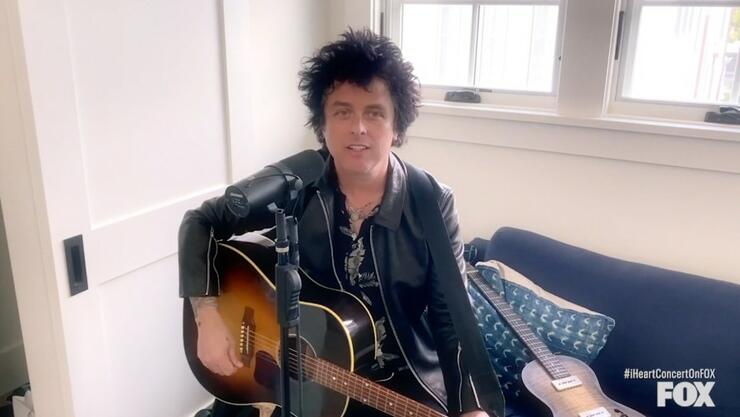 From one Billie to the next, Green Day's Billie Joe Armstrong also partook in the iHeartRadio Living Room Concert for America, which was dedicated to the people risking their lives to fight the COVID-19 pandemic.
As part of the one-hour TV special, which aired on Sunday (March 29), the rock veteran brought viewers into his West Contra Costa home for a stripped down rendition of "Boulevard of Broken Dreams." Armstrong performed the 2004 smash as a one-man-band as his pup, Lenny, walked in and out of the frame. "I hope everybody's happy and healthy or trying to be as happy as possible," he said in his usual rock star attire. "I know it's a really stressful time, but I just wanted to say it's an honor to be playing for everybody right now. Hope you don't mind if my dogs are here."
Prior to his performance, Armstrong had unveiled a timely cover of Tommy James & The Shondells' 1967 hit "I Think I'm Alone Now." "I figure if we have to spend this time in isolation at least we can be alone together," he said of the cover via social media.
You can support two of many charitable organizations that are helping victims and first responders during this difficult time —Feeding America and First Responders Children's Foundation. Every dollar raised from the COVID-19 response fund for Feeding America will be used to get food and funds to local food banks across the US and FOX Entertainment is matching the first $100,000 donated from supporters. Money raised for First Responders Children's Foundation will help support those first responder families who are enduring financial hardship due to the coronavirus outbreak.
And if you missed any of the iHeartRadio Living Room Concert for America, watch the special on iHeartRadio's official YouTube channel until April 1.