Joe Diffie's Wife Tara Shares Their Last Photo Taken Together
By Blake Taylor
March 30, 2020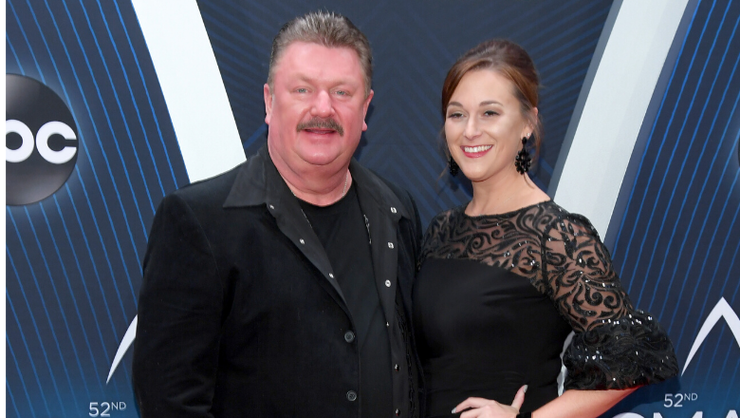 Country music icon, Joe Diffie, passed away on Sunday (March 29) after contracting coronavirus (COVID-19). Since the news was publicly revealed, tributes from fans, fellow country music artists, friends and family have poured in.
Diffie's wife of about two years, Tara, turned to social media herself to remember her husband with a heartbreaking post.
"I love you so much @officialjoediffie," she writes in the caption next to the couple's final photo together. "You were the love of my life."
Diffie married Tara in May of 2018. He leaves behind four sons, Parker, Travis, Drew and Tyler, and two daughters, Kara and Kylie.
Diffie announced he tested positive for coronavirus on Friday (March 27). "I am under medical professionals and currently receiving treatment," the singer said at the time. He continued on to ask fans to "be vigilant, cautious and careful during this pandemic."
Diffie was one of the most iconic voices of the '90s, earning him five No. 1 singles in the first half of the decade: "Home," "If the Devil Danced (In Empty Pockets)," "Third Rock From the Sun," "Pickup Man," and "Bigger Than the Beatles." All in all, he charted 18 Top 10 singles during his illustrious career. The singer-songwriter also won a Grammy for his work on "Same Old Train" in 1998 and an CMA for "I Don't Need a Rocking Chair" in 1993.
At this time, health officials with the U.S. Centers for Disease Control and Prevention have confirmed more than 122,653 cases of the coronavirus in the United States and 2,112 deaths. Globally, the virus has infected more than 634,835 people and killed more than 29,891 according to the World Health Organization.
To keep up to date on the latest news about the coronavirus and to understand what you need to stay safe and healthy, check out the Coronavirus: Fact vs Fiction podcast from CNN Chief Medical Correspondent Dr. Sanjay Gupta.