Nick Cordero's Wife Details His COVID-19 Recovery: 'He's Stable In The ICU'
By Hayden Brooks
May 14, 2020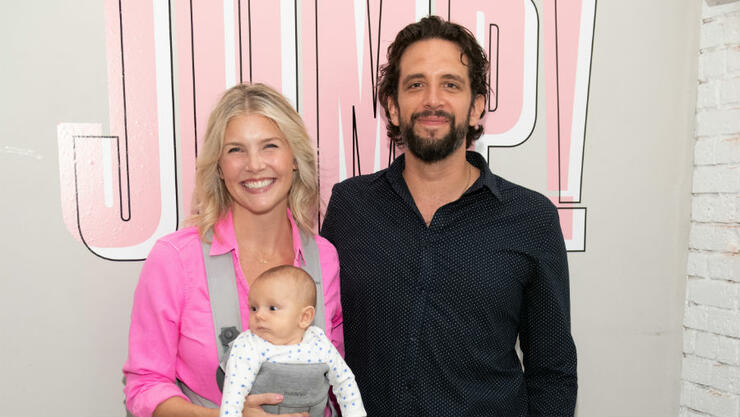 Amanda Kloots has been giving Instagram updates on her husband Nick Cordero's battle with COVID-19. However, the fitness trainer has now sat down for a proper interview with Extra's Renee Bargh to speak about him waking up from his medically induced coma.
"Isn't it the best news ever? It was such a good day," the fitness trainer, 38, told Bargh. "Yes, so early signs of being awake are exactly that, tracking. So when we ask him a question, if it's a yes, he looks up, if it's a no, he looks down. He's doing that regularly." Additionally, she reiterated what she's said previously about the Broadway star's progress. "As he gets stronger, he'll be able to do more things, but he's just so weak right now. Just the act of looking up or down or opening his eyes on command exhausts him," she continued.
Cordero was admitted to a Los Angeles hospital in late March, but Kloots said that she is staying positive even after all the complications, including his leg amputation. "The nurse said to me yesterday, 'We're not pushing him out of the hospital…he's walking out of this hospital'…and I'm like, 'OK, that's right, I like that!'" she added. "I think just to continually get stronger, which I think will help with more days like yesterday where he's just stable in the ICU… And every day that he keeps practicing these movements, he'll just keep getting stronger and then we'll build on that."
As for what she wants to tell her husband once he's able to respond with enough coherence, Kloots said, "I think I'm just going to reiterate that he did it. 'You did this, you got through this, you fought and you're strong and we're going to do this together'…When he realizes what he's overcame, I think he will find this inner strength that will beat all odds."
Cordero has been hit with roadblock after roadblock in his battle with coronavirus. Not only was he initially diagnosed with pneumonia, but he had to have his leg amputated after issues with blood clots and had a temporary pacemaker placed inside him after he experienced some irregular heartbeats. Soon after, he went on a ventilator. Eventually, though, the star underwent a tracheostomy procedure to help remove him from the ventilator.
Chat About Nick Cordero's Wife Details His COVID-19 Recovery: 'He's Stable In The ICU'