Rory Scovel Hits From Downtown On 'Robbie,' His Funny 'Friday Night Lights'
By Andrew Magnotta @AndrewMagnotta
June 10, 2020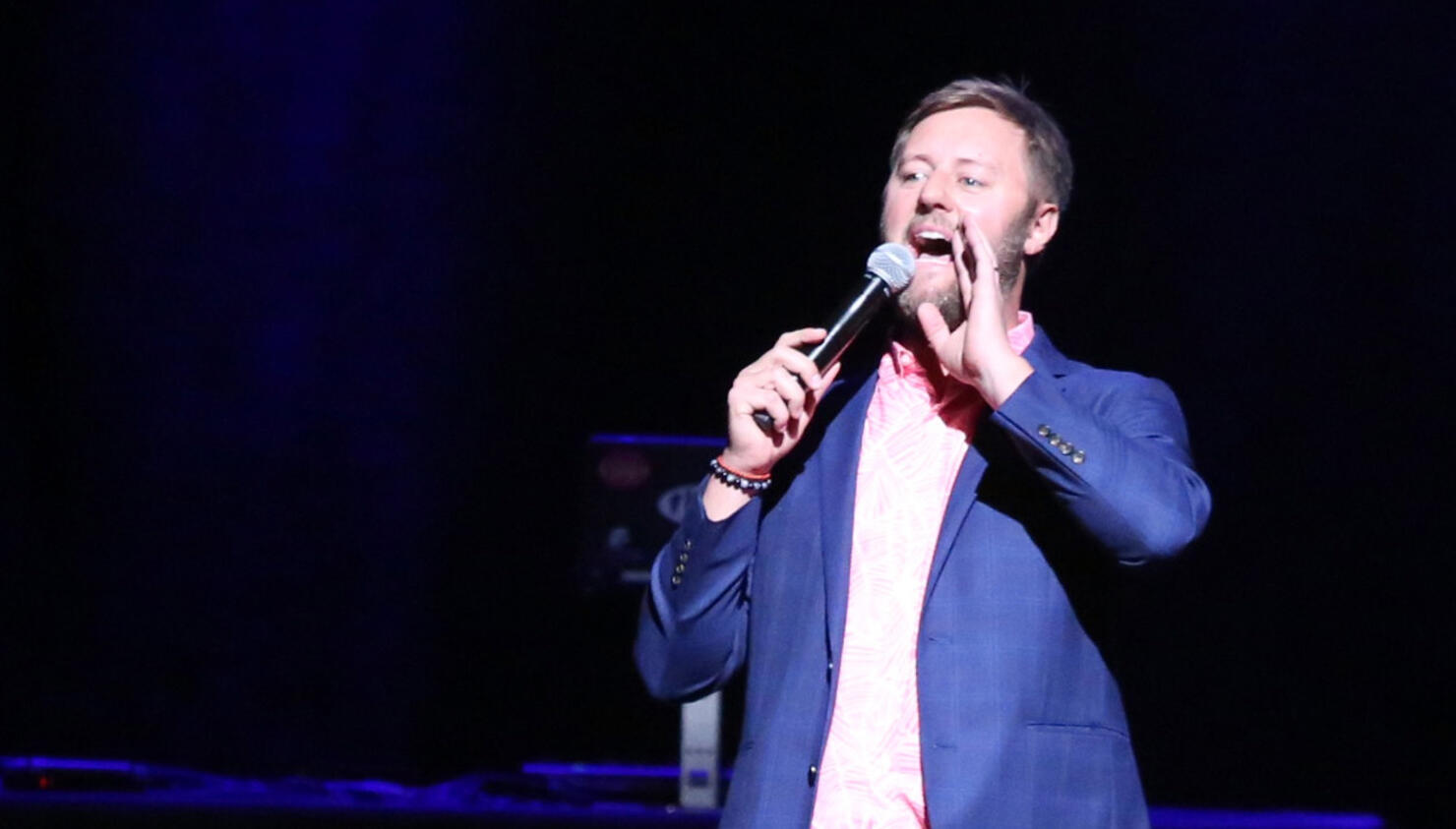 Rory Scovel isn't sure whether he believes in simulation theory, but he has to admit that 2020 is making a pretty good case.
In a year marked by career highlights, teenage dreams-come-true and the monotony of pandemic quarantine, Rory can't help but wonder if he's a finalist in some inexplicable contest he didn't know he entered or if he's just running out of time until he gets unplugged from the matrix.
Rory's ploy to follow Tool on tour this past winter quickly morphed into a personal friendship with members of his favorite band. After the pandemic brought things to a screeching halt, Comedy Central announced that Season 1 of the hilarious new show Rory co-created for the network, Robbie, would be released via YouTube in May — the culmination of two-and-a-half years of work.
Comedy doesn't have many one-hit wonders. And Rory's success hasn't entirely come out of nowhere. Rory's standup special hit Netflix in 2017, he starred opposite Amy Schumer in 2018's I Feel Pretty, he was a cast member on Those Who Can't from 2016 - 2019, he appeared in several episodes of Superstore this past season and he's a frequent guest on Conan.
He's also co-host of your Pen Pals Podcast with Daniel Van Kirk, and he's one of the most unique and unpredictable comedians in standup today.
Rory recently caught us up on Robbie's long and winding road to release, his forthcoming improvised standup documentary, how touring alongside Tool turned into touring with Tool and more!
Was acting and having your own show, like Robbie, a goal from the beginning of your career? Or did you just want to be a standup?
We all go into [standup] thinking, 'Wow, if I am as good as I think I am...' you kind of think about acting, you think about TV shows, just because you see so many successful comedians driving in both of those lanes.
You think about it, but the standup process is such a huge questions mark in terms of moving up and starting to succeed and starting to know what you're doing and how you're doing, and this is what I love about it. But it leaves so much for you to even wonder if you'll just make it in standup itself that you kind of have this goal of wanting to be an actor.
I'm in a position I always wanted to get to, but I don't think I fully, the whole time, was like, 'Oh, I'm sure I'll get there.' I felt like if I just kept doing what I was doing, then maybe.
But it's art. And art is such a crapshoot. It is a lot of right place/right time. It is a lot of who you know. It is a lot of fake it till you make it.
When did you get the idea to start doing improvised standup shows? I love that idea because it's sort of what standup is pretending to be, a conversation that's totally in the moment.
Yes. I always wanted to try that, just to try it. To try some fun thing where there are no stakes. I always have tried to improvise a little bit in my act.
You bring up a great point —and that's a great way to say it — this element of just pretending to be this off-the-top-of-my head talking, when in fact it's a very crafted speech.
I've always felt this strange element that with this audience in front of me, I'm going to say this speech and then another audience will come in after and I'm kind of saying the same things and doing the same things.
I understand that that is what our job is — you're just trying to provide a show. But I do always feel strange about it knowing that it's not necessarily so genuine to this energy that this crowd collectively puts out. I'm not meeting the audience anywhere, I've already predicted how it's going to go.
Subconsciously it bothers me a little bit. Not in a way where I hate it. I'll go watch any comic. Funny is funny. Also a good comic sells the fact that it's not in the moment.
It did make me curious. If I truly believe that no matter what, I am funny, then I should be able to tread water for an hour, maybe not swim, but just stay alive for an hour.
And you filmed some of your improvised shows?
I booked these shows in Atlanta last year to try it out. We shot it for a documentary. That wasn't the goal, but when I told my friend Jay Larson I was doing this, he said, 'Well, you've gotta get a film crew.'
We filmed the whole week of shows and we were like, 'Oh, wow, it actually turned into some good shows and it turned into an interesting documentary.' That's been cut up and we're looking to get this thing out there to show people.
Do you plan to do a lot more improvised shows when you can get back on the road?
I would love it if people really challenged me that they thought it was so good that there's no way I just made it up.
That's me trying to think of what the top of the mountain looks like in terms of why do I do this. I would be so honored to have someone contest me. (Laughs) I don't know why they would be so passionate about that.
I did do a show in Atlanta back in September for the Red Clay Comedy Festival, and I think that's the last time I did one of these improvised shows.
It was by far the best I'd ever done it. I just pressed the gas and I just talked and talked, 'cause if you just keep talking, you're going to find something if you are funny.
For whatever reason that show was just really great. I remember one woman in the audience, I heard her loudly say, 'This is made up?' She wasn't saying it to me — and it wasn't a heckle — but I heard it and it made me feel so good. Yeah, that's what I want.
I don't know what my endgame is except wanting to be really good at that style of performance. I really like meeting the crowd in the middle and figuring out the show once I'm up there as opposed to already knowing what it's going to be.
Does your love for improv make it harder to stick to a script, especially with a show like Robbie? I was laughing earlier today at the clip of you jumping into the pool, which I imagine was tough to shoot.
Yeah, I will say that's what I liked about Robbie. When you've created the character and you've been part of the creative process from Day 1, it really makes acting that much easier, because you already knew what you wanted it to be. You can kind of step in to do it.
It's strange for me to get a script from someone else and I have to figure out what they're picturing. Robbie was really fun because I already knew [him] and had for a few years.
I've followed you for a long time and I try to tune in whenever you're on TV. Those Who Can't is one of my favorite shows. I went into Robbie wanting to like it, and I ended up really loving the show! Every episode unfolds like a drama, yet is somehow a pure comedy.
Yeah, we pitched it as a 'funny Friday Night Lights.' That's really what we were going for because I really love that TV show so much.
We were going for something that had this southern look and this dramatic tone, but low stakes for the most part. Nothing is ever too big for any of these characters. They just live in a weird setting.
The characters are all so wildly different but yet somehow make sense together, in their own community of people.
[Mary Holland's character] Janie is so wildly out there, but it's like, 'Oh, I guess I could see why they would hang out with her.' She's fun to have around despite being a lunatic.
Did you write Season 1, knowing where it was going from the first page? The finale feels like a complete thought, but it also leaves a lot of room in the story for a second season.
It was a place that we had to try to take the story because Comedy Central did mention that it would be great to have a cliffhanger. That's not easy to pull off when you haven't written a serialized series. So we tried to leave little notes of how something could be serialized in a way, just the slightest touch of ongoing stories. When we got to the end, we were like, 'How do we end this season on a cliffhanger?'
I love how it ends. It's not what I pictured in my head overall, but what I do love is that if we get lucky enough to do a second season, we've kind of opened up Robbie's world to now kind of be anything.
Does he go back to coaching basketball? Does he feel like he's finally growing? I kind of want Robbie to grow very slowly. It took him eight episodes to realize, 'Oh, maybe my dad's right and I don't want to coach.'
So okay, what's the next thing that he can do slowly? I kind of love the freedom of it.
Tool really let you into their world when they found out about the 'Comedians Following Tool On Tour' tour.
That was crazy. That was truly bizarre. To be my favorite band since I was 16, and now I'm 39. Putting this tour together, which was just kind of a joke. But when Adam Jones, the guitarist got word of it, he reached out. He could not have been a nicer, more inviting person.
He even said, the very first night that we met him, we went backstage and he was like, 'Yeah, you guys are following us for the tour. I'm going to show you all of it. I'm going to show you the whole thing.'
He kept saying, 'Trust me, by the end of this, you will not like our band anymore.'
How did that go?
I always thought that was so funny. If you're watching the same band or the same show over and over again... I was like, 'I don't know…the fact that you're being so nice is making me like you even more. If you're trying to push me away, it's not working at all!'
I've told my wife several times, this pandemic, that tour, my TV show that I made has finally come out, this is by far the most bizarre year — probably for all of us — but it's 100 percent the most bizarre for me for reasons other than just the pandemic.
Just following Tool around feels like we're definitely in a simulation and my time is up and I got granted a wish (laughs).
Photo: Getty Images