Demi Lovato Responds To Engagement Rumors With Romantic Photoshoot
By Emily Lee
June 16, 2020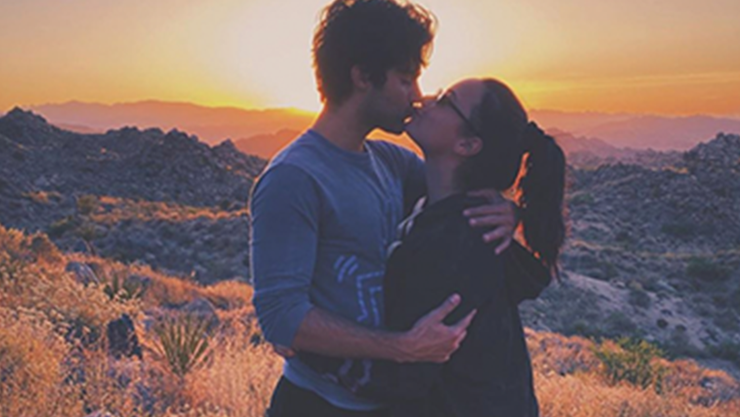 Demi Lovato and Max Ehrich have only been dating since March, but engagement rumors have already started swirling around the couple. A source told Us Weekly that Demi and Max "have been talking about getting engaged," however, it likely won't happen for "the next couple of months when quarantine is over." According to the source, Max already has his sights set on a "very sizable" ring for Demi, too.
Though Demi and Max didn't directly address the speculation that an engagement is on the horizon, the pair took to Instagram over the weekend to show off their love to the world. The pair spent a romantic weekend together in Joshua Tree, California and the photos are straight out of a fairy tale.
"Had an amazing weekend in the magical desert of Joshua Tree with my love," Demi captioned the slideshow of photos on Instagram. "I went to work on a project but it was so nice to get away for a couple days. Thank you for making me so happy my dear. I love going on adventures with you."
Max shared a similar selection of photos on his own Instagram account, as well. He even called Demi the "love of my life" in his caption.
Demi and Max have been hunkered down together at Demi's California home throughout quarantine. The experience has reportedly brought them even closer. "They are really excited about their relationship and enjoying living together during quarantine and seeing where things go," Us Weekly's source added. "They are very positive influences on each other beyond just both being sober."
"The quarantine has been really great for Demi. She's doing a great job at staying sober, healthy and taking care of herself," another source previously told Us. "[Max is] a really nice guy, and they are happy together." Their families are super happy with their budding relationship, as well, and "think they make a great couple" and neither family would be "surprised by the proposal."
Photo: Getty
Chat About Demi Lovato Responds To Engagement Rumors With Romantic Photoshoot