Kanye West Unveils Album Cover For 'DONDA'
By Paris Close
July 27, 2020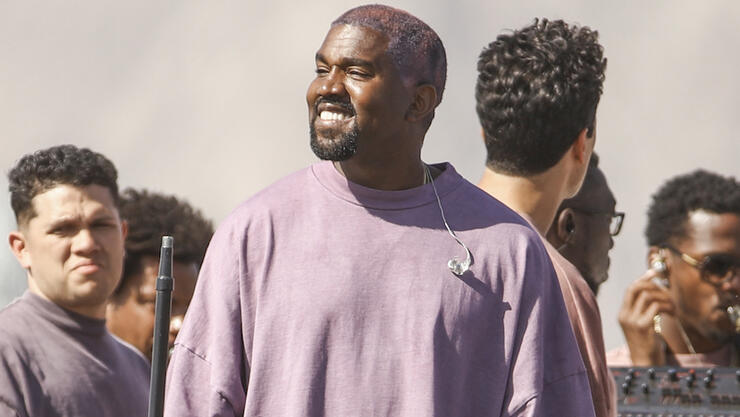 Kanye West officially unveiled the artwork for his next album.
Originally, West was supposed to release his tenth studio album — titled DONDA: With Child after the emcee's late mother, Donda West — last Friday (July 24). Clearly, that didn't happen, so the rapper decided to treat his fans to the next best thing by sharing the album cover of the effort. "DONDA ALBM CVR" Ye announced over the weekend with an image of the artwork, which appears to be rendered with a thermal filter of some kind.
In the days leading up to announcing DONDA as his forthcoming project, West preceded the effort with the release of the record's first joint, "Wash Us in the Blood" featuring Travis Scott, which dropped on June 30 in tandem with its music video.
While it remains unclear when Ye will unleash DONDA upon the world, the recording artist did tease what appeared to be the tracklist for the project on July 21. Among the apparent tracks on the album include songs titled "New Body," "Praise God," "Keep My Spirit Alive," and "I Know God Breathed On This."
The cover reveal comes after a tumultuous week for West, who suffered what many fans feared was a mental breakdown that sparked him to go on a strange Twitter rant in which he alleged his wife, Kim Kardashian, was attempting to have him committed. (Kim has since broken her silence about her husband's tirade.)
The "Jesus Walks" star's allegations also fueled rumors that Kimye's marriage was on the rocks, and that the two have allegedly been in talks to divorce in recent weeks.
On Sunday (July 26), however, Kanye issued his wife a public apology for his actions and implored her to forgive him. "I would like to apologize to my wife Kim for going public with something that was a private matter. I did not cover her like she has covered me," he wrote, adding, "Kim I want to say I know I hurt you. Please forgive me. Thank you for always being there for me."
Photo: Getty Images
Chat About Kanye West Unveils Album Cover For 'DONDA'