Rihanna Sends Megan Thee Stallion Flowers, Gift After Shooting Incident
By Hayden Brooks
July 29, 2020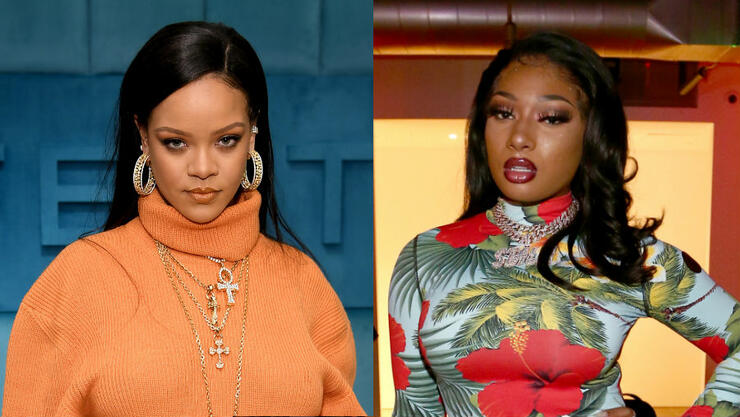 Rihanna understands the value in kind gestures, especially when it comes during hard times. Just ask Megan Thee Stallion.
On Tuesday (July 28), Hot Girl Meg, 25, took to Instagram to share a steamy shot of her posing in a white ensemble from the pop titan's Savage X Fenty line. In addition to the swag, the singer sent flowers and a kind note to pair. "Wishing you a full and speedy recovery, Meg! Just know you've got a whole crew over here sending good vibes your way!" the note read. "Love, Rihanna and the Fenty Corp gang."
In response to the gift, Meg shared her love for Bad Gal Riri and her mega-brand. "Love y'all @savagexfenty @badgalriri," she captioned the multi-photo post. Rih's gestures comes on the heels of a number of public apologies from stars like 50 Cent and Draya Michele for joking about the rapper's situation, which forced her to have surgery after being shot in both feet.
Earlier this week, the rapper fought back tears during a recent Instagram Live session, where she shared new details from the incident. "I really just wanted to get on here, and I'm smiling even though a lot of things have been making me not smile but I'm back… and I see a lot of people paint fake a** narratives and making up stories, but I also see a lot of people being very supportive and sending prayers and I really appreciate that," she kicked off the session.
"I was shot in both of my feet and I had to get surgery to get the bullets taken out, and it was super scary," she continued. "Oh, I didn't think I was gonna cry… It was just the worst experience of my life and it's not funny, it's nothing to joke about and nothing for y'all to go and be making fake stories about. I didn't put my hands on nobody I didn't deserve to get shot."
Chat About Rihanna Sends Megan Thee Stallion Flowers, Gift After Shooting Incident