Tyler Hubbard Takes Daughter To Emergency Room On Wife Hayley's Due Date
By Blake Taylor
September 16, 2020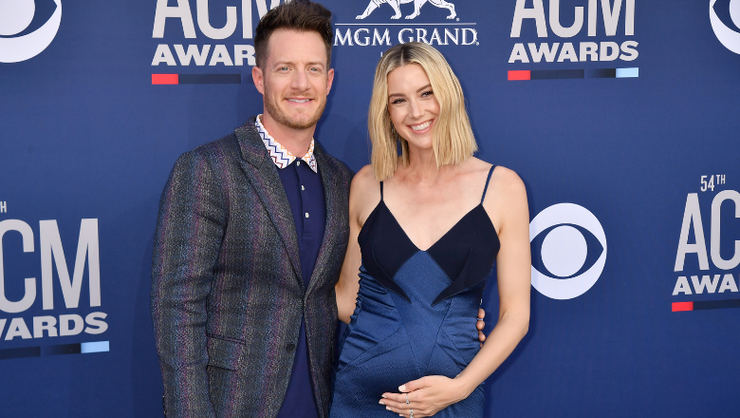 Florida Georgia Line's Tyler Hubbard and his pregnant wife, Hayley Hubbard, went to the hospital on Wednesday (September 16), but not for the reason they originally expected.
"Well, we are at the hospital," Hubbard said in an Instagram video from his car. "It's Hayley's due date so we should be here having a baby but we're actually here getting [Olivia's] chin stitched up. She fell this afternoon in the living room and busted her chin open on the coffee table. I've got a lame foot, Hayley's about to deliver a baby any minute and this is our night."
The country singer's 2-year-old daughter asked her dad whether she was "so brave," to which he responded, "You were. I'm so proud of you."
Alongside the clip, Hubbard also included two additional photos in his post. The first shows Olivia wearing a hospital gown while speaking to a nurse, and the second shows the doctor giving her the stitches.
Hayley also shared one of the shots of Olivia on her Instagram page. "I can't say enough thank you's and sing enough praises for the incredible staff at @vumcchildren for taking care of Liv last night after her tumble," she wrote with the post. "They truly have a gift with working with kids. Liv went from feeling scared and upset to smiling & talking in seconds after talking with one of their child life specialists. Our healthcare workers are truly angels among us!"
Olivia's accident comes as Hubbard recovers from a surgery he recently had after a dirt bike accident ruptured his Achilles tendon and broke a bone on the inside of his ankle. "Not exactly what we expected on hayley's due date, but that's life. We getting good at hitting these curve balls 2020 keeps throwing at us," Hubbard says. "Shout out to @vumcchildren for taking such good care of our angel."
Hubbard and Hayley first announced they were expecting baby number three in March, sharing photos of their daughter Olivia, 2, and son Luca, 12 months, reacting to the news.
"Little brother, mommy and daddy are having another!'" Tyler captioned his post. "We were as surprised as Liv was and as speechless as Luca."
Hayley added on her post, "When Luca finds out he's not the baby anymore…Surprise, here comes Hubbard baby #3!!"