Jets Coach Robert Saleh Addresses Status Of Aaron Rodgers Trade
By Jason Hall
March 27, 2023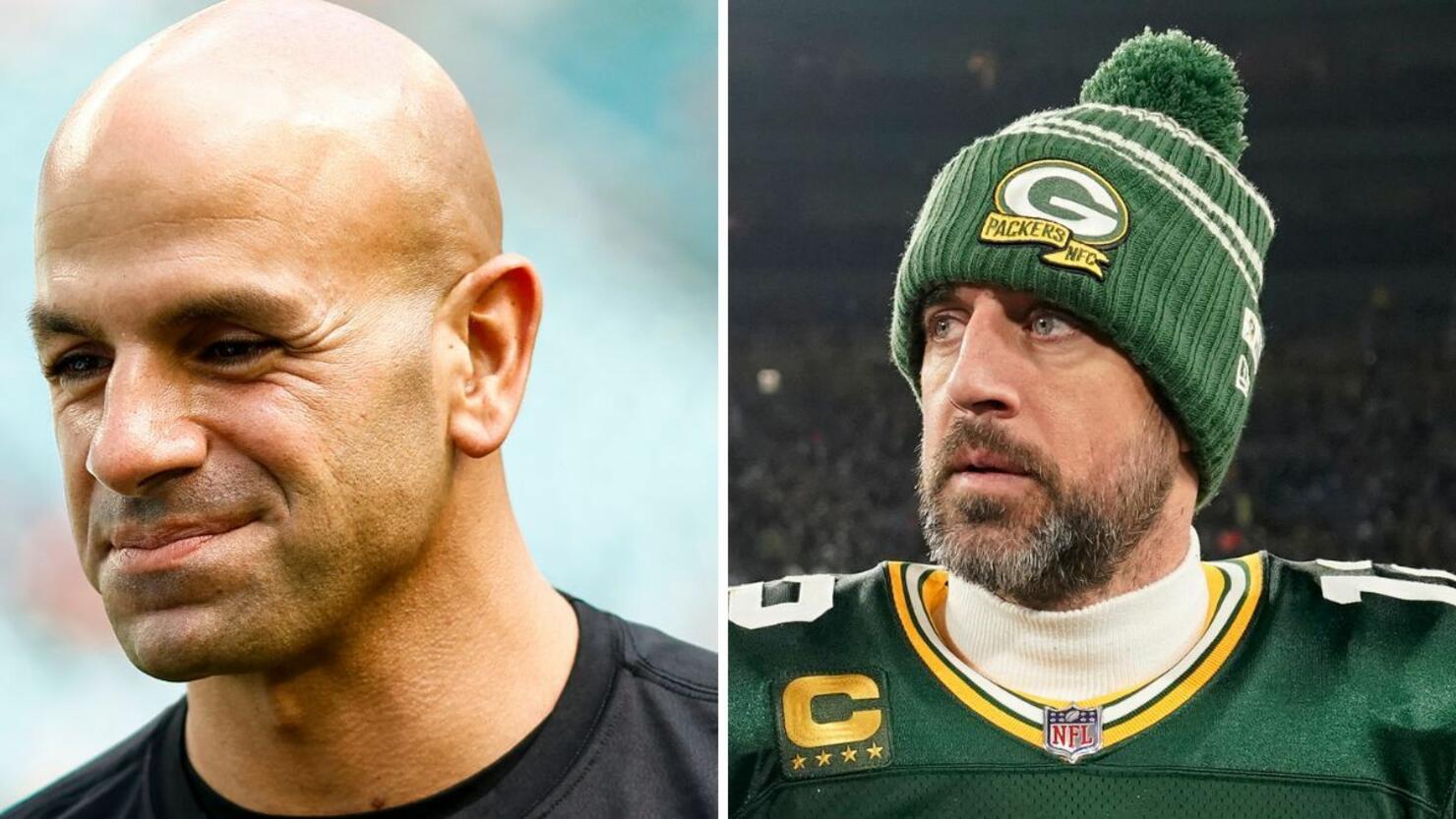 New York Jets head coach Robert Saleh said there's no great "urgency" to complete a trade to acquire Green Bay Packers quarterback Aaron Rodgers amid an apparent stall in negotiations between the two teams, NFL Network's Mike Garafolo reports.
Saleh, who addressed reporters at the AFC coaches breakfast during the first day of the NFL Owners' Meetings in Arizona on Monday (March 27), said "it takes two to tango" and intended to "respect the process" in relation to a potential trade involving Rodgers. The 44-year-old also acknowledged newly hired offensive coordinator Nathaniel Hackett -- who had previously held the same position with the Packers for three seasons -- having a "great rapport with" Rodgers.
#Jets coach Robert Saleh on the Aaron Rodgers situation: "It takes two to tango. Just respect the process. … There's great rapport with the (offensive) coordinator." Says there's no great "urgency." The standoff continues… pic.twitter.com/3SZ4Ejjv6a

— Mike Garafolo (@MikeGarafolo) March 27, 2023
Earlier this month, Rodgers publicly acknowledged his intention to play for the Jets next season after previously being in favor of retiring prior to his recent darkness retreat.
"Since Friday, my intention was to play and play for the NY Jets," Rodgers said during a March 15 appearance on the Pat McAfee Show.
Last week, NFL Network's Ian Rapoport told McAfee that a trade centered around Rodgers may not be completed until the first day of the 2023 NFL Draft on April 27, which is "the only real deadline."
"I'm trying to look at where this goes and, you know, deadlines are always what drives these things. There is a real possibility this rolls right up to the draft cause that's the only deadline. It's about the 2023 draft picks and when you actually have to use them is the deadline," Rapoport said.
Rapoport said the two sides are likely continuing to discuss the compensation involved but he, personally, cannot confirm which side has the leverage with Rodgers publicly announcing his intention to play for the Jets next season and the Packers previously acknowledging their plan to move on to former first-round pick Jordan Love at quarterback.
"I don't see any point where they would just say, 'OK, fine, we have to do this deal' until late April."
Rodgers met with Jets owner Woody Johnson and a contingent of team representatives in California on March 7. New York had previously acquired Rodgers' predecessor, Brett Favre, in a trade with the Packers in 2008, which led to the eventual four-time NFL MVP taking over as Green Bay's starting quarterback for the remainder of his tenure with the franchise.
Last month, ESPN's Adam Schefter reported that the Jets were "a very real scenario" in a possible trade for Rodgers even prior to the hiring of Hackett, who the quarterback had publicly praised following his hiring as the Denver Broncos' head coach last offseason. Rodgers led the NFL's top scoring offense during the first of two consecutive Associated Press Most Valuable Player award-winning seasons in 2020, both of which took place during Hackett's tenure with the Packers.
Rodgers signed a three-year, $150 million extension with the Packers last offseason amid previous reports of being disgruntled with the franchise. The 39-year-old was coming off back-to-back MVP seasons ahead of the 2022 NFL season, which resulted in Green Bay missing the playoffs after clinching a postseason berth during the previous three consecutive seasons and 11 of the past 13 years.
Rodgers leads all Packers quarterbacks with 475 touchdowns and ranks second in franchise history behind only Favre in QB wins (147), completions (5,001) and passing yards (7,660).