If you've seen Apple's latest iPhone 7/AirPods commercial, then you've heard the addicting song that serves as the ad's soundtrack -- we're talking about Marian Hill's "Down," of course. The track is off the Philadelphia duo's 2016 debut full-length album ACT ONE, which follows the release of two EPs; Play (2013) and Sway (2015). 
Marian Hill got their name from the two lead characters in The Music Man musical, Marian Paroo and Harold Hill. Since their EP, Play, the pair from Philadelphia -- which consists of producer Jeremy Lloyd and vocalist Samantha Gongol -- are quickly capturing the attention of music fans everywhere with "Down," including Fifth Harmony's Lauren Jauregui. In fact, Jeremy, Samantha, and Lauren teamed up for a collaboration of their own that the trio recently shared called "Back To Me."
We recently caught up with Marian Hill in Los Angeles and got to know more about them, their hit R&B/EDM single "Down," what it was like collaborating with Lauren, and more during an exclusive interview.
On how they wrote and produced "Down"
"The song is a really great defining thing for our aesthetic. We wrote it in the midst of the process of the album -- it wasn't the beginning or end. I just started [messing] around on the piano and then very quickly, we started singing a melody, and we got so excited about the idea of some of these songs that build and then drop, and the idea of just going from the thinnest, simplest thing, to an explosion of a drop. It's very much what we're about. It's simplicity meets modern electronics, and it's a real duet between the two of us."
Having "Down" featured in an Apple commercial was really special and exciting for the duo. Samantha tells us "Once it came out, it was thrilling. I mean, we couldn't have asked for a better spot. We were real lucky." 
Jeremy adds that the spot was a perfect fit for the Marian Hill aesthetic. "It's such a perfect fit. We've had our music placed in a few things, and it's always great, but this is just so on point with our aesthetic. It's black and white, it's dance, it's really simple and really forward-thinking, and it's very much what we're all about."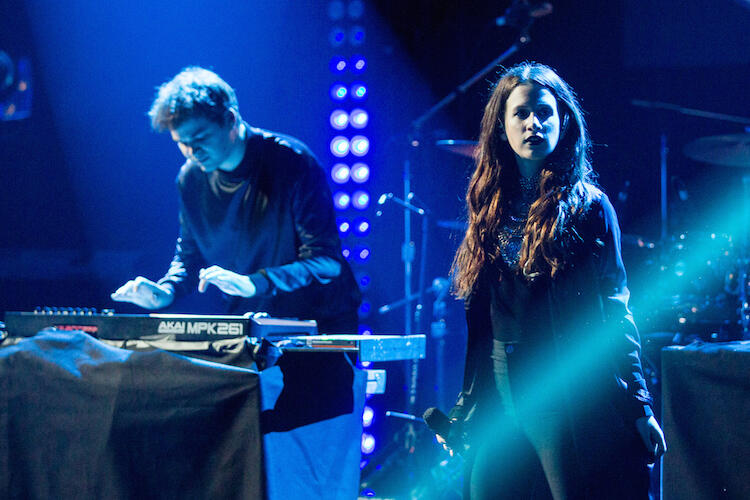 On what it was like collaborating with Fifth Harmony's Lauren Jauregui on "Back To Me"
Mariah Hill and Lauren Jauregui's collaboration "Back To Me" happened pretty organically. Lauren is a fan of the duo, and connected with them after she attended one of their shows. "Back To Me " is Lauren's first solo venture outside of Fifth Harmony. Samantha says of the collaboration:
"She was a fan of ours, actually. It was really cool. She mentioned us for the first time in an interview with Ryan Seacrest, and everyone else in the group at the time, they were talking about the [Justin] Bieber record and she was like, 'Yeah, I've been listening to this band called Marian Hill.' And he's like, 'I have no idea who they are, so I should check them out.' And then she came to a show of ours and we connected."
Listen to Mariah Hill's "Down" and "Back To Me" featuring Lauren Jauregui below.
Photos: Katherine Tyler for iHeartRadio