Reconnect with your Celtic heritage with instrumental episode of the Irish & Celtic Music Podcast #591.
The Byrne Brothers, Poisoned Dwarf, Widening Gyre, One Street Over, Sylvia Woods, Lilt, Mason Brown, Robin Huw Bowen, W Ed Harris, Keith Hinchliffe, West of Mabou, Sliotar, Kilrush, Scythian, Jonathan Milton
VOTE IN THE CELTIC TOP 20 FOR 2023
This is our way of finding the best songs and artists each year. You can vote for as many songs and tunes that inspire you in each episode. Your vote helps me create next year's Best Celtic music of 2023 episode.  Vote Now!
Two weeks after the episode is launched, I compile your votes to update a playlist on Spotify and YouTube. These are the results of your voting. You can help these artists out by following the playlists and adding tracks you love to your playlists. Follow us on Facebook to find out who is added each week.
Listen on Spotify and YouTube.
GET CELTIC MUSIC NEWS IN YOUR INBOX
The Celtic Music Magazine is a quick and easy way to plug yourself into more great Celtic culture. Subscribe and get 34 Celtic MP3s for Free.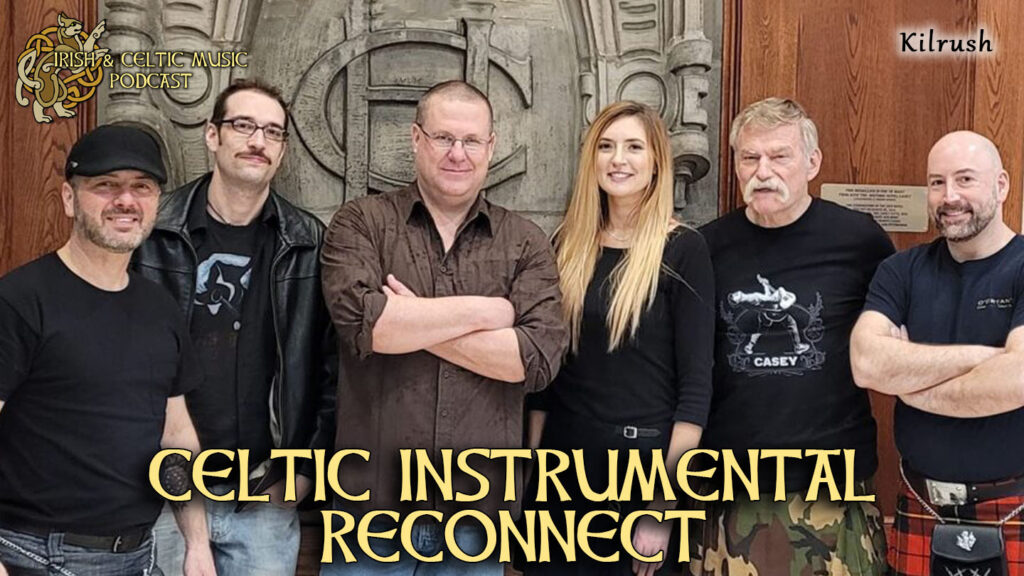 THIS WEEK IN CELTIC MUSIC
0:02 - Intro: Jen Midkiff
0:07 - The Byrne Brothers "Savage Cabbage  -  McKennas Jig, Ships are Sailing, Ormond
Sound Reels (Traditional)" from Living the Dream
4:10 - WELCOME
5:29 - Poisoned Dwarf "Col Rebertson's" from Bolt The Door
11:56 - Widening Gyre "MacDougall's Pride" from Reel Shadows
15:44 - One Street Over "Across the Black Water" from Beyond the Gate
17:56 - Sylvia Woods "Morning Calm" from The Harp of Brandiswhiere
21:12 - FEEDBACK
25:02 - Lilt "The Price of My Pig / The Coming of Spring / Paddy Fahy's" from X
28:42 - Mason Brown "Mark Miller's Jig" from I am a Handsome Devil
New album: Los Boyos
32:45 - Robin Huw Bowen "Y Fwyalchen" from Iaith Enaid
39:08 - W Ed Harris "O'Dowds  -  Master Crowleys  -  Dogs Among the Bushes" from The Well Below The Valley Project
Two new albums: Family, Friends, Choices, & Memories and also Cares of Tomorrow (Can Wait)
43:02 - Keith Hinchliffe "A WEE DRAM or HENRY THE HORSE'S HORNPIPE " from A WEE DRAM
44:58 - THANKS
49:19 - West of Mabou "Lime Hill (With Wendy MacIsaac)" from The Bridge
52:40 - Sliotar "The Boys of the Town" from Voyage
57:42 - Kilrush "Monaghan / Dunmore Lassies" from Kilrush [Explicit]
1:03:29 - Scythian "Scratchbox Reel" from American Shanty
1:06:12 - CLOSING
1:07:57 - Jonathan Milton  "Gander" from Just One More...
The Irish & Celtic Music Podcast was produced by Marc Gunn, The Celtfather and our Patrons on Patreon. The show was edited by Mitchell Petersen with Graphics by Miranda Nelson Designs.
Visit our website to subscribe to the show. You'll find links to all of the artists played in this episode. You'll get access to our Best of this Year Playlist. You can subscribe to our Celtic Music Magazine and get 34 Celtic MP3s for Free. Plus, you'll get 7 weekly news items about what's happening with Celtic music and culture online. Best of all, you will connect with your Celtic heritage.
Finally, please tell one friend about this podcast. Word of mouth is the absolute best way to support any creative endeavor.
Promote Celtic culture through music at http://celticmusicpodcast.com/.
WELCOME CELTOPHILE TO CELTIC MUSIC
* Helping you celebrate Celtic culture through music. I am Marc Gunn. I'm a musician and podcaster out of Atlanta, Georgia. This Podcast is here to build our diverse Celti