Let's go roving with the Irish & Celtic Music Podcast #632.
Jared Bogle, The Bordercollies, Rover's Way, Mary - Kate Spring Lee, Eimear Arkins, Seldom Sober, Avery LeVine, Blame Not the Bard, Dervish, Brian Quigley, Eclectic Revival, The Muckers, Marc Gunn, Sam Gillogly, Dancing With Hobbits
GET CELTIC MUSIC NEWS IN YOUR INBOX
The Celtic Music Magazine is a quick and easy way to plug yourself into more great Celtic culture. Subscribe and get 34 Celtic MP3s for Free.
VOTE IN THE CELTIC TOP 20 FOR 2023
This is our way of finding the best songs and artists each year. You can vote for as many songs and tunes that inspire you in each episode. Your vote helps me create next year's Best Celtic music of 2023 episode.  Vote Now!
You can also follow our playlists on Spotify and YouTube. These feature the top songs two weeks after the polls open. It also makes it easier for you to add these artists to your own playlists.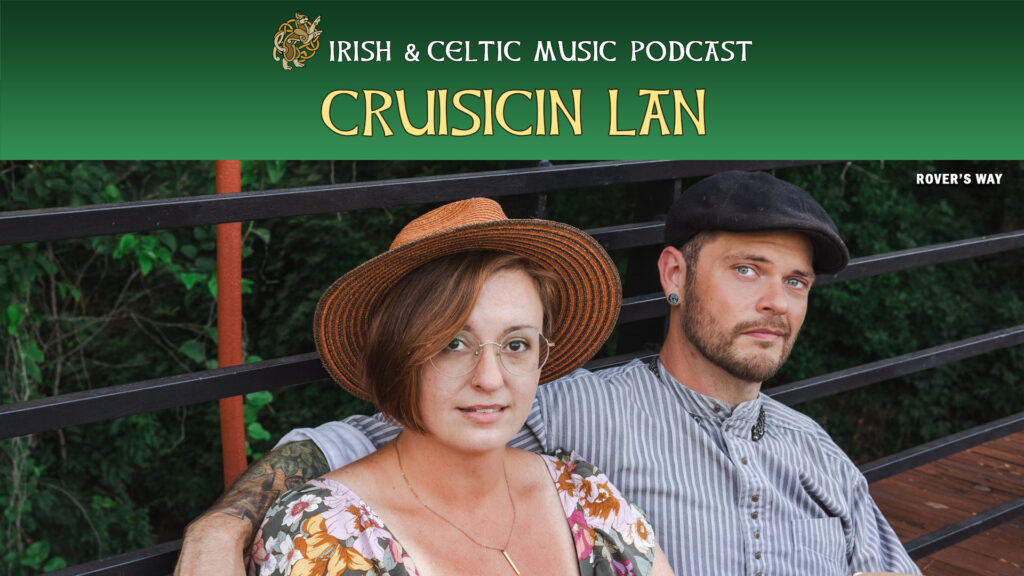 THIS WEEK IN CELTIC MUSIC
0:02 - Intro: John Kennedy
0:19 - Jared Bogle "Found and Lost / The Final B (Jigs)" from The Old Road Home
4:04 - WELCOME
5:21 - The Bordercollies "The Ivy Leaf/Hanleys/The Milky Way" from Sticks and Stones
9:01 - Rover's Way "Cruiscin Lan" from The Journey
12:58 - Mary - Kate Spring Lee "From Galway to Dublin/McGlinchey's Hornpipe" from Tunes in the Morning
17:27 - Eimear Arkins "Slán Le Máigh" from What's Next?
23:48 - FEEDBACK
27:42 - Seldom Sober "Raggle Taggle Gypsy / King of the Fairies" from Six Months in Confession
31:51 - Avery LeVine "Give Us a Drink of Water/Martin Wynne's No. 1" from The Rainy Day
33:50 - Blame Not the Bard "The Leaving of Liverpool" from Now and Again
37:06 - Dervish "The May Morning Dew" from The Great Irish Songbook
41:07 - THANKS
43:29 - Brian Quigley "Party Without Pants" from Tales of Distant Shores
47:50 - Eclectic Revival "Jack Haggarty" from Life & Love
51:20 - The Muckers "God Save Ireland" from One More Stout
53:32 - CLOSING
55:42 - Marc Gunn, Sam Gillogly "October Waltz" from Dancing With Hobbits
59:17 - CREDITS
The Irish & Celtic Music Podcast was produced by Marc Gunn, The Celtfather and our Patrons on Patreon. The show was edited by Mitchell Petersen with Graphics by Miranda Nelson Designs. Visit our website to subscribe to the show. You'll find links to all of the artists played in this episode.
Todd Wiley is the editor of the Celtic Music Magazine. Subscribe to get 34 Celtic MP3s for Free. Plus, you'll get 7 weekly news items about what's happening with Celtic music and culture online. Best of all, you will connect with your Celtic heritage.
Please tell one friend about this podcast. Word of mouth is the absolute best way to support any creative endeavor.
Finally, remember. Reduce, reuse, recycle, and think about how you can make a positive impact on your environment.
Promote Celtic culture through music at http://celticmusicpodcast.com/.
WELCOME THE IRISH & CELTIC MUSIC PODCAST
* Helping you celebrate Celtic culture through music. I am Marc Gunn. I'm a Celtic musician and podcaster. This podcast is here to build our diverse Celtic community and help the incredible artists who so generously share their music with you. Musicians rely on your support to keep making music.  If you hear music you love, please email artists to let them know you heard them on the Irish and Celtic Music Podcast.
You can find a link to all of the artists in the shownotes, along with show times, when you visit our website at .css-j9qmi7{display:-webkit-box;display:-webkit-flex;display:-ms-flexbox;display:flex;-webkit-flex-direction:row;-ms-flex-direction:row;flex-direction:row;font-weight:700;margin-bottom:1rem;margin-top:2.8rem;width:100%;-webkit-box-pack:start;-ms-flex-pack:start;-webkit-justify-content:start;justify-content:start;padding-left:5rem;}@media only screen and (max-width: 599px){.css-j9qmi7{padding-left:0;-webkit-box-pack:center;-ms-flex-pack:center;-webkit-justify-content:center;justify-content:center;}}.css-j9qmi7 svg{fill:#27292D;}.css-j9qmi7 .eagfbvw0{-webkit-align-items:center;-webkit-box-align:center;-ms-flex-align:center;align-items:center;color:#27292D;}