Let our legacy be great with the Irish & Celtic Music Podcast.
Téada, The Carroll Sisters, The Secret Commonwealth, The Homespun Ceilidh Band, Muireann Nic Amhlaoibh, The Founding, Barrenhart, Blame Not the Bard, Brobdingnagian Bards, Clare Cunningham, Flynn Cohen, Brad Tuck, Flatfoot 56, Ogham
VOTE IN THE CELTIC TOP 20 FOR 2022
This is our way of finding the best songs and artists each year. You can vote for as many songs and tunes that inspire you in each episode. Your vote helps me create this year's Best Celtic music of 2022 episode.  Vote Now!
GET CELTIC MUSIC NEWS IN YOUR INBOX
The Celtic Music Magazine is a quick and easy way to plug yourself into more great Celtic culture. Subscribe and get 34 Celtic MP3s for Free.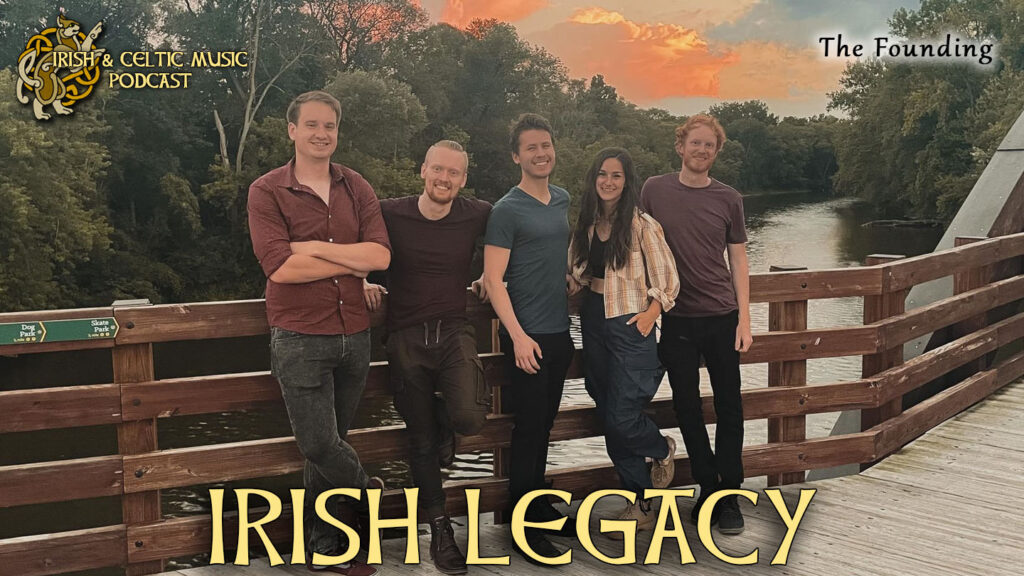 THIS WEEK IN CELTIC MUSIC
0:02 - Intro: Andrew McKee, The Irish Bard
0:21 - Téada "Jig / Air / March  -  Farewell to Stoneybatter / An Raibh Tú ag an gCarraig / March at Kilmore (04:03)" from Coiscéim Coiligh / As the Days Brighten
4:21 - WELCOME
5:36 - The Carroll Sisters "Peoples' Legacy" from Daybreak
12:16 - The Secret Commonwealth "Til Jamie Comes Hame" from Last Call
16:25 - The Homespun Ceilidh Band "Ross' Reel" from Home With The Homespun Ceilidh Band
19:54 - Muireann Nic Amhlaoibh "An Clár Bog Déil' from Ar Uair Bhig" from An Lae  -  The Small Hours
23:23 - FEEDBACK
26:13 - The Bordercollies "Waitin' to Hatch" from Sticks and Stones
28:57 - The Founding "Hush" from Form.
33:01 - Barrenhart "Haste To The Wedding/Drowsy Maggie/Harvest Home" from Celtic Grass
34:39 - Blame Not the Bard "Mary Mac" from Soundcheck
36:52 - Brobdingnagian Bards "Fellowship of the Ring" from Memories of Middle Earth
42:48 - THANKS
44:27 - Clare Cunningham "Clovers" from Dear Ireland
48:48 - Flynn Cohen "Monaghan Twig / Road To Cashel" from Dead String Rhythm
51:51 - Brad Tuck "Battle Harbour Bound" from Stages
55:57 - Flatfoot 56 "Brotherhood" from Knuckles Up
58:20 - CLOSING
59:19 - Ogham "Cronin's / Chief O'Neill's Favorite" from The Gold Ring
The Irish & Celtic Music Podcast was produced by Marc Gunn, The Celtfather. The show was edited by Mitchell Petersen with Graphics by Miranda Nelson Designs.
The Irish & Celtic Music Podcast is here to build our diverse Celtic community and help the incredible artists who so generously share their music with you.
Visit our website to subscribe to the podcast. You'll get access to our Best of this Year Playlist. You'll also find links to all of the artists played in this episode so you can buy from them and help them keep creating new music. And you will better connect with your Celtic heritage.
The show is supported by our Patrons of the Podcast on Patreon. Visit SongHenge.com to get bonus podcasts and vote in the Celtic Top 20.
Finally, please tell one friend about this podcast. Word of mouth is the absolute best way to support any creative endeavor.
Promote Celtic culture through music at http://celticmusicpodcast.com/.
WELCOME CELTOPHILE TO CELTIC MUSIC
* Helping you celebrate Celtic culture through music. I am Marc Gunn. I'm an Atlanta - based musician and podcaster. You can find a link to all of the artists in the shownotes, along with show times and chapters for each song when you visit our website at celticmusicpodcast.com. If you hear music you love, please email artists to let them know you heard them on the Irish and Celtic Music Podcast.
The Irish & Celtic Music Podcast is a proud sponsor of the IrishFest Atlanta. The festival takes place November 4 - 5, 2022. It celebrates the culture of Ireland through traditional mus