INTERVIEW: Tattoo Stories with Pierce The Veil
By Nicole Mastrogiannis
July 21, 2016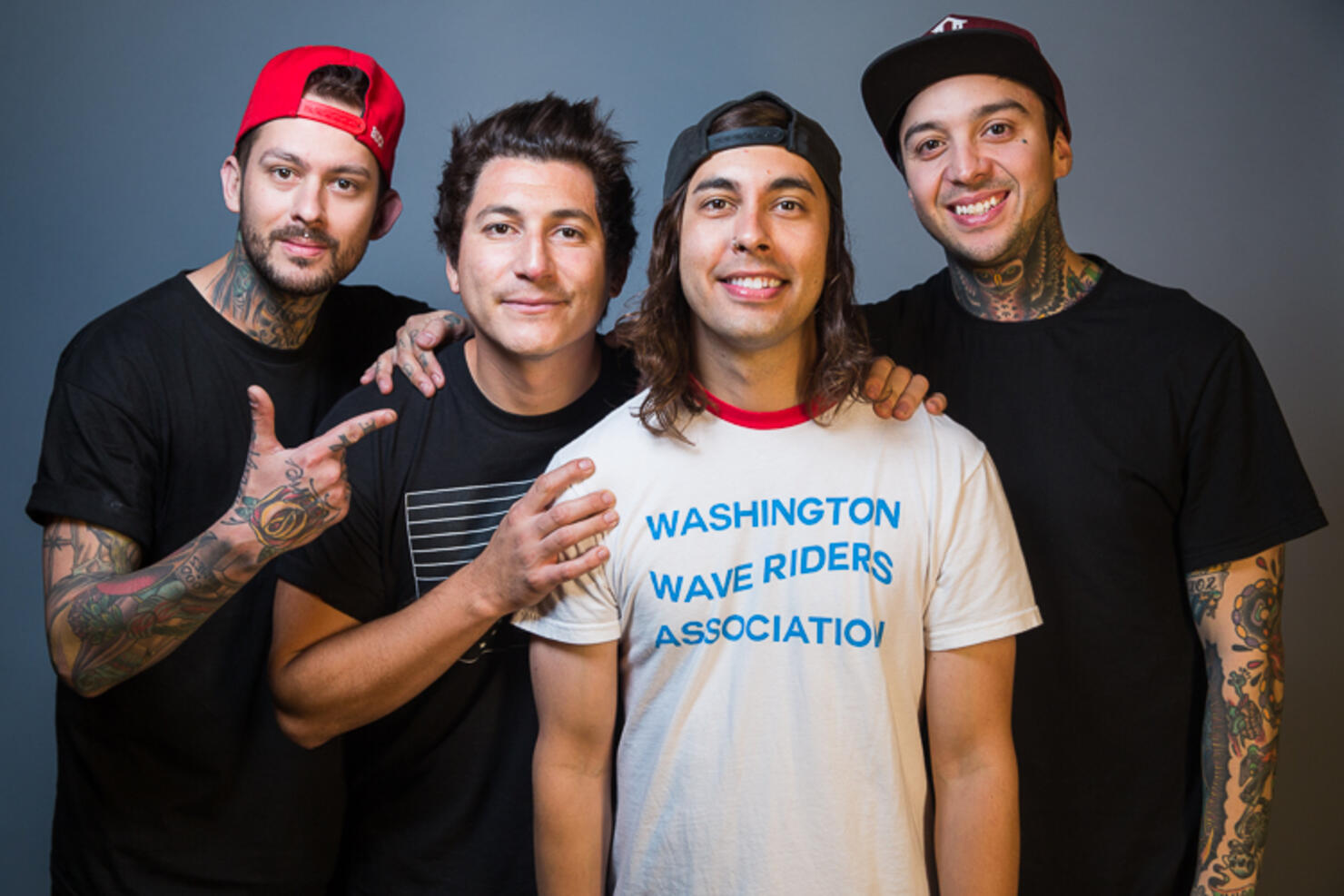 It's been a busy year for rock band Pierce The Veil, which is comprised of Vic Fuentes (vocals), Mike Fuentes (drums), Tony Perry (lead guitar), and Jaime Preciado (bass). The band released their fourth studio album back in May, titled Misadventures, which hit the No. 1 position on multiple Billboard charts including the US Top Rock Albums, US Independent Albums, US Top Hard Rock Albums, US Top Alternative Albums, and UK Rock & Metal Albums charts. The new album, which was recorded in Long Island, New York, was produced by Dan Korneff and features 11 new songs, including singles like "The Divine Zero," "Texas Is Forever," and their current hit single "Circle." They also just finished a national tour where they played every track from their new record. Now, the guys are moving quickly onto the next series of live shows, and have announced their new "Made to Destroy Tour," which kicks off in the fall, along with Neck Deep and I Prevail.
Pierce The Veil recently stopped by iHeartRadio HQ, where they gave an awesome acoustic performance of their song "Today I Saw The World," which is also off of Misadventures. And if you're familiar with the band, then you know several of the guys have massive amounts of tattoos, so Pierce The Veil's Mike Fuentes and Tony Perry opened up to us about the stories behind their ink during an exclusive interview. Check it out below!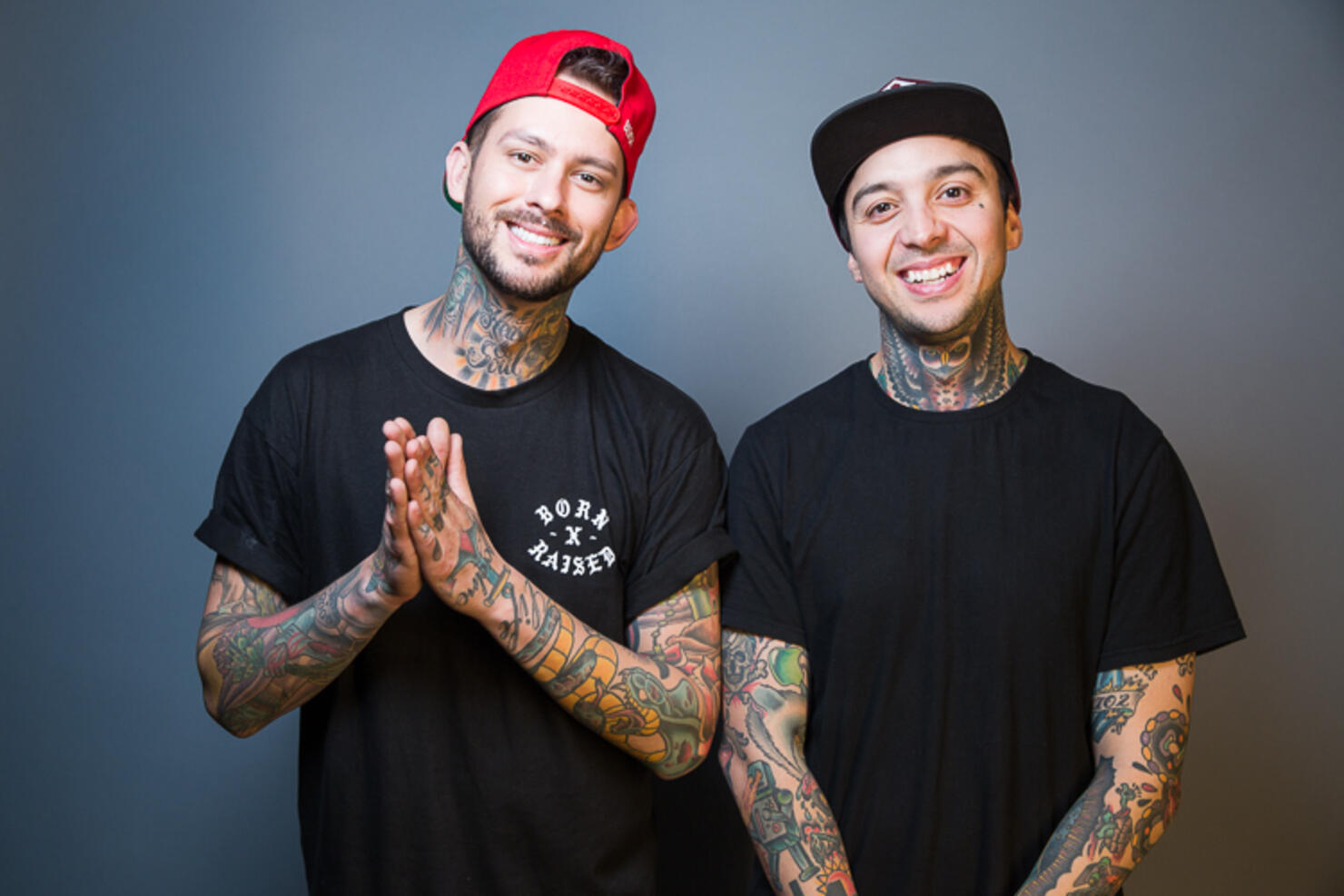 Mike got his first tattoo at the age of 18, and although his brother Vic has no tattoos, Vic did play a role in his sibling and bandmate's first piece of ink -- he actually drew the design himself! Vic may be a music artist, but he's also a pretty good artist in general, according to his brother.
Mike on his first tattoo - his last name and a rose wrapped around a music note
"My first real big piece I got was actually drawn up by my brother, Victor. It's just a music one, and it says our last name 'Fuentes' with a rose wrapped around the music note. And that is a 100% the exact drawing that Vic did, so Vic is actually a really good artist. And then, I came home with it, and my mom was like, 'Why did you do that?' And I was like, 'Ah. I'm going to get more, too.' And she was like, 'Oh no.' Now she likes them. I wanted to get tattooed so bad that I didn't even care about the pain."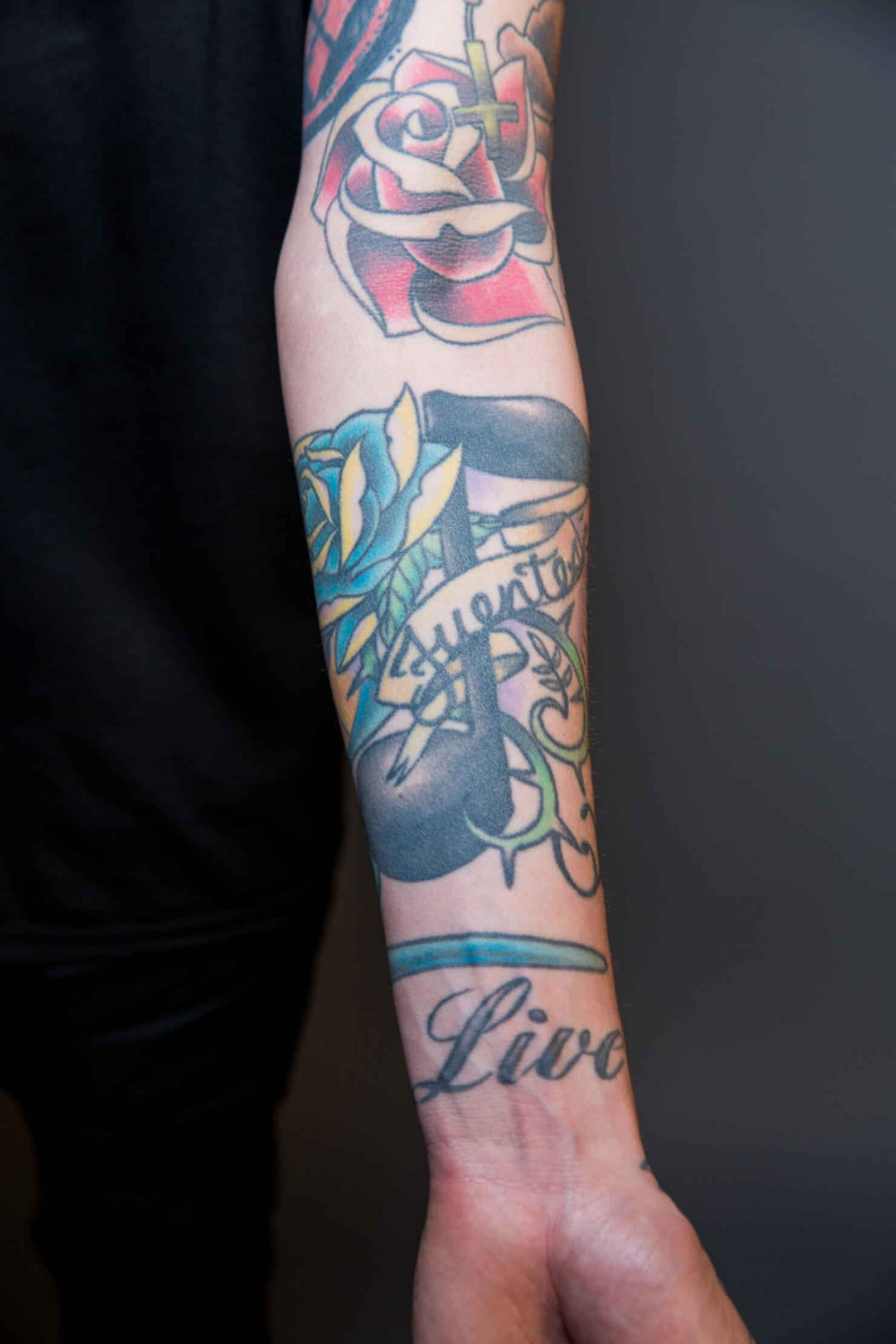 A tattoo designed by your brother, which happens to be your first, is definitely very special. But Mike tells us one of his more meaningful tattoos is of one of the most famous wizards of our time: Harry Potter. In case you didn't know, Mike is a huge Harry Potter fan, and has a detailed portrait of Harry on his left thigh.
On the Harry Potter tattoo on his left thigh
"My most meaningful tattoo is a portrait, it's on my leg. This is kind of, kind of crazy but ... that is Harry right there. It's Harry Potter, and that's the most meaningful tattoo I have. I just love Harry Potter. That was actually done by a guy named Chris Rubey, and he was in The Devil Wears Prada, and that was his first portrait he's ever done. He was tattooing for like a month, and I think he killed it."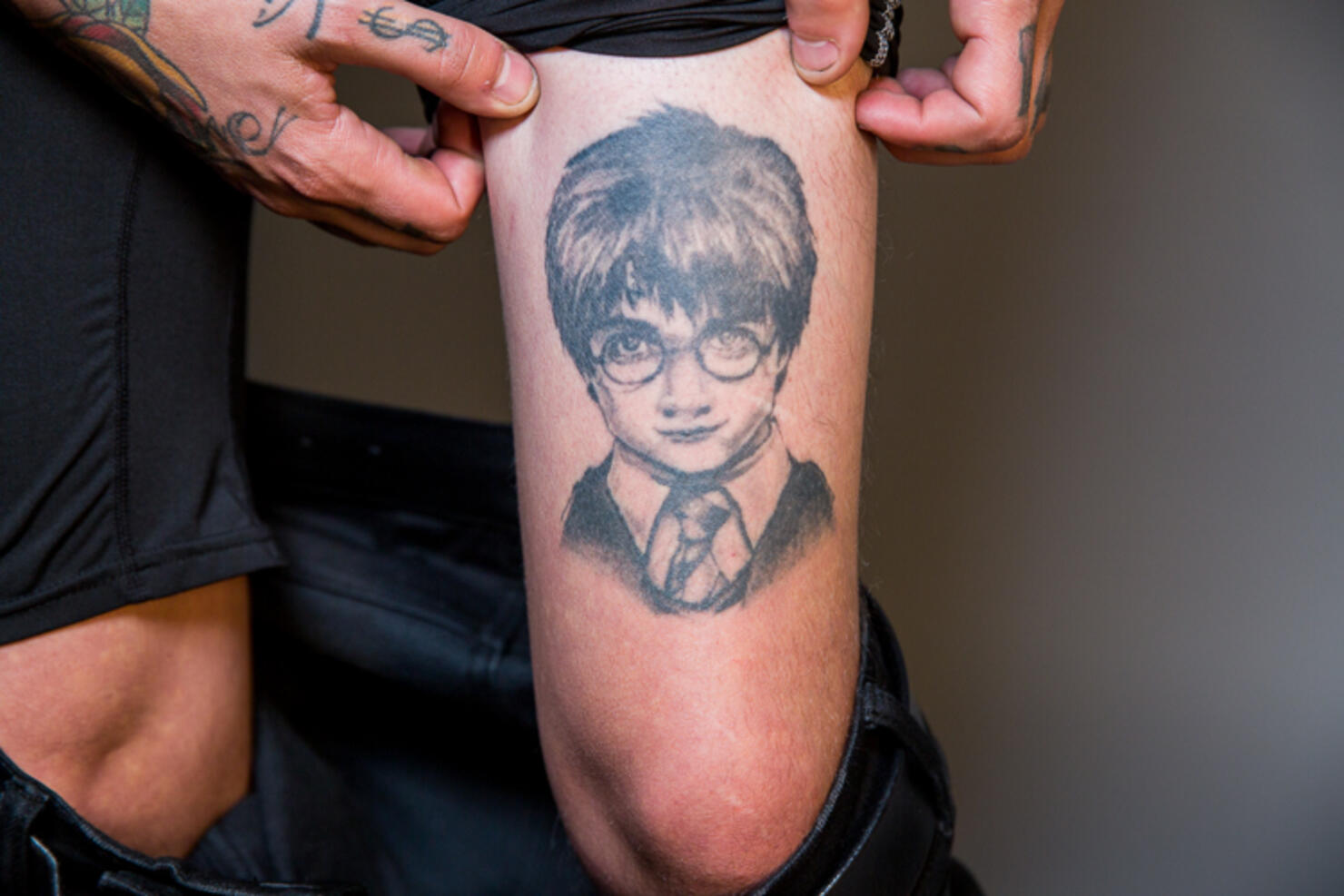 And no, that's not the only Harry Potter tattoo that Mike has. About eight years ago, he had The Deathly Hallows symbol tattooed on his right palm, which he describes as "the most painful thing," and says felt like "a rusting nail going into [his] hand." He adds, "That was definitely the most painful. [It also faded] a little quicker. Plus, I'm a drummer too, so I didn't really let it heal a lot."
In case you're not familiar with this Harry Potter symbol, it represents the tale often told to wizard children about three brothers who tried to cheat death. The triangle is for the Cloak of Invisibility, the circle is the Resurrection Stone, and the line down the middle is the Elder Wand -- which is the most powerful wand you can have as a wizard. According to The Deathly Hallows story, all three objects combined together makes "one master of death."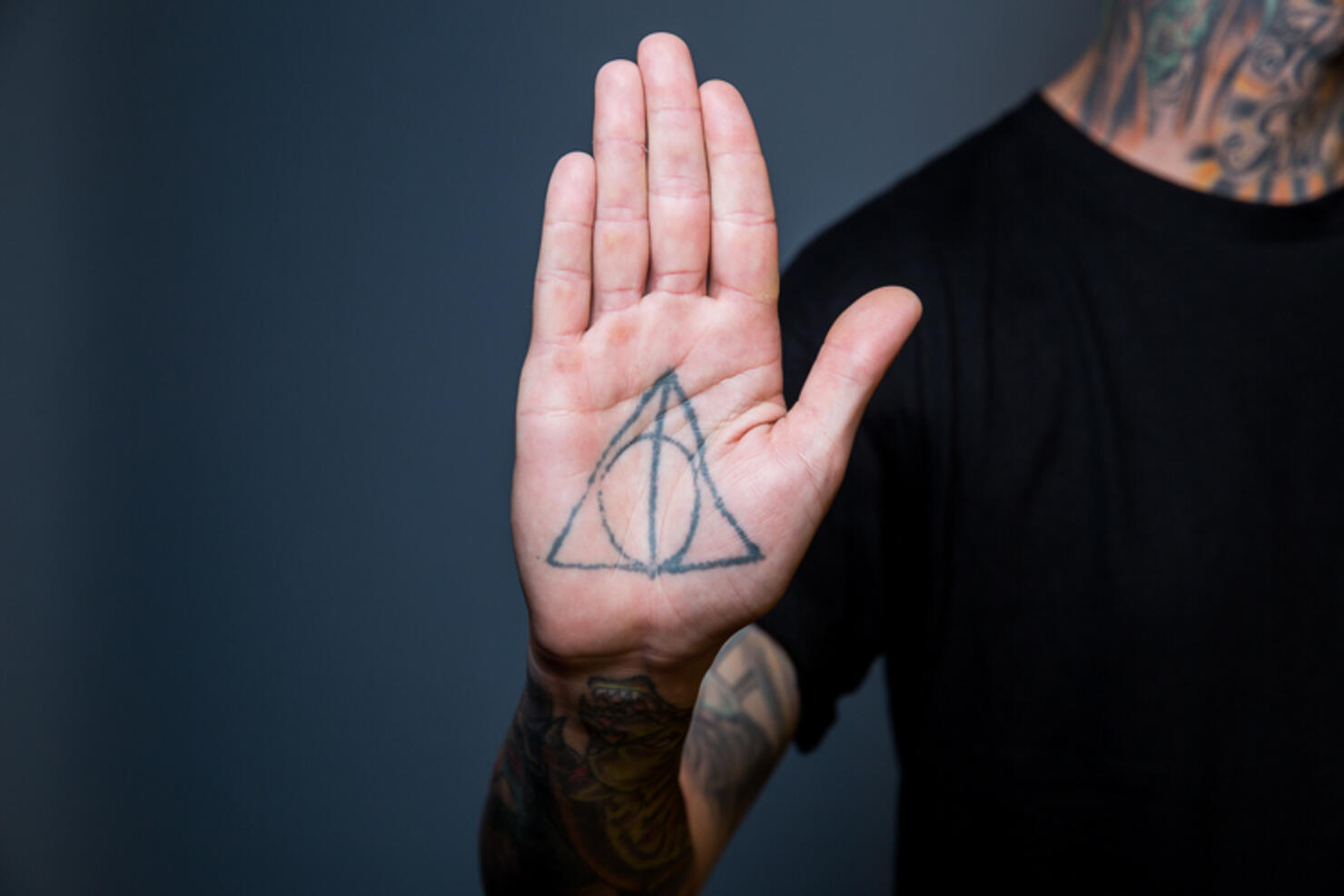 And sticking with the Harry Potter theme, Mike also has an extremely cool looking Hedwig, which is Harry's owl in the book/movie series, on the top of his right thigh. This Hedwig is wearing a hat, sunglasses, and slightly unbuttoned flannel shirt.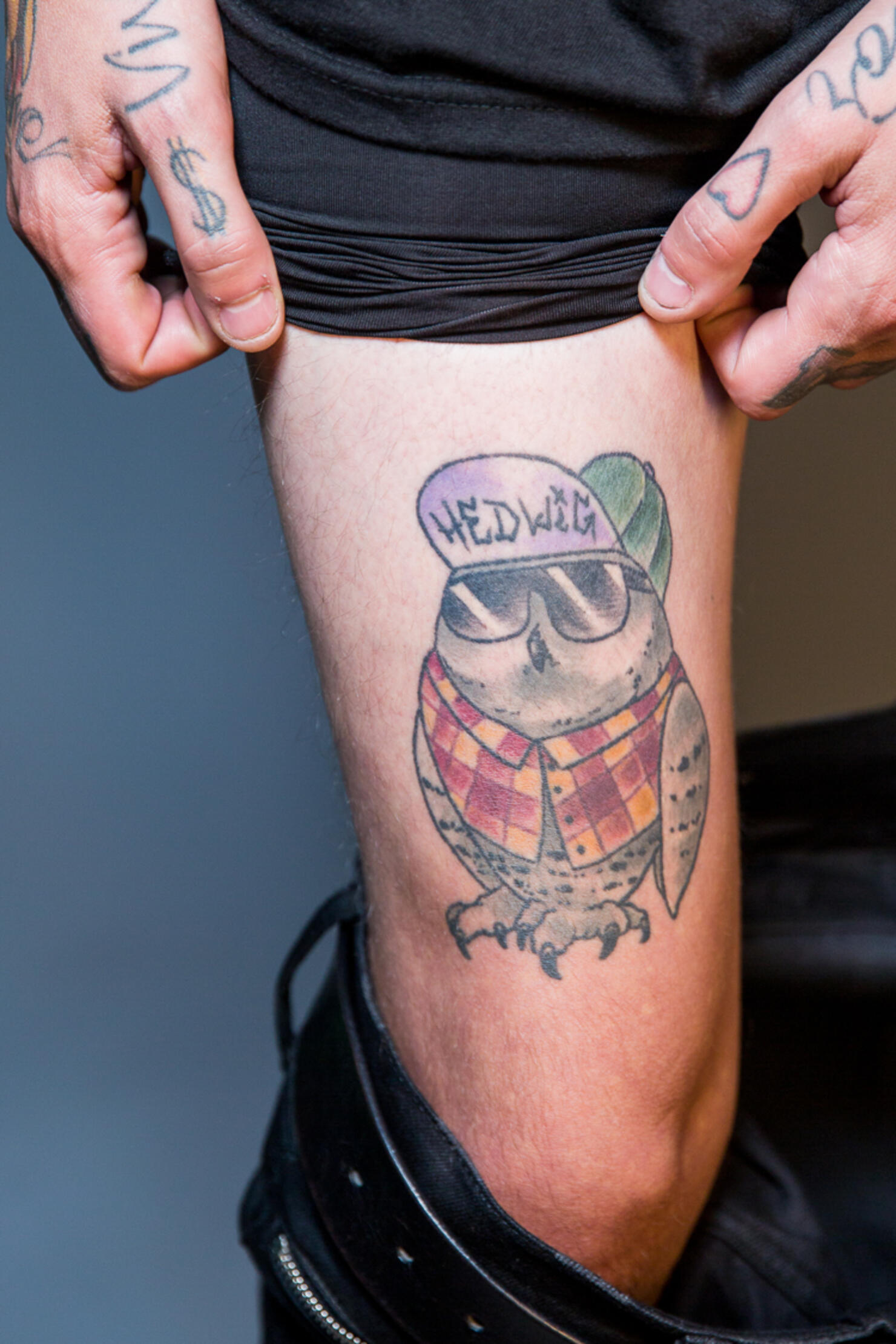 Mike also has some tattoos influenced by his parents. Aside from both of their names (Victor and Vivian) tattooed down his right and left thumb finger, on his throat, Mike has the words "Heart and Soul" tattooed on him -- which originated from advice that his father had always given him growing up.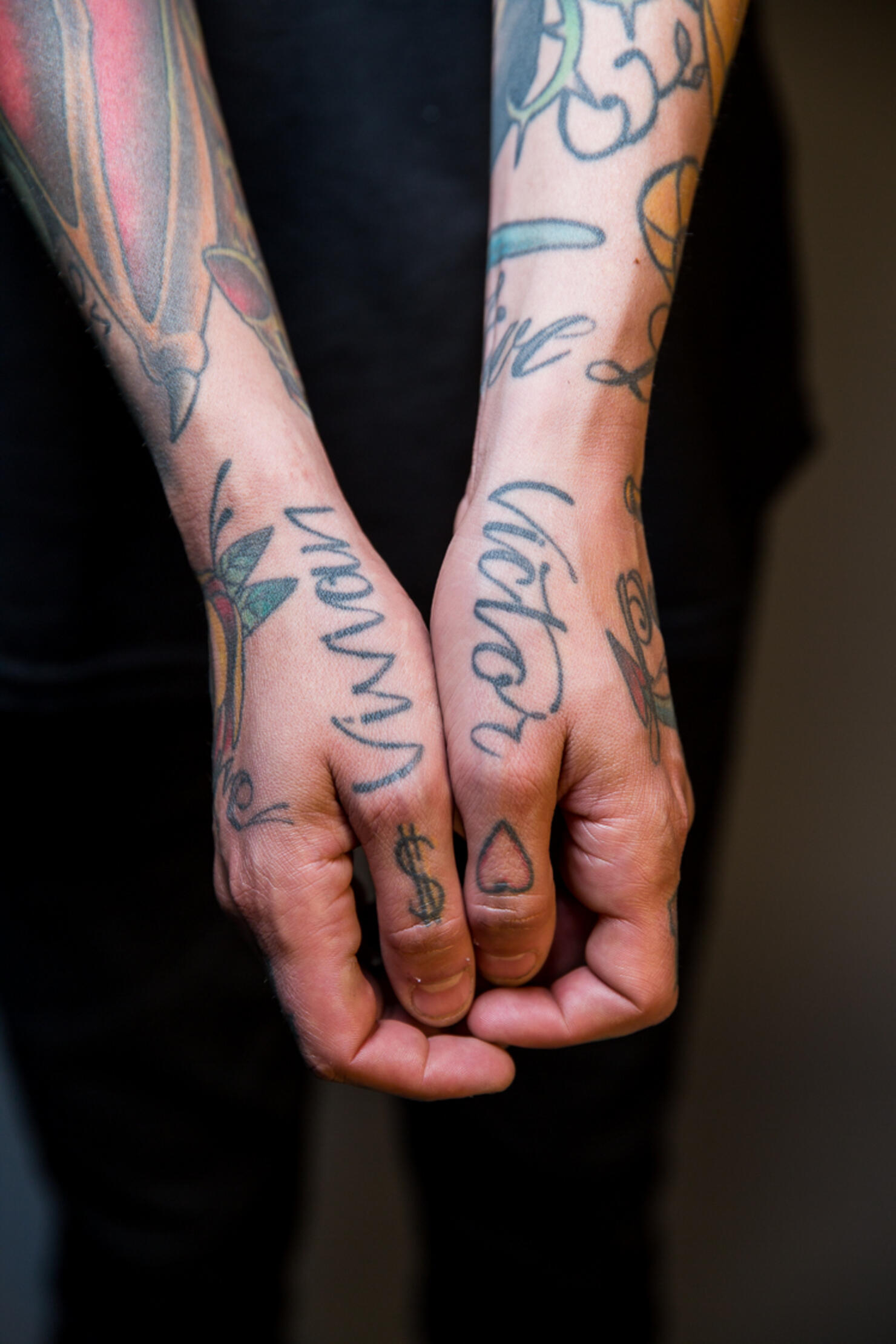 On the "Heart and Soul" and Mary & Jesus tattoos on his throat/neck
"This was actually not as bad as I thought it was gonna be. It says 'Heart and Soul.' It's what my dad always told me: 'Play with your heart and soul.' It was interesting when they tattoo your throat. I was afraid they were gonna just hit the Adam's apple right there, and they actually moved it to the side, and they just tattoo around it. Because you already have a stencil there, and move it to the side and tattoo, so they're not tattooing right on your guy right there."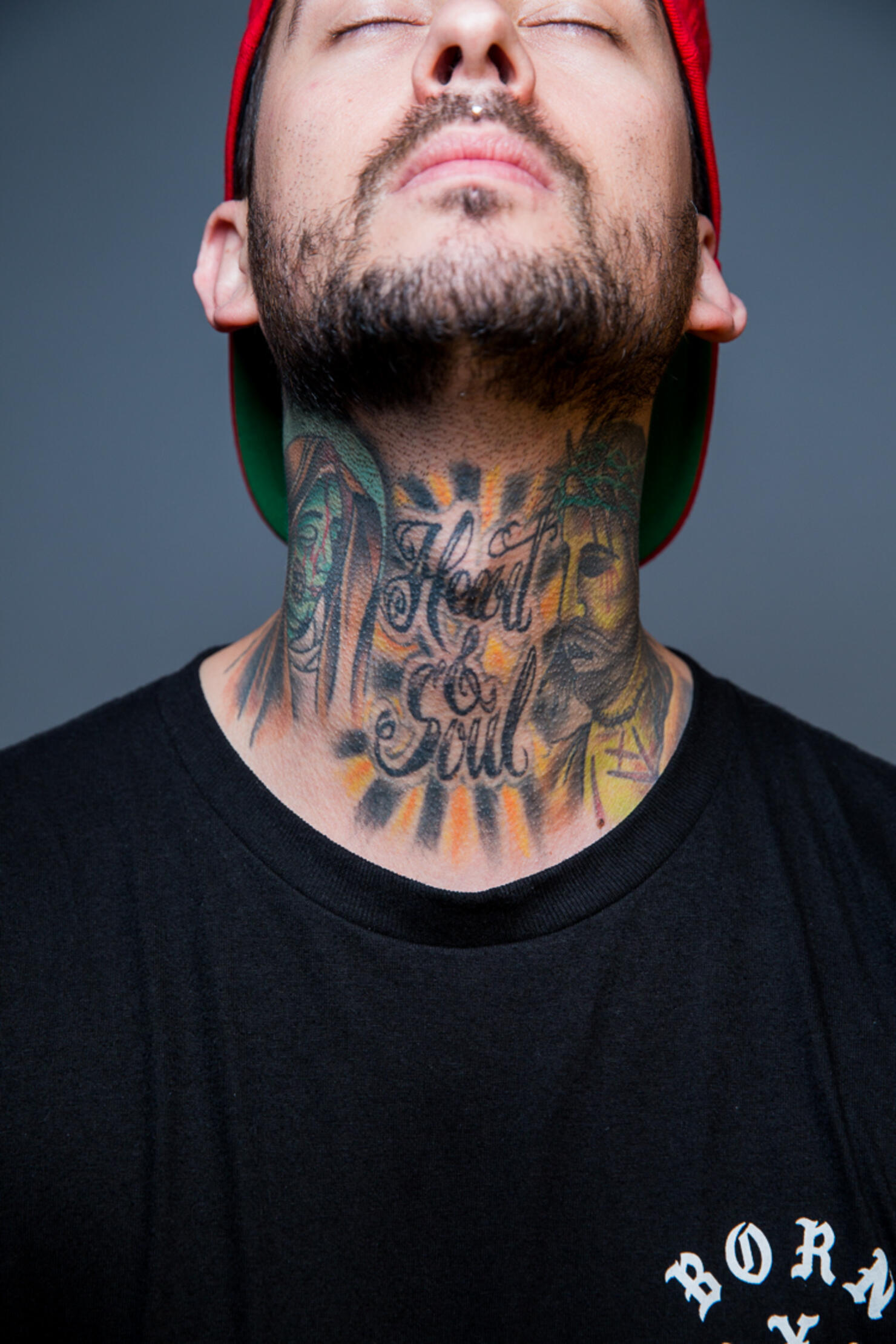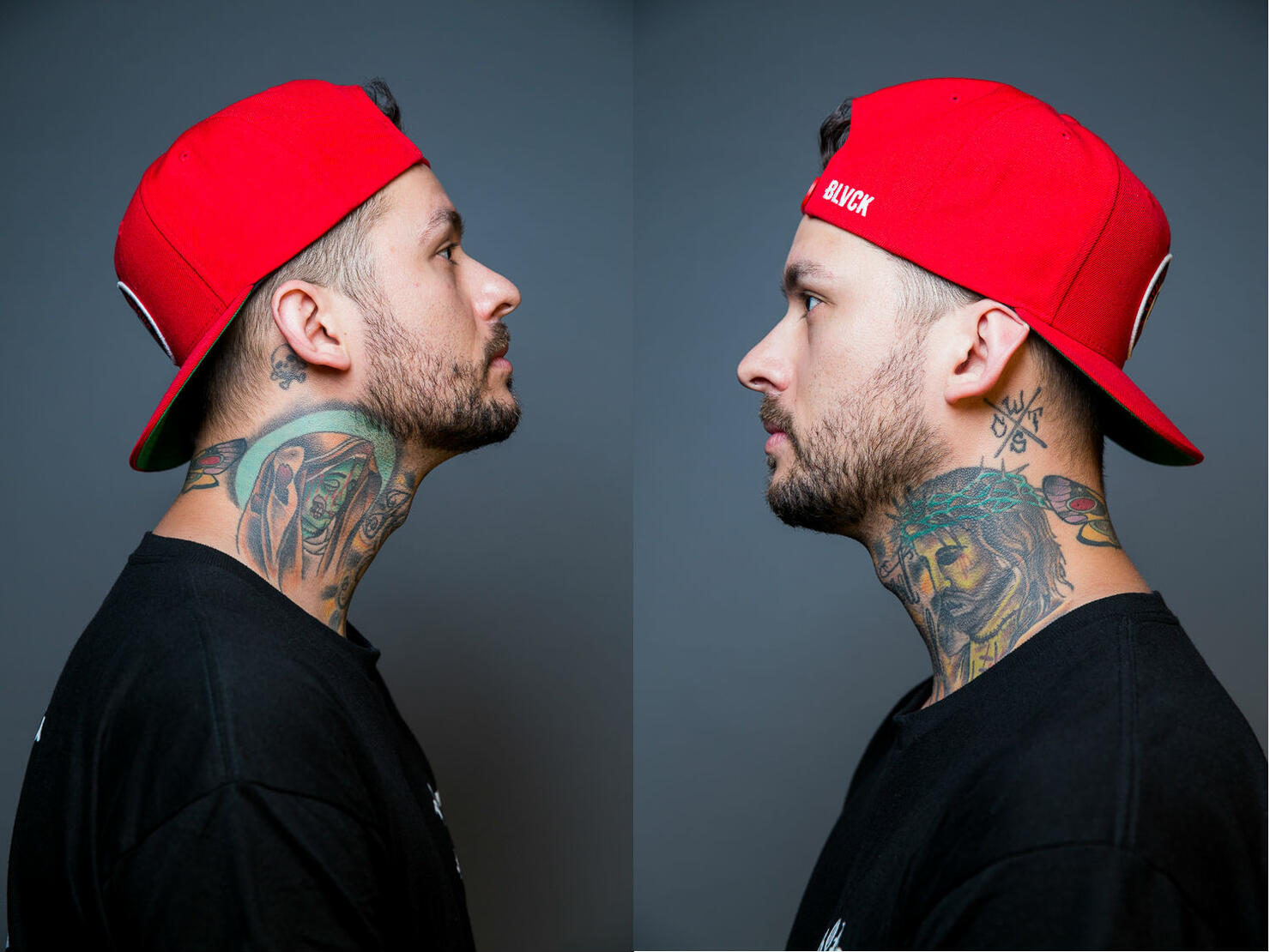 On his album-inspired arm tattoos
One of the more recent tattoos that Mike got was after the band finished their 2012 album Collide With The Sky, and the ink was obviously inspired by the album artwork. The woman who is pictured floating in the sky above the wrecked house on the album cover was turned into Mike's tattoo on his right arm, only her silhouette is filled in as the sky. "I got this one after we finished our last record Collide With The Sky. That's the girl from the record."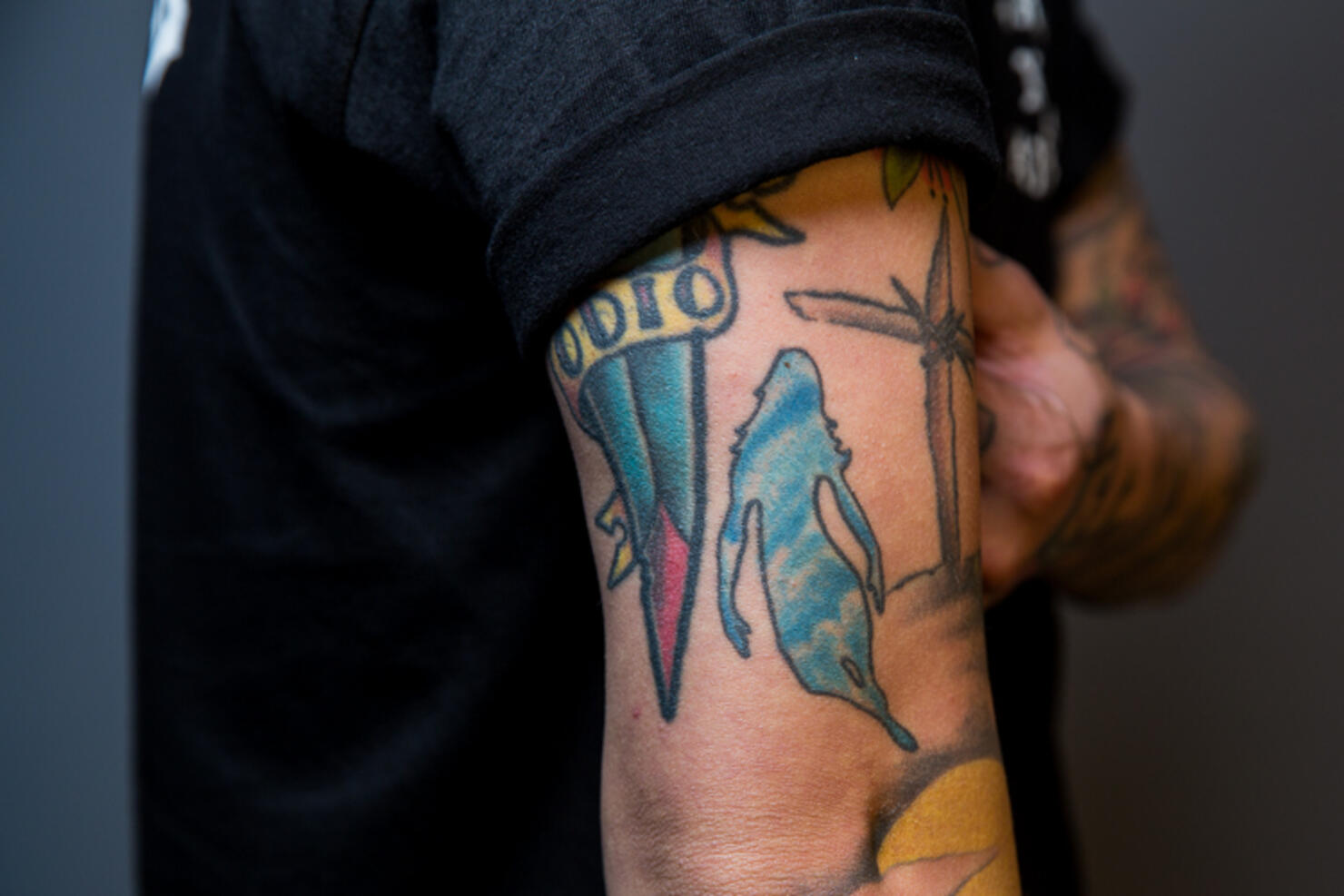 Mike also has another tattoo, on his right arm, inspired by Pierce The Veil's 2007 album art for A Flair for the Dramatic. "This one is actually from [A Flair For The Dramatic]. It's the bride holding the bouquet of flowers and her hands are bleeding from it."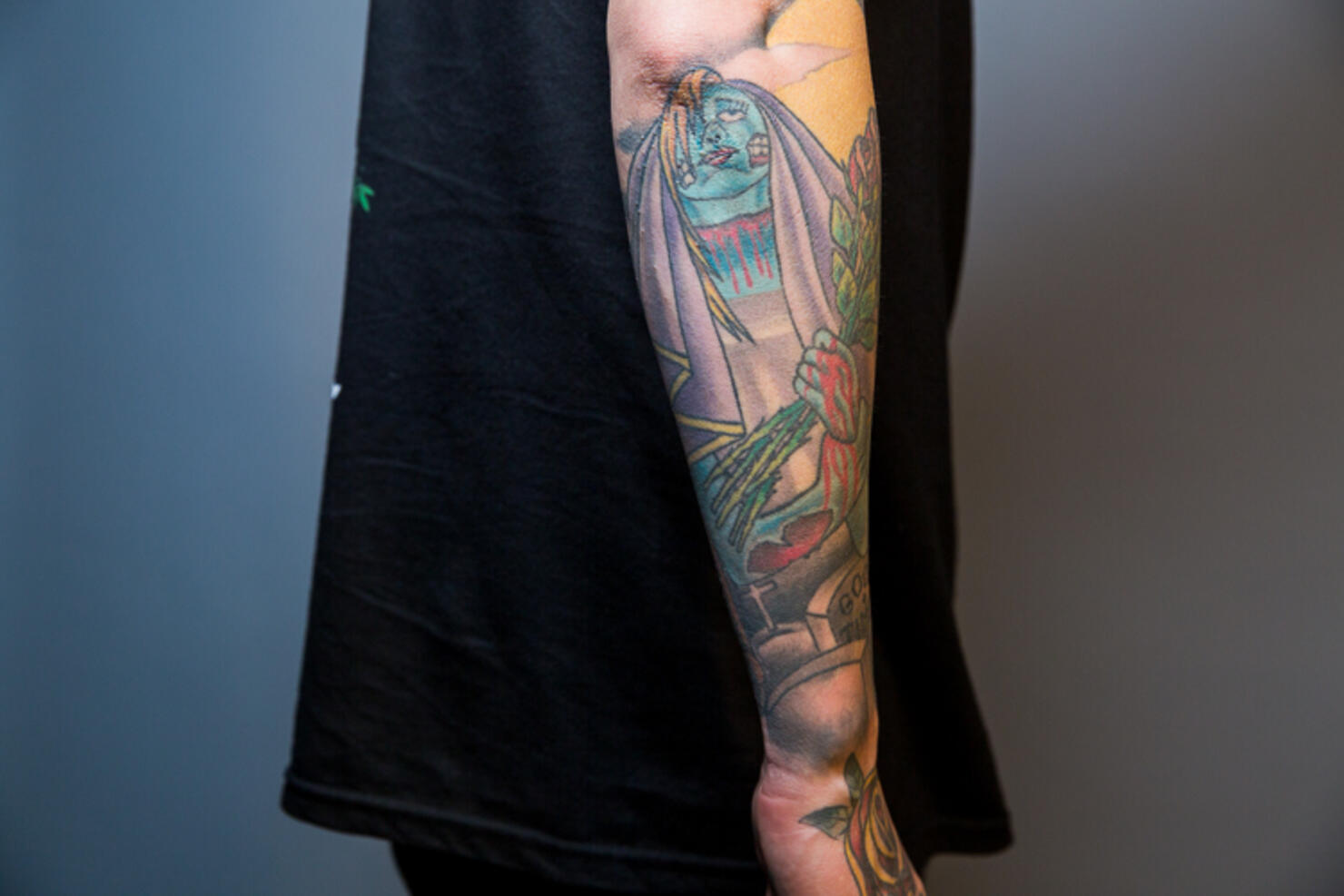 Mike says his body is about 70% covered in tattoos, and tells us, "I still got some room." And as the band tours, he's been getting little tattoos here and there. "Right now I'm just kinda getting fun little bangers on tour. Like, you know, four people get the same little guy, and just from something we did or somewhere we went. So they just come randomly now."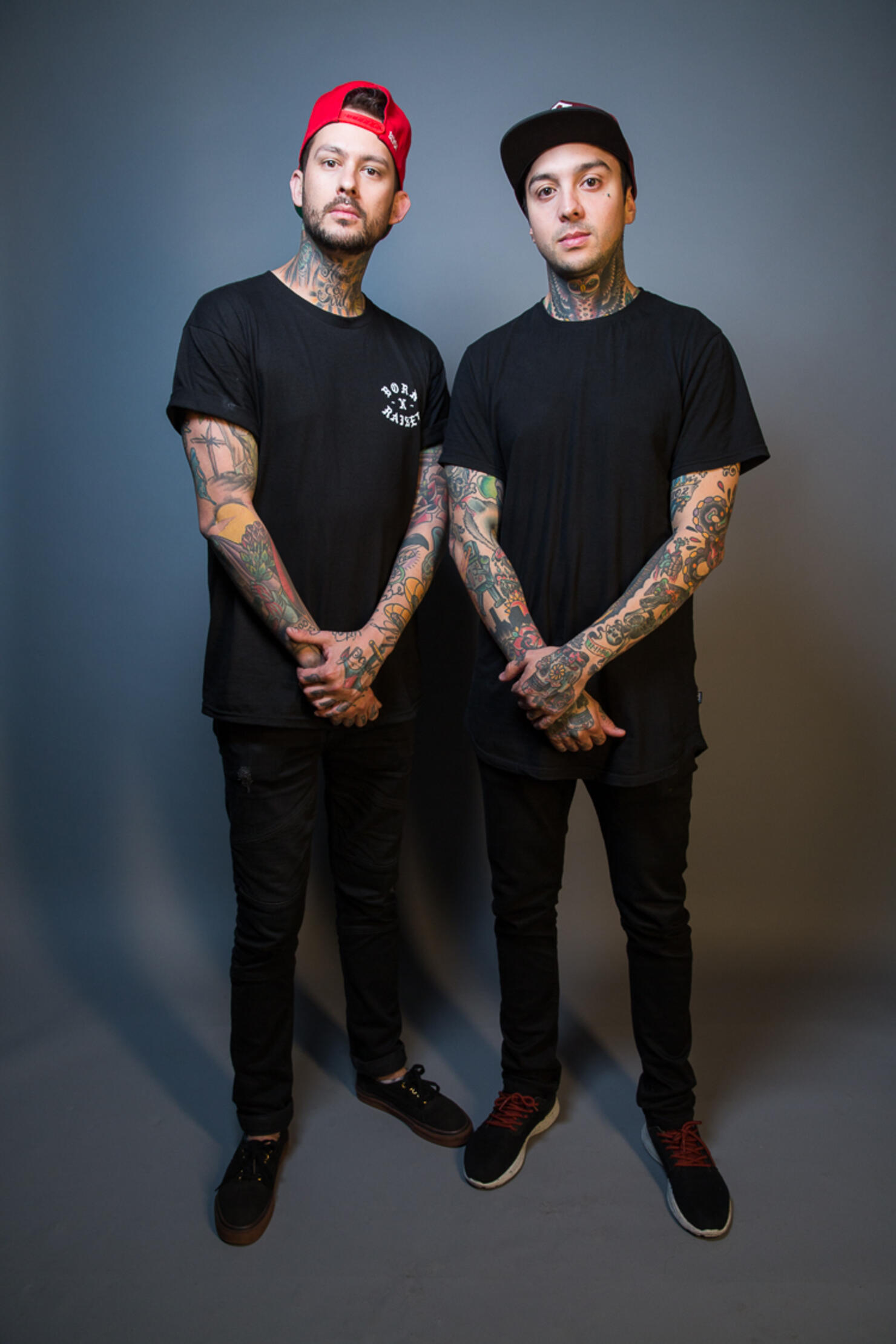 Like his bandmate Mike, Tony was also of age to go out and get a tattoo on his own when he first got inked. The guitarist was 19 when he got his first tattoo, and it was inspired by his hometown: San Diego. And he explains it didn't hurt then, but if he got the same tattoo now, it would probably be painful.
On the San Diego tattoo on his right forearm
"First one I got would be this cityscape that was supposed to represent San Diego. Just something when I wanted to start my sleeve I started there. I think it [took] two sessions. It was probably only a couple hours each, but it really went by because of the time. Like Mike was saying, when you start out, you're really excited, so you don't notice anything. You just wanna keep getting tattooed. My mom didn't seem to mind. She wasn't worried about it. I don't think she really said anything until I got my throat, and she was kinda like, 'Well....' But at that point I already had everything covered, so it's kind of expected."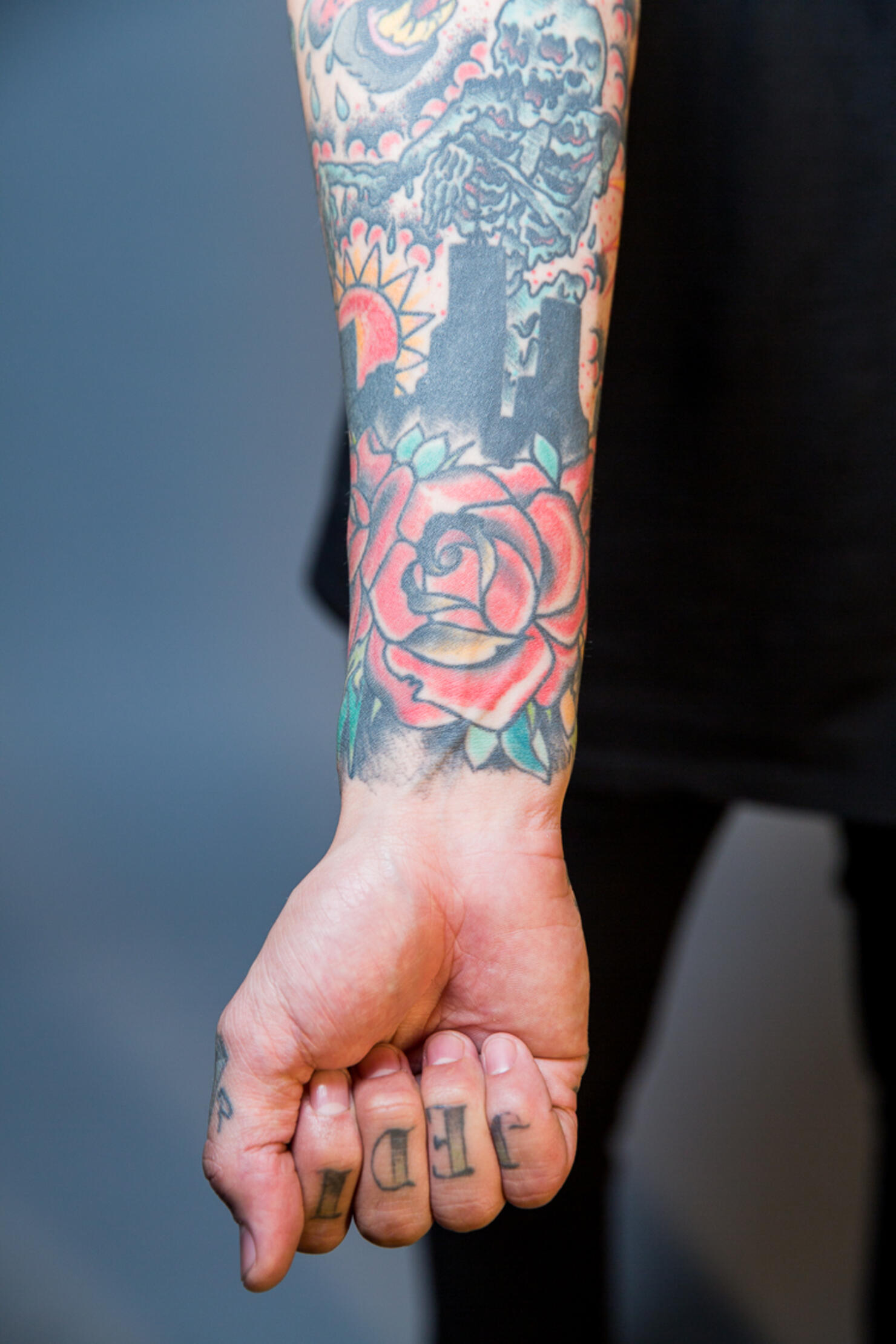 Tony's hometown may be San Diego, California, but he is very proud of his Mexican heritage, which is why his most meaningful tattoo his his Mexican flag-inspired piece. The tattoo features the eagle that is pictured in the center of the Mexican flag, and it's fighting a rattle snake.
On the heritage-inspired eagle tattoo on his left abdomen
"I have the eagle from the Mexican flag kinda coming here, and he's fighting the rattle snake and everything, so it's kinda just a heritage tattoo. That one means quite a bit. That probably took three sessions of about three hours each. That was the first and only tattoo that I ever had to stop, and go home. They started doing the rib cage part, doing that wing, and I was just, 'Sorry I can't do anymore of that. I need to stop.' And I had to come back a couple more sessions and split it up."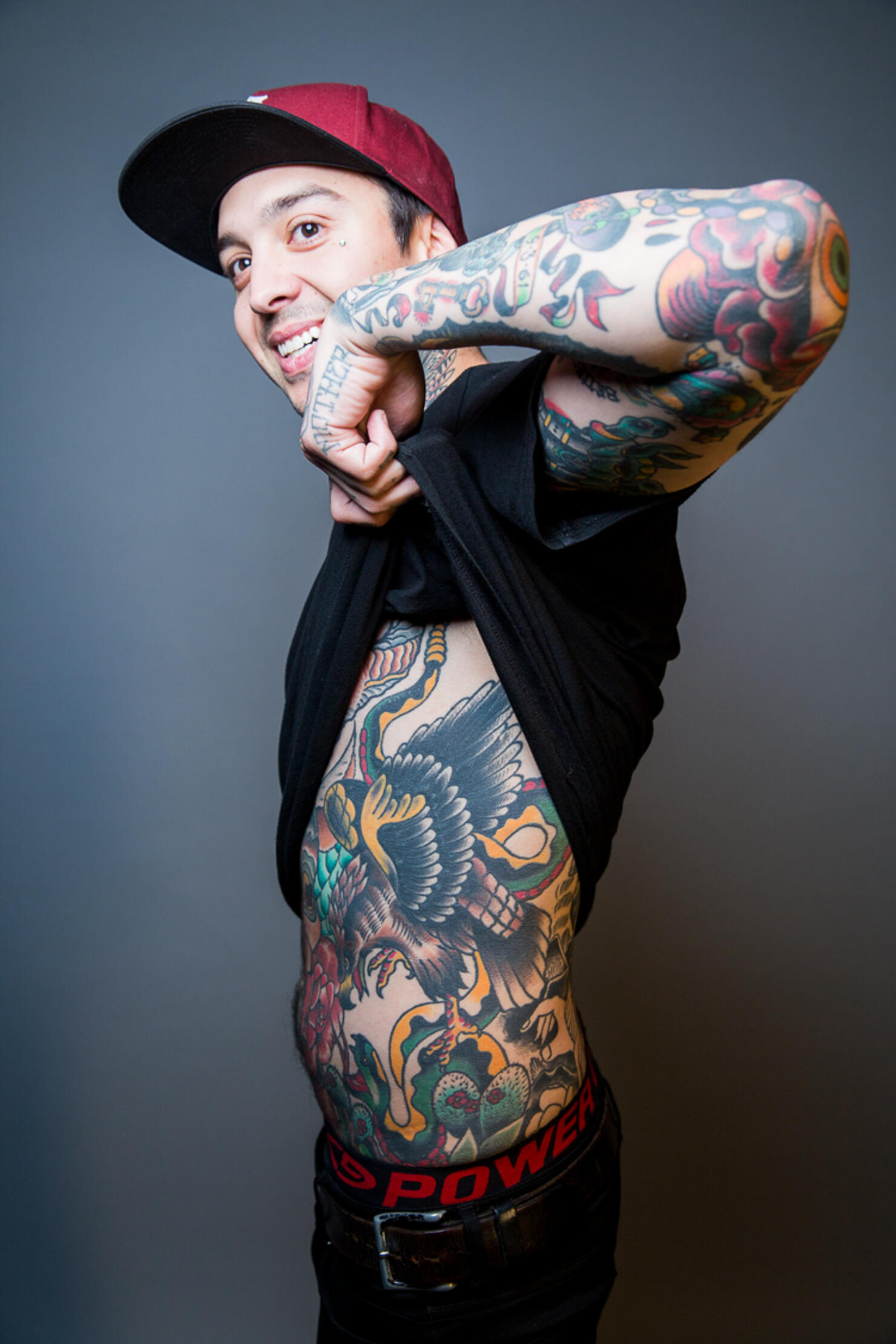 On the skateboarding skeleton honoring Tony's dad on his left arm
Another meaningful tattoo for Tony is inspired by his father who passed away. Tony's dad grew up skateboarding, so to honor/remember his father, Tony got a tattoo of a skeleton who is pulling off a trick on his skateboard, accompanied by his father's birthday and the date he passed away. It was designed by a tattoo artist at Seven Seas Tattoo in San Diego.
"My dad passed away, so I have his birthday and the date he passed away. He grew up skateboarding and everything, so I got that little skeleton guy doing a handplant right here."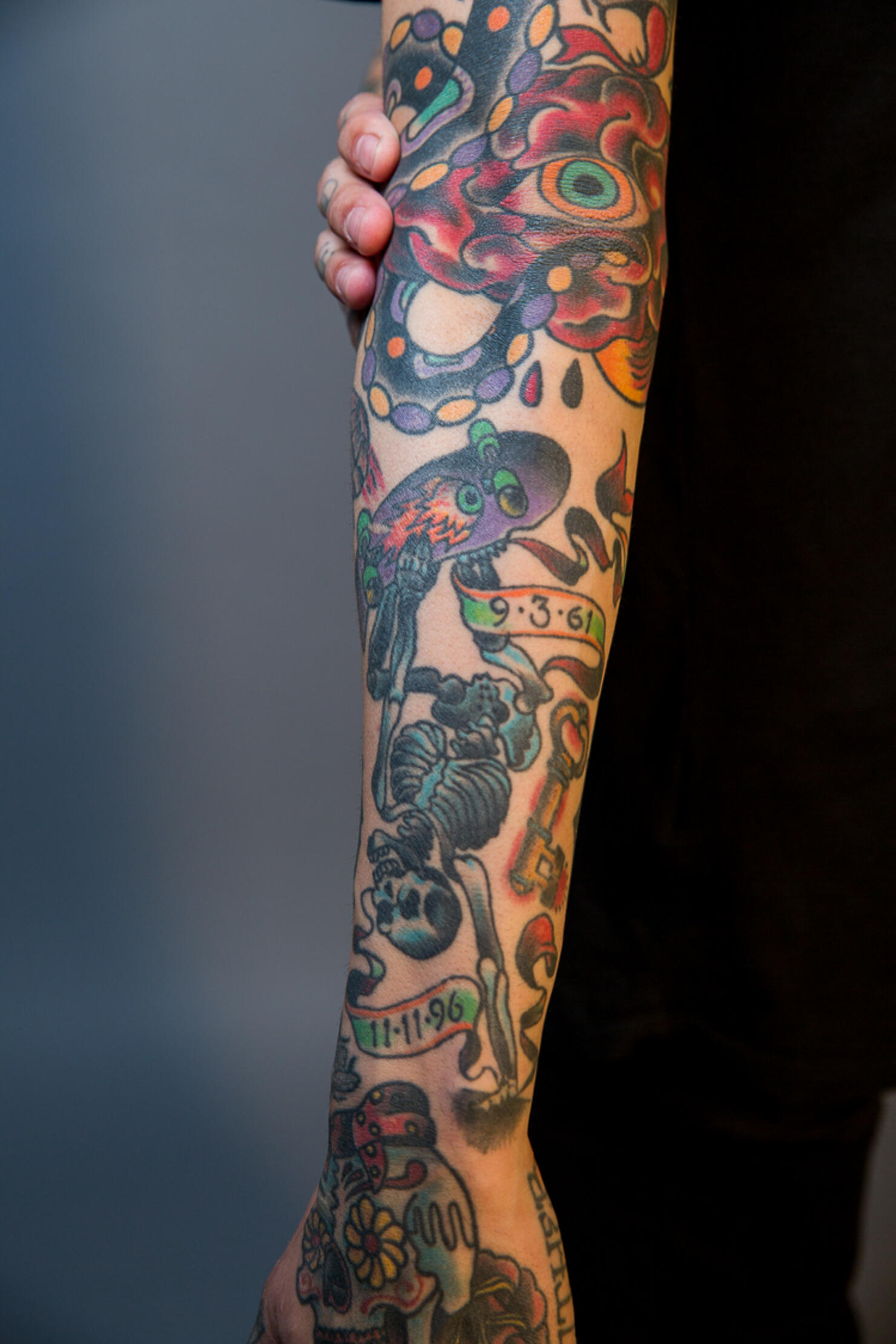 On the 'Stars Wars' Tattoos letter tattoos on his knuckles
Tony doesn't have any tattoos about music, BUT he IS a huge Star Wars fan, and has several tattoos to prove it. "I do have Star Wars across my knuckles. And I have Jedi and Sith on [the] other ones."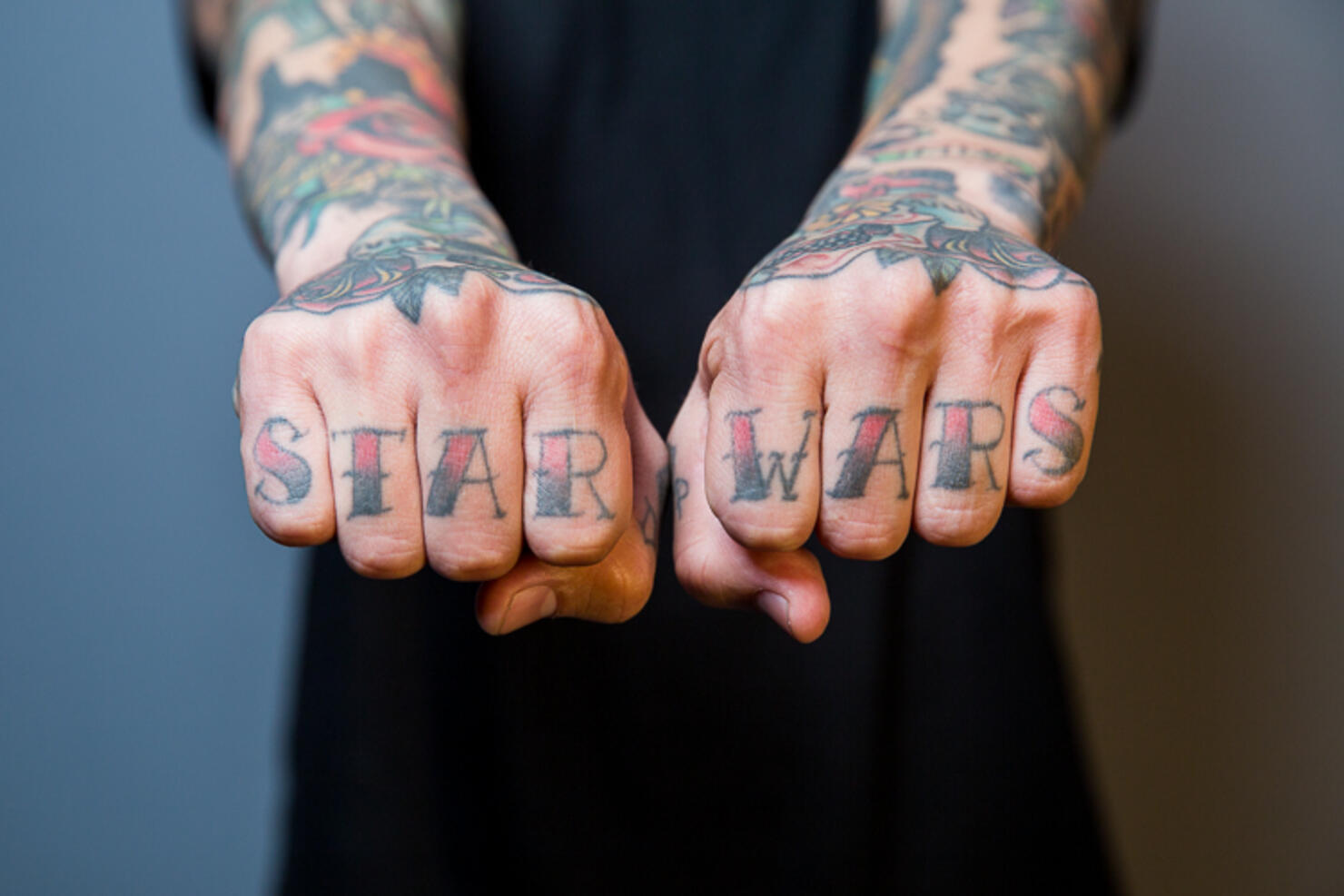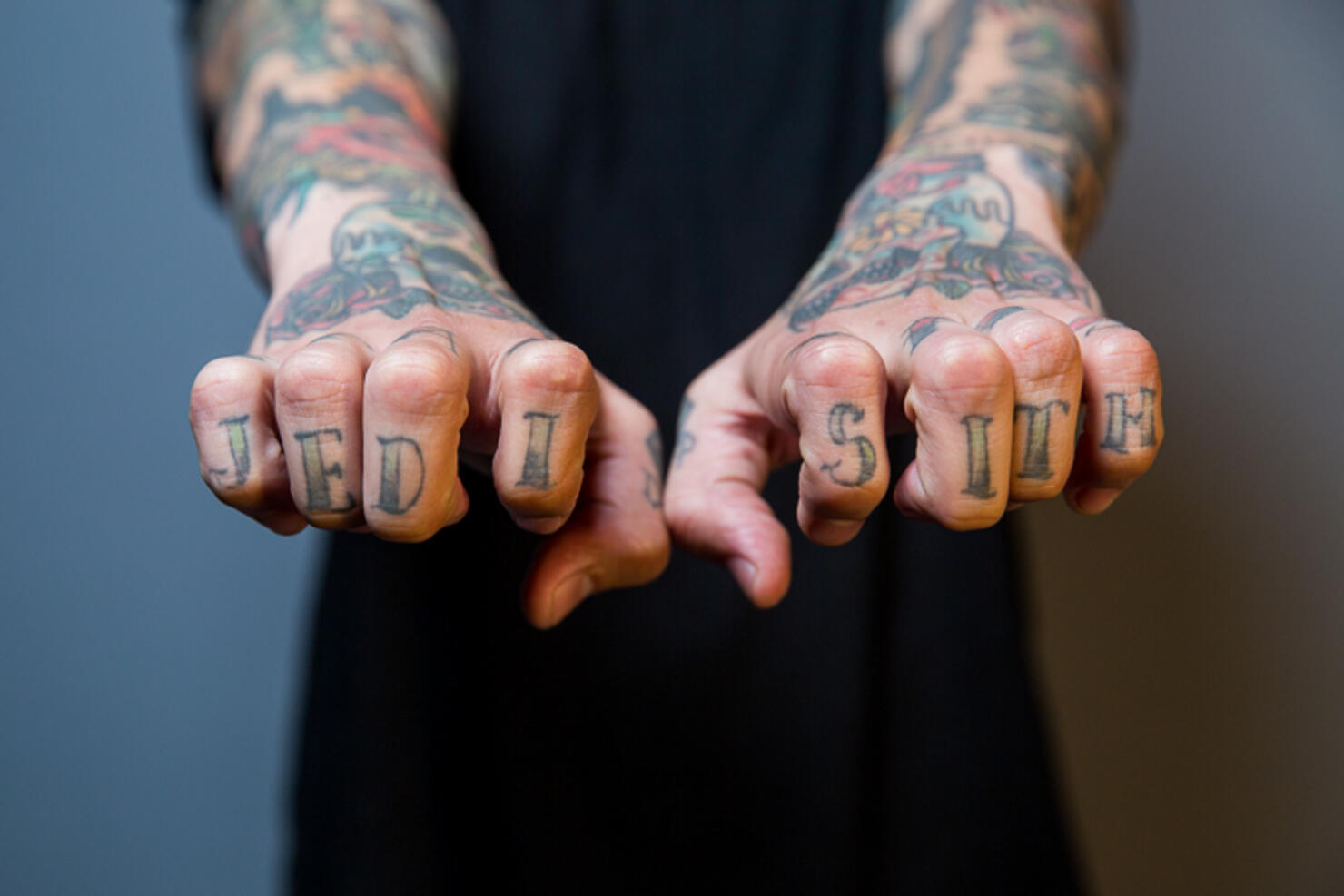 On the owl tattoo on his throat
Like Mike, Tony also also has a tattoo on his throat -- a very prominent owl. "I just like the image. I love the artist Tyler Densley, he just draws super cool stuff all the time, and he had that. And I just thought, let's throw it on there. He was like my main artist in San Diego, but it's been years so now, I'm kinda all over the place because we travel so much."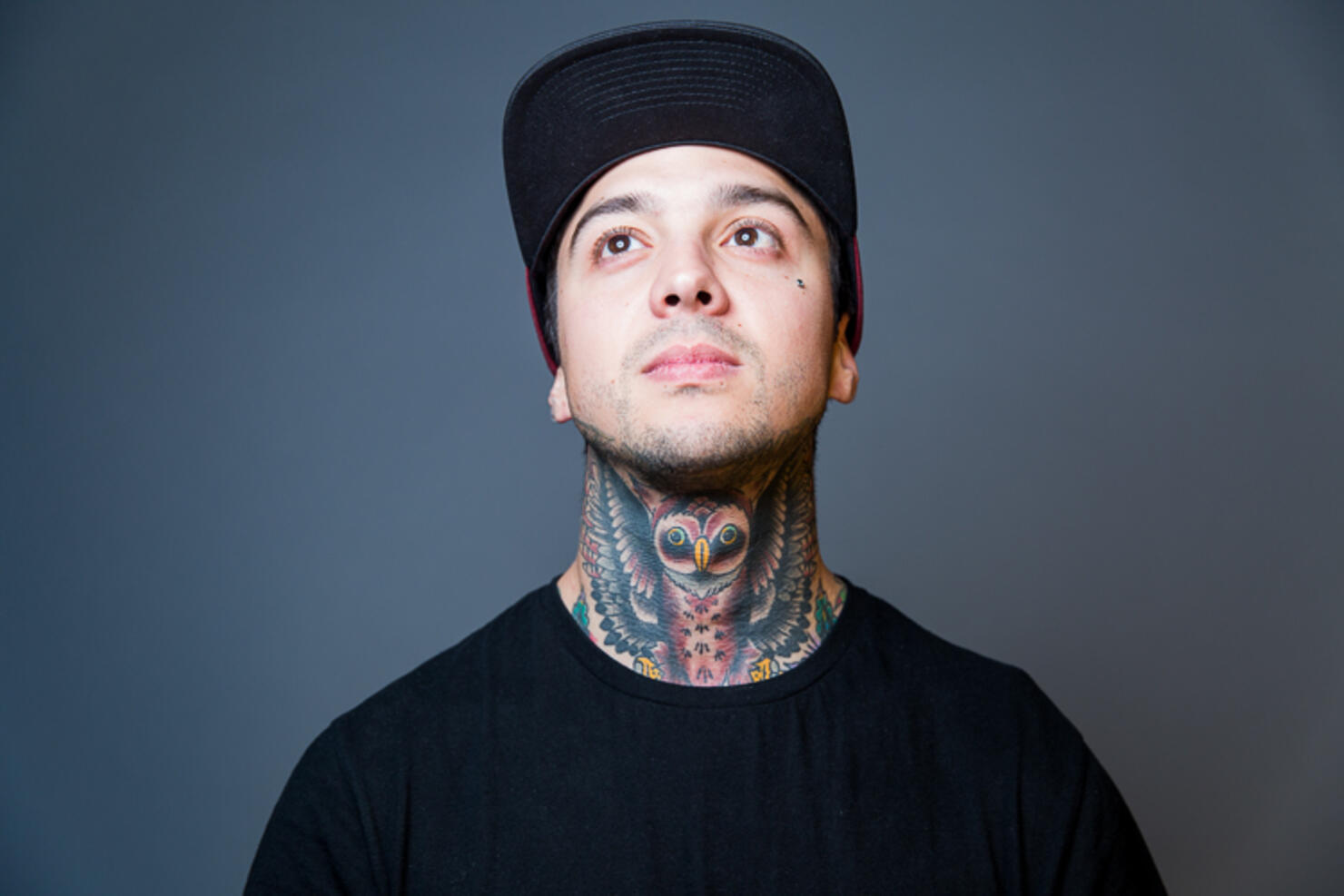 On the in-progress Raphael Ninja Turtle tattoo on his back
Tony tells us he is about 90% covered in ink. "All I have left is the top of this thigh, a little bit on my leg and my side right here, a little strip." And there is one tattoo on his back that is currently unfinished, and it's a giant Teenage Mutant Ninja Turtle tattoo.
"I have a huge back piece that's not finished yet, so I just gotta keep working on that for now. It's kinda weird. It's a ninja turtle, but it's a samurai version of it. It's not done yet. It goes all the way down to back here. I got to put in like 5 or 6 sessions and they all have been 3-4 hours, and it's been a while. I don't think I'm even close to done yet."
So what does one do for 4 hours during 5-6 tattoo sessions? Tony says, "Just try and zone out. Just try and listen to music, or do anything to kind of clear my head. Sometimes it's cool if they talk to you -- if they can talk and work at the same time. I've had some artists that like to talk, but they stop doing what they're doing, and just sit there and talk to you."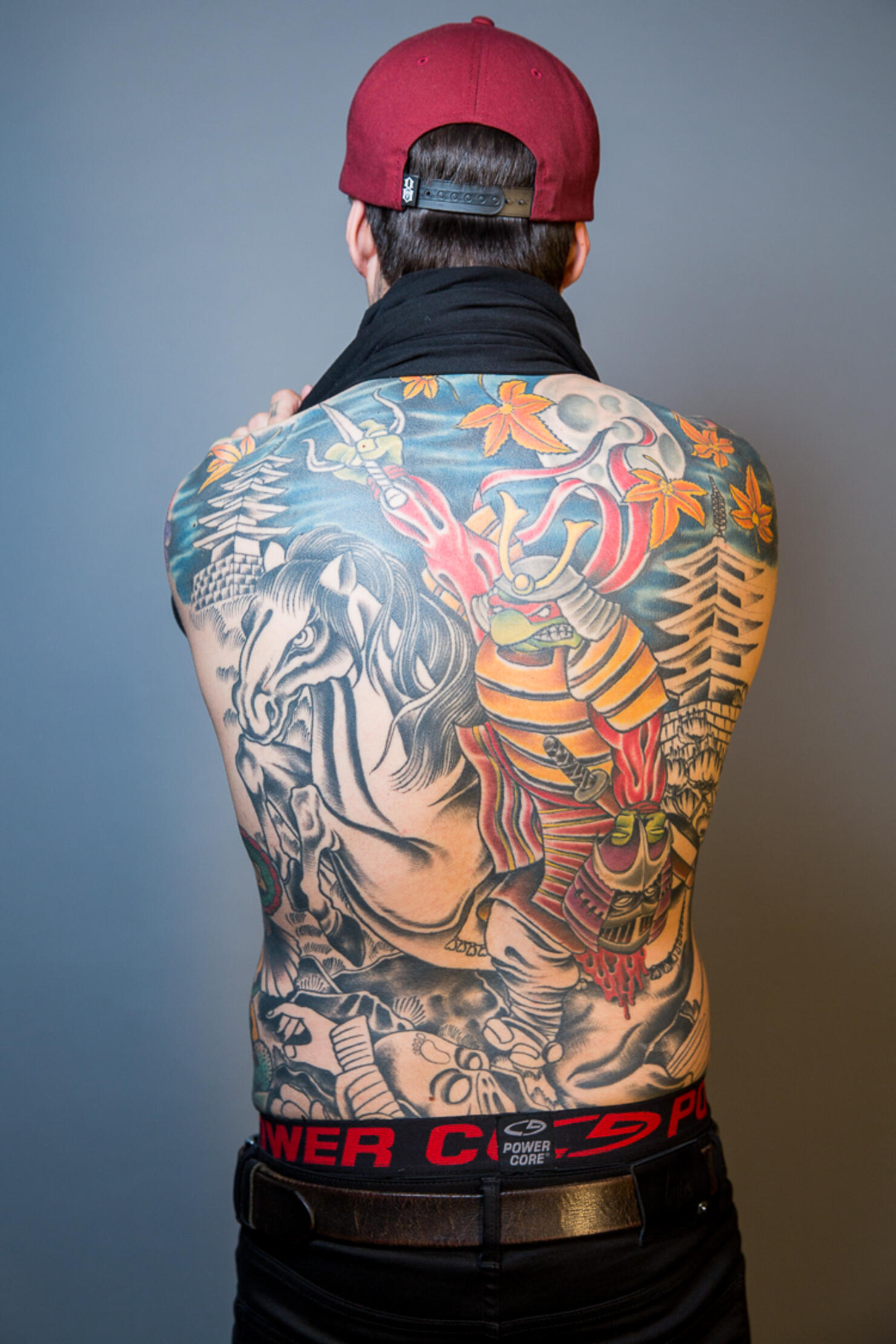 Watch our exclusive videos of Pierce the Veil below!
Photos: Rachel Kaplan for iHeartRadio