Label Exec: Ariana Grande Originally Hated 'Bang Bang'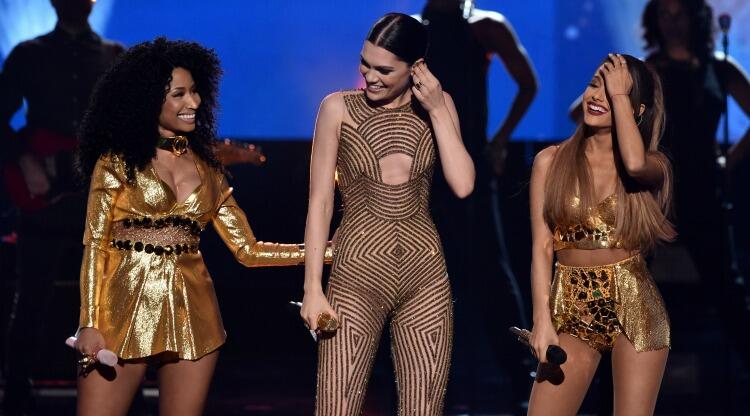 Jessie J, Ariana Grande and Nicki Minaj brought their unique styles together for their immensely popular 2014 collaboration, "Bang Bang," but word on the street is that Ari initially hated the tune before her fellow pop heavyweights hopped on the track.
In a recent interview with Billboard, Wendy Goldstein, the Executive VP/Head of Urban A&R at the trio's label Republic Records spilled the beans on the pop star's initial reaction to the song. "It's very rare that you sit on something for a long time — two, three, four years — and pull it back out again. If I think a song is strong, I try to flip it really quick," she explained. "The best example of that was 'Bang Bang.' It was written for Ariana [Grande]. She cut it, and she hated it."
Regardless of Ari's feelings, Goldstein ended up sending it to Jessie J and then got the Young Money honey to lend a rap to the pop banger. "I made them finish the record anyway," she confessed. "And then I was scared to send it to Ari. So I sent it to [Republic Records chairman/CEO] Monte Lipman and said, 'Play this for Ariana.' When she heard it, she was like, 'I want it back.'"
It just goes to show you how important of a role business plays in some of the biggest collaborations around.
Chat About Label Exec: Ariana Grande Originally Hated 'Bang Bang'