JoJo On New Album 'Mad Love.,' Details Alessia Cara & Remy Ma Collabs
By Nicole Mastrogiannis
October 13, 2016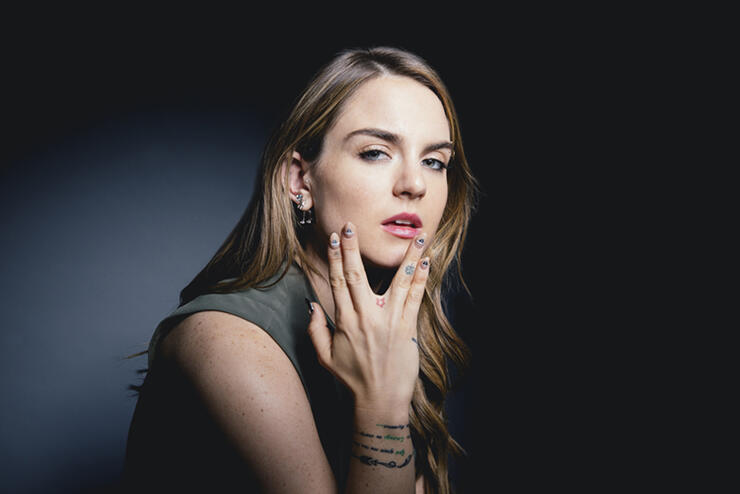 After ten years, JoJo is FINALLY back with brand new music. The 25-year-old singer/songwriter released her first album in a decade called Mad Love., which follows 2006's The High Road (that hit #3 on the Billboard Hot 100), and includes her new single "F*** Apologies." featuring Wiz Khalifa, and previously released promotional singles "Music.," "FAB." featuring Remy Ma, and the title track "Mad Love." The album showcases 15 new songs in total, and in addition to her Wiz Khalifa and Remy Ma collabs, JoJo also teamed up with Alessia Cara on a song called "I Can Only."
We recently caught up with JoJo for an exclusive interview, during which she opened up about her new album, including what it was like to put together and the songwriting process, how her lyrics reflect what she's learned over the last 10 years, what it was like collaborating with Alessia Cara, Remy Ma, and Wiz Khalifa, and so much more.
After 10 years of not releasing a new record, JoJo has had a lot to write about. But she tells us she also had a lot of fun while in the studio. She explains that she began creating most of the album back in February of this year, and wanted to be sure that it would not only be something that she could be proud of, but something her fans would relate to as well. In JoJo's own words, "But to sum it up, I had a freaking blast. I really did."
On the writing process for Mad Love.
"The experience was therapeutic, and a lot of fun. I had such a great time in the studio, writing these songs with the people I collaborated with, and making sure that there was a cohesive sound and feel to this album. And, it came together really quickly. Ninety percent of this album is from the beginning of 2016, so from February on. [It was] just lots of conversations, lots of opening up and talking about life, and what I was going through. And, I definitely had some anxiety and pressure that I had put on myself about making sure that this was something that not only I loved and could stand behind, but that my fans would love and incorporate into their lives."
So why, Mad Love.? JoJo tells us that her album title takes on many different meanings, which is what she loves the most about the name. Not only was "Mad Love." the first song she wrote for her new record, but it's also derived from a phrase that she and her family say often.
On the meaning behind her album title Mad Love.
"Mad Love. means so many different things, and I loved that about the title. It was one of the first songs that I wrote for this album, and I felt like it kind of shaped the intention of it, of this work. And, a phrase that I use in my family a lot, we say, 'I love you madly.' That's that 'I love you through it all, I love you as you are, I love you in a crazy way, in a deep way, in a way that other people might not understand.' And that's how I feel about music, and that's what my relationship is with my fans, and it's an intense, passionate love. That's also the love that I like to have in my romantic life. So, all of that is represented on this album."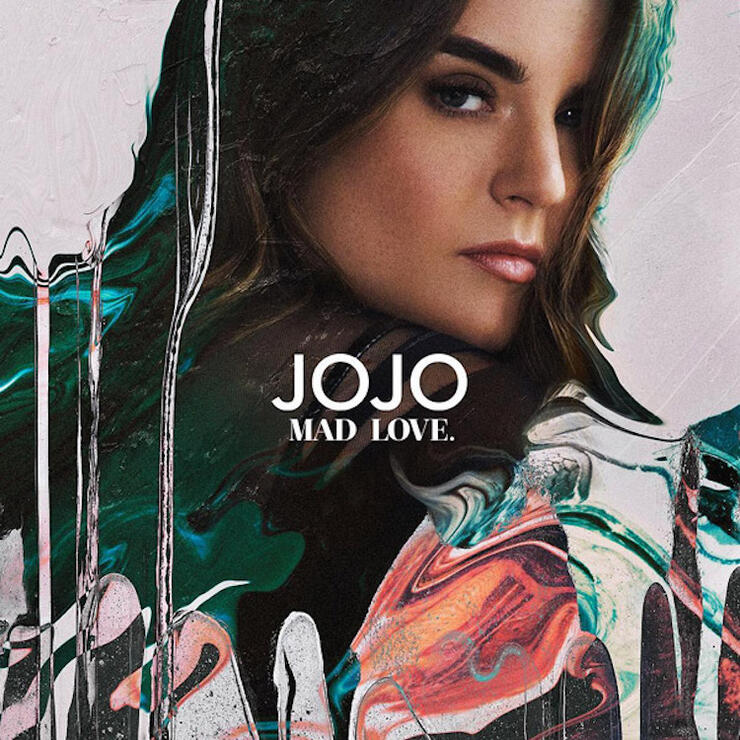 Fans may notice, there is a period not only after the album's title, but also at the end of each song title, and it's stylized that way to hold meaning. JoJo tells us "I'm sure about this, and Mad Love., it's definitive. It's just where I'm at. I have a tattoo on my right hand that says 'Truth.' and I got it when I was 18, I think. I've just always been self-assured. Ending each title with a period just supports that."
[RELATED - INTERVIEW: Tattoo Stories With JoJo]
One of the most personal songs to JoJo on her new album is the very first song on the track list: "Music." The song is not only reflective of how music has made an impact on her life, but of her family as well. The last verse specifically is about her father, who passed away last year at the age of 60.
What the most personal song to her was on Mad Love.
"The most personal song, and the most difficult to write and record, was 'Music,' which is the first song on the album in sequence, but actually the last song that was written for the album. It's about how music has impacted and shaped my life, and also how my upbringing and just my childhood, my relationship with my parents ... It's just a very personal song and I felt like we covered a lot of ground with the subject matter on 'Mad Love.,' but it was important that I touched on family and music almost feeling like my third parent, just being such a consistent force in my life and influence. And, singing about my dad on the last verse, I just really lost it, and got very emotional, and cried through it, but I didn't want to chase perfection on that. I wanted to be honest."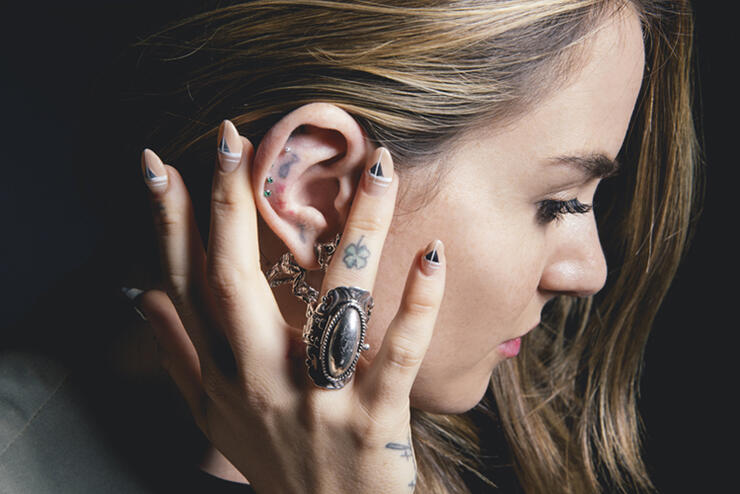 On what it was like collaborating with Alessia Cara, Wiz Khalifa, and Remy Ma
There are three features on this album, including Alessia Cara ("I Can Only."), Remy Ma ("FAB."), and Wiz Khalifa ("F*** Apologies"). Check out what it was like for JoJo working with all three artists below:
Alessia Cara: "I just feel like she's so refreshing. I love her music and her point of view. As a young woman, I think it's so important for girls to have real role models to look up to, and I think that she's one of them. I love her voice, and she was the first artist that I played my album to. I invited her to the studio and played her the album. It was done and she loved it, gave me some amazing feedback, and I said, 'Well, is there any song that you particularly relate to?' And she said, 'I Can Only.' So I asked her if she would be down to get on the second verse. So while she was on tour, she did it and sent it back, and I just thought it was perfect. I loved it."
Remy Ma: "Remy Ma is one of my favorite rappers of all time. I just think she's such a badass. I think she's beautiful and has such a signature, so after I wrote 'Fab,' I just dreamed it up and I was like, 'Do you think we can get Remy on this?' So we asked. She loved the song and got on it."
Wiz Khalifa: "I've been a fan of his since his mix tapes, and now that we're label mates, when I was thinking about who would make sense and really support the feeling of 'F*** Apologies,' I thought that he would be a perfect fit for it, and I love what he did. He's such a sweetheart, and he's totally an individual, and really just lives his life the way he wants to. I love it."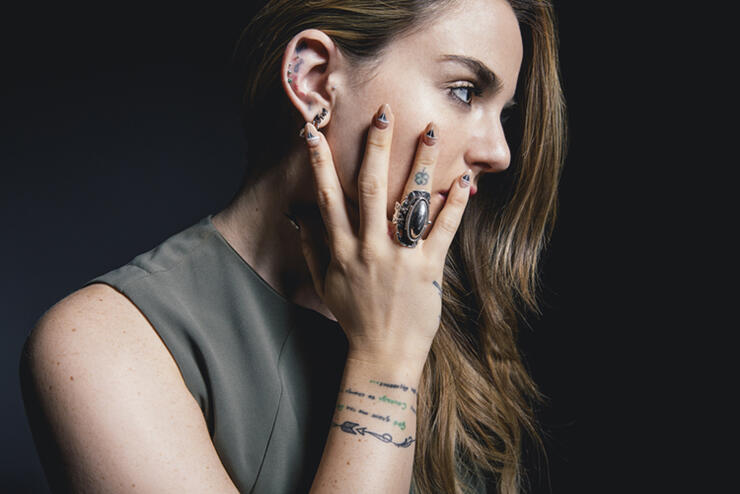 On how her lyrics show what she's learned over the last 10 years
"One of my favorite lyrics from this album, Mad Love., is 'I learned the hard way on how to let go, so here we go. Feel the adrenaline taking control. Get high, no low.' And I have definitely learned how to let go, how to live in the moment, and how to take only what you need with you, and to celebrate where you are, and let go of the past. I think that that's one of the most important things that I'm learning."
Photos: Katherine Tyler for iHeartRadio
Chat About JoJo On New Album 'Mad Love.,' Details Alessia Cara & Remy Ma Collabs