iHeartRadio Jingle Ball: Ariana Grande Brings 'Christmas & Chill,' Justin Bieber Serves Hits & More Highlights
By iHeartRadio Editorial Staff
December 10, 2016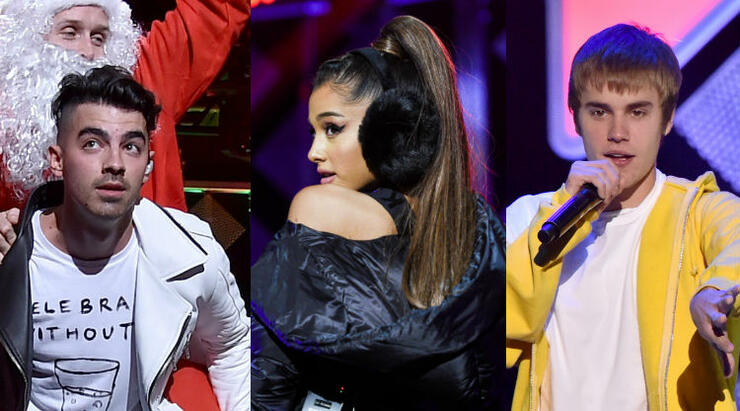 The 2016 iHeartRadio Jingle Ball hosted by Z100 was the place to be Friday (Dec. 9) night. Pop lovers from around New York City -- and even the nation -- jammed out during the show, as their favs took the stage. The mega stars who performed were Fifth Harmony, Justin Bieber, Niall Horan, Diplo, Ariana Grande, Ellie Goulding, Lukas Graham, DNCE, Daya, Hailee Steinfield and Charlie Puth. Camila Cabello of 5H and Machine Gun Kelly even surprised everyone with a performance of their new single!
Though the entire night was one for the books, there were a few select moments that took the cake. These moments were highlights of the night and need to acknowledged for the huge impacts they had on the music lovers in MSG this night. Without a doubt, these times gave everyone in the audience all the feels. Take a look at them below!
And if you missed out on all the action, consider this your holiday gift. You'll be able to relive the night on The CW during a special 90-minute broadcast on December 15th and 26th at 8 p.m. ET/PT -- so put on your Santa hats, grab some gingerbread cookies, and tune in!
1.) Justin Bieber Ends Show On A High Note The 2016 iHeartRadio Jingle Ball was jam-packed with fun performances, but Justin Bieber's set was the icing on the cake. The heartthrob sang a few of his many mega hits like "Where Are Ü Now," "Boyfriend" and "Company." But, if you thought that it was over after these songs, you might want to think twice. The Biebs switched the vibe of his set up a bit and started singing an acoustic set! With his guitar in hand, Bieber sang "Cold Water"and "Love Yourself". Then, after reminding us just how talented he was with the strings, Bieber went back to his dancing flow and sang "What Do You Mean?," "Let Me Love You," and "Sorry." Glass windows were on the verge of breaking thanks to the screams of his Beliebers, as they watched his set.
2.) T'was The Night We Christmas & Chilled With Ariana Grande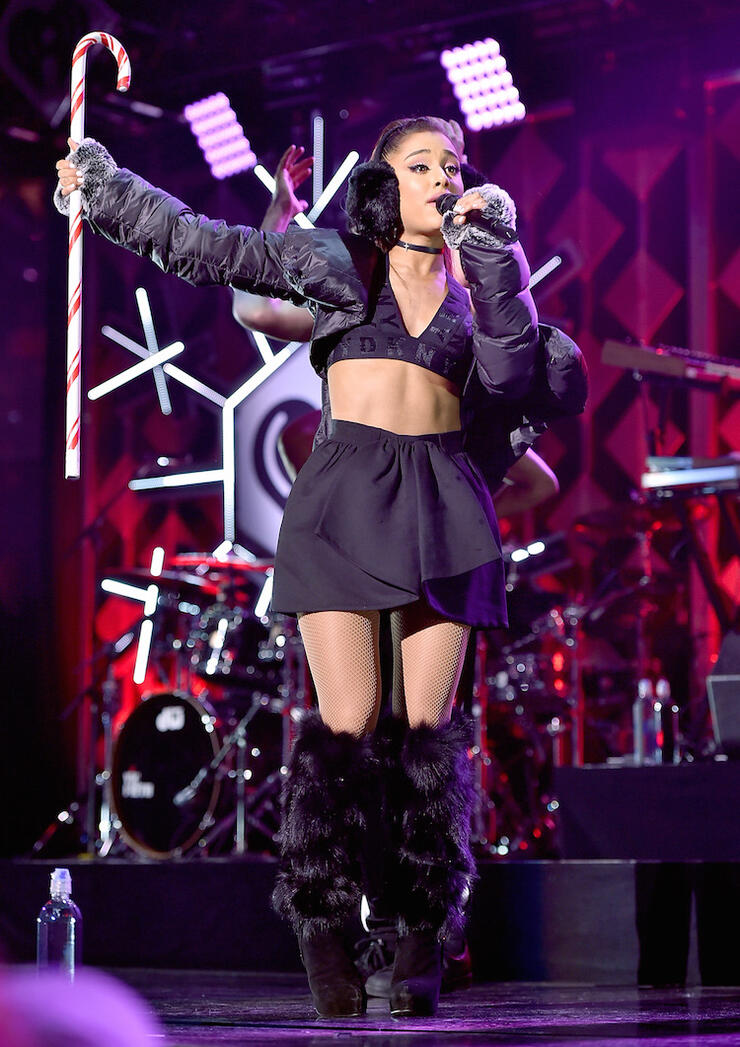 T'was the night of the 2016 iHeartRadio Jingle Ball, and all through MSG, EVERYONE was stirring -- especially Ari. During her Jingle Ball performance, Ari performed a few of her hits from her most recent album Dangerous Woman including "Side to Side," "Into You, "Be Alright," and closed with "Dangerous Woman." But she also performed a medley of her songs from her 2015 holiday EP Christmas & Chill. Dressed in a black skirt, black furry boots, cropped jacket, and matching earmuffs (winter outfit goals AF), Ari performed snippets of "Winter Things," "December," "True Love," and "Wit It This Christmas."
3.) Santa Claus (And Everyone Else) Came To Town
Some of your iHeartRadio faves like DNCE, Fifth Harmony, Hailee Steinfeld, Charlie Puth, Tinashe, Jake Miller, Daya, Sabrina Carpenter and Rita Ora banded together for one special rendition of "Santa Claus Is Coming To Town" during the evening. It was all in promotion for the Robin Hood foundation, which focuses on the fight against poverty. The performance was aimed at helping the homeless in New York City (23,000 of which are children) throughout this holiday season, and if you're in the giving mood, you can also contribute with your own donations as the Robin Hood Board will be matching proceeds earned up to $100,000. Fans can donate by texting NYC 27722 to give $10 or by visiting rh.org/give.
4.) Camila Cabello + MGK Deliver "Bad Things"
Despite opening the show with Fifth Harmony, 19-year-old Camila Cabello surprised the audience when she returned for another number and brought along Houston-born rapper Machine Gun Kelly. Dressed in matching black ensembles, the pair offered plenty of flirty chemistry to match the lyrics to "Bad Things," all while the iconic New York City venue cheered in chaos. Fun fact: MGK hopped on a plane to the Empire State just for this number.
5.) Surprise Guest MØ Covers Justin Bieber's "Cold Water"
You cannot underestimate the popularity of Diplo, and his set at the New York City show Friday night was proof of that, when he brought out friendly face MØ. Towards the end of his set, the 28-year-old offered up consistent energy for a live performance of 2015 summer hit, "Lean On," "Final Song" and even a cover of Justin Bieber's "Cold Water." Oh, and let us tell you, there's nothing like seeing feverish teenage girls going ballistic to beat drop after beat drop.
6.) Ellie Goulding Pulls Through (And Sounds Amazing Doing So)
Ellie Goulding has the voice of an angel...Like an angel that belongs on the top of your Christmas tree, and sings you beautiful holiday music all the time. And lucky fans at the show were treated to her ethereal pipes during her performance on the iconic Madison Square Garden stage. The 29-year-old UK-born singer/songwriter performed three of her biggest hits during her iHeartRadio Jingle Ball set including "On My Mind," "Anything Could Happen," and "Love Me Like You Do" -- with a case of bronchitis, no less -- and still sounded as angelic as ever. In fact, she wrote on Twitter that she "used the last bit of voice [she] had left" to sing, and it was "totally worth it."
7.) Fifth Harmony Opens The iHeartRadio Jingle Ball Like Bosses
When 5H opened the iHeartRadio Jingle Ball, they performed some of their smash hits like "That's My Girl," "Sledgehammer," "All In My Head," "Worth It" and "Work From Home." Their die-hards couldn't stop screaming and cheering when they started each and every one of their songs. Though they were telling everyone to work from home, 5H was werkin' from that MSG stage.
8.) DNCE Delivers Some Major Covers
DNCE brought all of their body moves to New York City's iconic venue when they performed during this year's show. While the band kicked off their set with their newest single "Body Moves," they also performed a few covers. First, Joe Jonas and crew took us back to the late '90s when they started belting out lyrics to the Spice Girls' hit single "Wannabe." Then, the group gave a quick cover of Kanye West's "Fade" from his most recent album The Life Of Pablo.
9.) The Chainsmokers' Set At iHeartRadio Jingle Ball Was Flames...Literally There were loads of great performances throughout the night and The Chainsmokers' set was no different. The duo brought Madison Square Garden down when they hit the stage and their fans in the crowd only wanted more. Shortly after, the duo was greeted by excited screams from the audience and their performed commenced! Chainsmokers performed "Intro," "All We Know," "Closer," "Roses" and "Setting Fires." They also sang "Yellow," which transformed into "Don't Let Me Down" featuring Daya. The entire time Chainsmokers were performing onstage, we couldn't help but notice the joy coming from everyone's faces when they sang their tracks. It was as if their fans were in heaven, as they watched the duo go hard right before their very eyes. It was truly a special time for them.
10.) Niall Horan Hits Us With "This Time" Before Mini-Hiatus
Earlier this week, Niall Horan teased a mini-hiatus, but not before making stops on this year's iHeartRadio Jingle Ball Tour, including an appearance at MSG. The singer/songwriter, who is currently working on his debut solo album, performed his debut solo single "This Town" to the massive crowd at MSG, before introducing Hailee Steinfeld on stage. See you in 2017, Niall!