Lady Antebellum Celebrates New Album 'Heart Break' | #iHeartUnfiltered
By James Dinh
June 16, 2017
#iHeartUnfiltered gives fans an exclusive glimpse at a day in the life of some of your favorite stars. From behind-the-scenes photos to candid quotes, iHeartRadio's series is all about providing readers with a one-of-a-kind look into the routines of the rich and famous.
Lady Antebellum's journey to Heart Break is an interesting road, full of strategy, reconnection and musical discovery. You see, after about nine years of working non-stop, Hillary Scott, Charles Kelley and Dave Haywood made the conscious decision to take a break in late 2015 and focus on themselves.
After spending time tending to their own solo ventures and families, the trio reconvened about a year later to create music in a way they haven't in years. They left behind their everyday responsibilities, rented an Airbnb in California and made efforts to reconnect with one another. In turn, they were able to produce one of their more personal records in their discography, which sees the country titans tackling narratives that they've never touched on in the past.
Days after the release of the seventh studio album, Lady A stopped by iHeartRadio's Tribeca office to continue a devoted promotional trail for the LP and celebrate the new collection with fans during their Album Release Party. In the hours before the show, we accompanied the threesome throughout their evening to learn just what it would be like to be the fourth member of the country set. Take a look below at our latest installment of #iHeartUnfiltered with Lady Antebellum.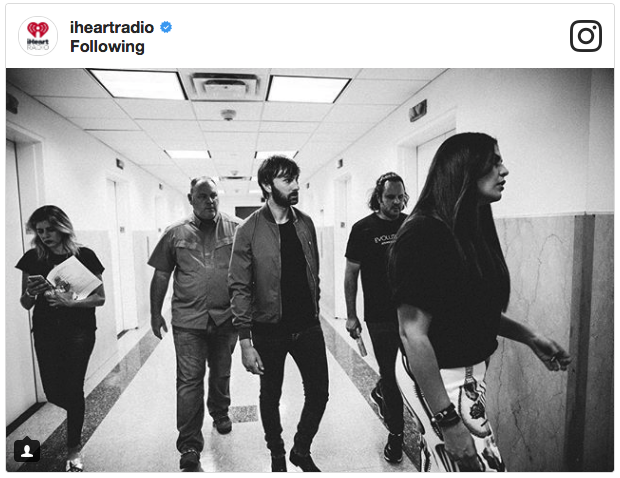 4:22 PM: Within the last 48 hours, Lady Antebellum has experienced their fair share of heat. From their set at Nashville's CMA Music Fest to a cross-country flight to the sizzling 94 degree NYC, it's been a busy week for the country trio, but it's all to be expected with the release of their new studio album, Heart Break.
4:26 PM: Outside of the iHeartRadio Theater, we meet Chris and Adam, part of the act's entourage.
4:57 PM: During a sit-down interview with iHeartRadio's Senior Director of Creative Services Ricky Roo, Hillary leads the conversation about how the band co-wrote 11 out of the 13 cuts on the album outside of their usual Nashville perimeters. As for their destinations, they worked out of Florida and Southern California.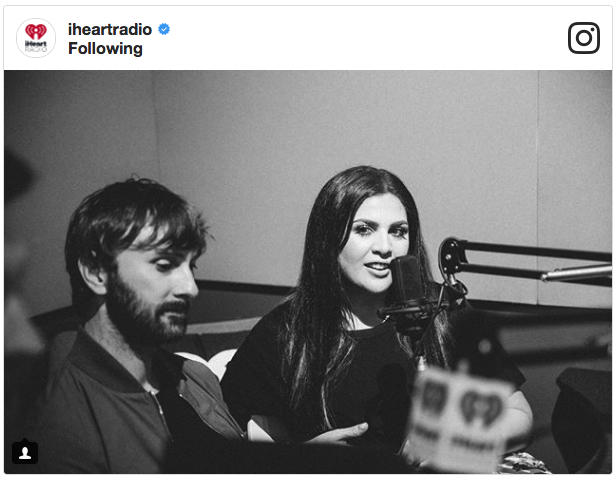 5:05 PM: Charles reveals that "Heart Break" is what the group deemed a "hero song," the one cut that indicates the overall feel of the collection during the recording process. "We always try to have kind of a tinge or a direction musically, and once we have our, for lack of a better word, hero song to base the record around, then we can start really putting together the rest of the songs that fit a feel," he explains with a red solo cup in hand. "Because you don't want to have nine songs that sound like 'Heart Break' and 'You Look Good' and all of a sudden, we're over there doing something that sounds like Merle Haggard. It just doesn't make sense."
5:18 PM: It might surprise you but Hillary sites Zedd and Alessia Cara's "Stay" and Bruno Mars' "That's What I Like" as some of her current playlist selections. "I'm the huge pop fan in the band," the 31-year old gushes.
5:28 PM: Shortly afterward, Charles weighs in and reveals that The Beatles' "Blackbird" is an all-time favorite of his. It also comes as a surprise when he reveals that the group's key change during "Need You Know" was inspired by the classic.
5:34 PM: Charles, Hillary, and Dave pose for photos in front of a tan backdrop for Photographer Matthew Eisman. You can tell that these three know each other inside and out.
5:36 PM: Accompanied by her glam team, Hillary couldn't look more like the face for country females, rocking a lengthy white skirt with guitars and roses. In between time in front of the camera lens, she busts out a few lines from Lukas Graham's "7 Years." She really is a pop music fangirl.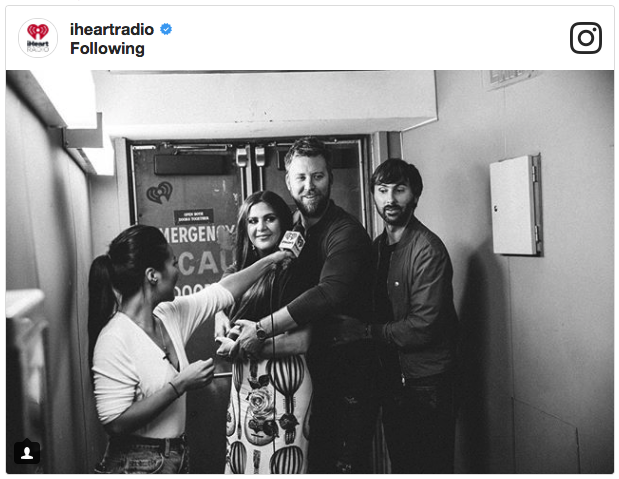 [Related: Lady Antebellum Basks In 'Heart Break' During iHeartRadio Album Release Party]
5:47 PM: Speaking with iHeartRadio's Ellie Lee, the trio talks about the fans' reaction to their sonic evolution. "You never know when you come out with something new. We definitely worked with a new producer this time and the sound is a little bit different, maybe a slight bit more edgier in some ways," Charles says with a sense of tranquility. "I don't know, to see the response in the songs, the same songs that are some of our favorites like 'Heart Break,' 'Somebody Else's Heart.' It's nice to see that the fans are kinda loving this, too."
5:54 PM: Much like the rest of our culture, Lady Antebellum works in some Snapchat shots. However, it's for our Discover Channel. "I love the classic dog," Charles says of the filter.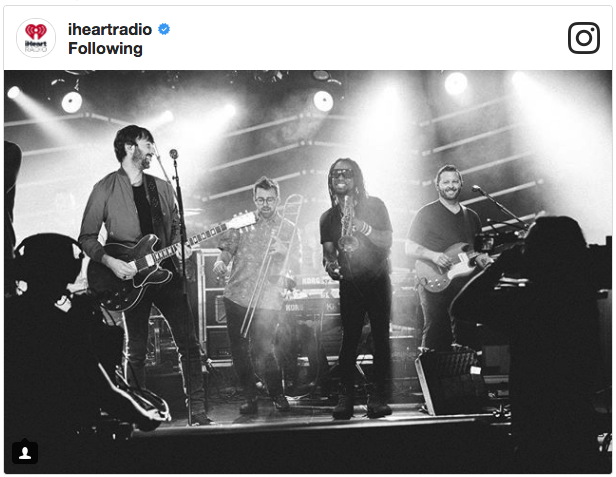 6:20 PM: With over a decade in the game, these three work like well-oiled machines, showing up early for an abbreviated soundcheck, which finds them weaving in and out of the setlist with their seven-piece band. Shout out to their newly-added horn section: Dontae Winslow on trumpet and Ray Mason on trombone!
7:56 PM: After outfit changes, the trio arrives for a M&G session with fans. You must be this tall to take a photo with Lady Antebellum.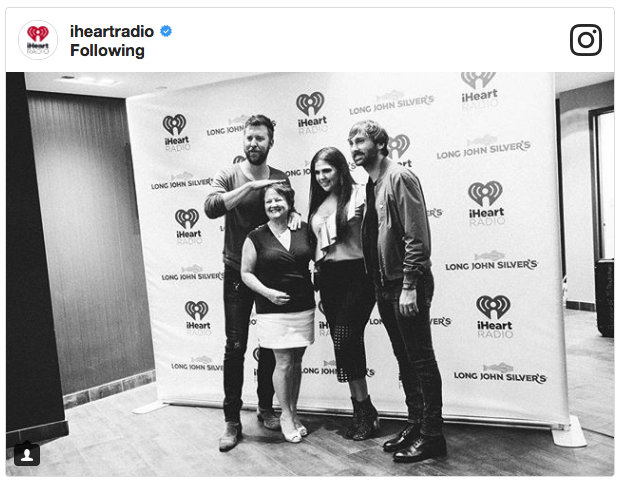 8:55 PM: Just minutes before Lady A hits the stage, there's a cluster of folks, including the seven-piece band, hauled outside of their dressing room. Prior to their entrance, we notice a sweet Father's Day card pinned to the top of their instrument case. It's another reminder of the duality between their personal and professional lives.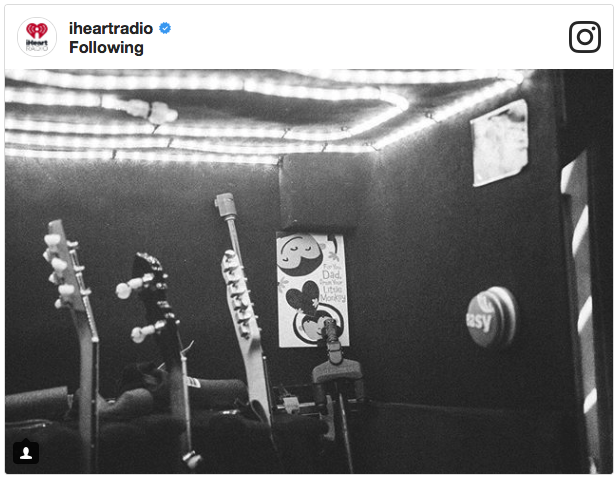 9:00 PM: At the 9'o clock hour, CMT's Cody Allen invites the trio on stage for the glorious hour-long set. "They're bringing a whole new fresh energy to so many songs in our set," Hillary later says of the horn addition."We're very thankful because it's given us a way to freshen up a lot of these songs that we've been playing for almost 10 years."
9:06 PM: Lady A kicks things off with "Downtown," the lead single from their last studio album, Golden, and proceeds to take some time to talk about the song on everyone's tongue ("You Look Good"), which Charles emphasizes was a fitting addition to their discography. "It kind of reminds me of when we recorded 'Downtown.' Whenever things feel a little uncomfortable to do, I think that's a good thing. Music should make you feel something," the 35-year-old singer admits. "It's stuff right down the middle that bores me a little bit."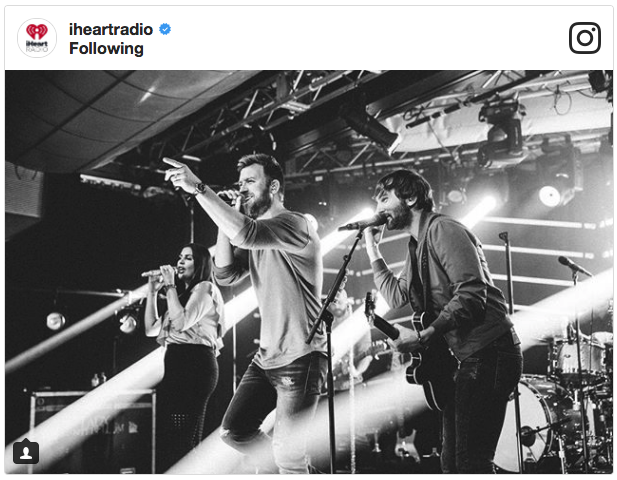 9:55 PM: As their iHeartRadio Album Release Party comes to a close, the show turns into a moment of reflection for the band, considering they've performed songs from past and present: the gospel-tinged "Good Time to be Alive," their debut single, "Love Don't Live Here" and the nostalgic "American Honey." For the finale, they churn out something even older: a cover of Shania Twain's 1998 smash "You're Still the One."
10:06 PM: While their kiddos might not be in attendance, that doesn't mean that Hillary, Charles and Dave have time to just hang around. With their entourage, bags and smiles, they exit the venue, offering up much more than just Heart Break during the Monday affair. They offered appreciation for their fans.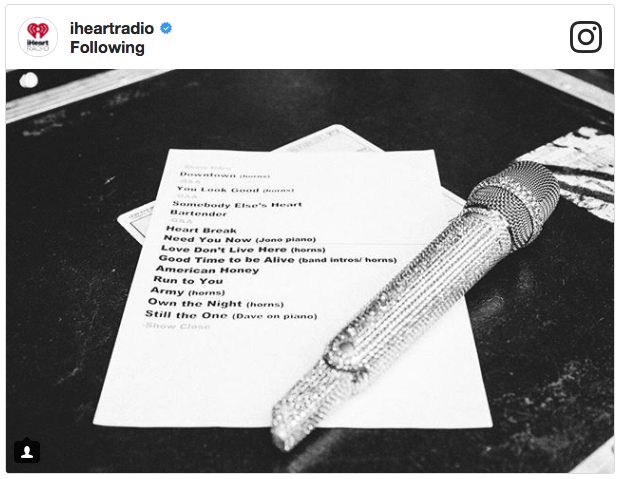 Photo: Matt Eisman / Rachel Kaplan for iHeartRadio