Tattoo Stories with Rita Ora
By Nicole Mastrogiannis
July 28, 2017
Rita Ora has returned with her first single in nearly two years, "Your Song." The uplifting track, all about being in love, was written by fellow Brit Ed Sheeran and produced by Steve Mac. "Your Song" is the first taste of what's to come from Rita this year, who last released an album five years ago in 2012 (her debut LP Ora).
During an Instagram live last month, Rita confirmed that her sophomore album is on the way, and that fans can expect its release later this year in the fall. She said, "The album is going to come out in November and it's going to be major. I've been working on it for ages. There's some amazing people on it and amazing surprises."
Aside from putting an album together, Rita has been very busy with other projects in TV and film, including her role as Mia Grey in the Fifty Shades of Grey series, her hosting gig on the new music competition show Boy Band, as well as the rebooted America's Next Top Model, and she was a judge on BBC's The Voice and The X Factor UK.
Now, Rita is focusing on her music career, and has kicked off this chapter of her career with "Your Song," which she performed live during a recent visit to iHeartRadio's studios in New York City. But while at iHeartRadio HQ, the 26-year-old also opened up about her 28 tattoos during an exclusive interview. These are Rita Ora's Tattoo Stories. Read on below.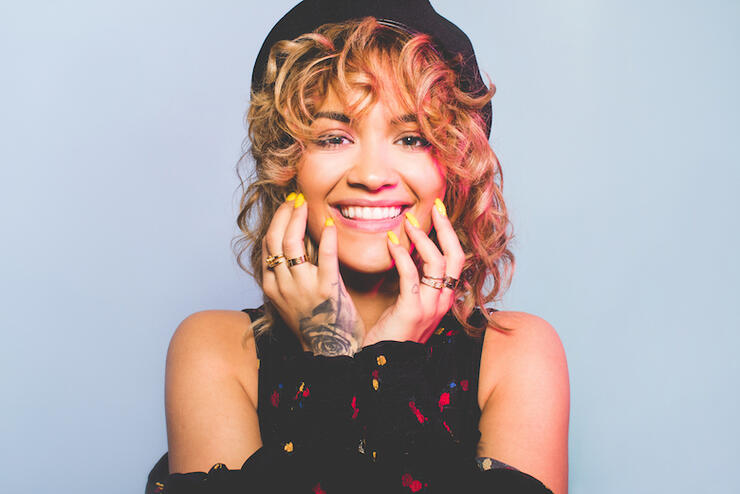 On her First Tattoo: A Star On Her Left Hip
"The first one I got is in a space where I thought my parents wouldn't see it, which is just at the top of my hip area. Me and my best friend got it together, and it's basically a star. I got it when I was actually illegal [underage]. I used my sister's ID to basically go and get it, because we looked similar when we were younger, and now I have 28 tattoos." She adds, "I chose a star because it doesn't really mean anything. So you can put a meaning behind it. It's like a shooting star or whatever, so I just chose a star.
On the Feather & Rose Tattoo on her Right Wrist
"I have this, which is a rose, which is a coverup of a feather. I actually got [the feather] with an employee that works here at iHeartRadio. The rose I got later on, but the feather underneath the rose I got in a bathtub with an employee at iHeart. I wanted to cover the feather up because I think I just I wanted something else. At the time, I was dating a guy with loads of tattoos, and I was like, 'Wee, let's get tattoos!' Now regret it, but, it all has a story."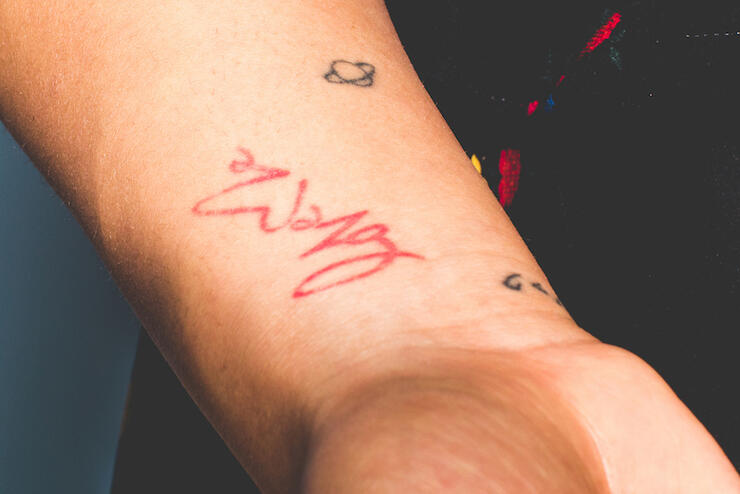 On the Saturn on her Right Forearm
"I have a little Saturn, which is actually my favorite one, because it's cute and small. I thought it was the prettiest planet, and I just liked it."
On the "Love Me" on her Right Wrist
"This I got with another friend of mine, who I ended up finding out was a street artist here in New York City. His name is Curtis Kulig, and I guess he saw me tattoo this, and ended up sending me a massive piece, and I was like, 'Totally, I did it for you.'"
Fun Fact: The "Love Me" design is Curtis' trademark.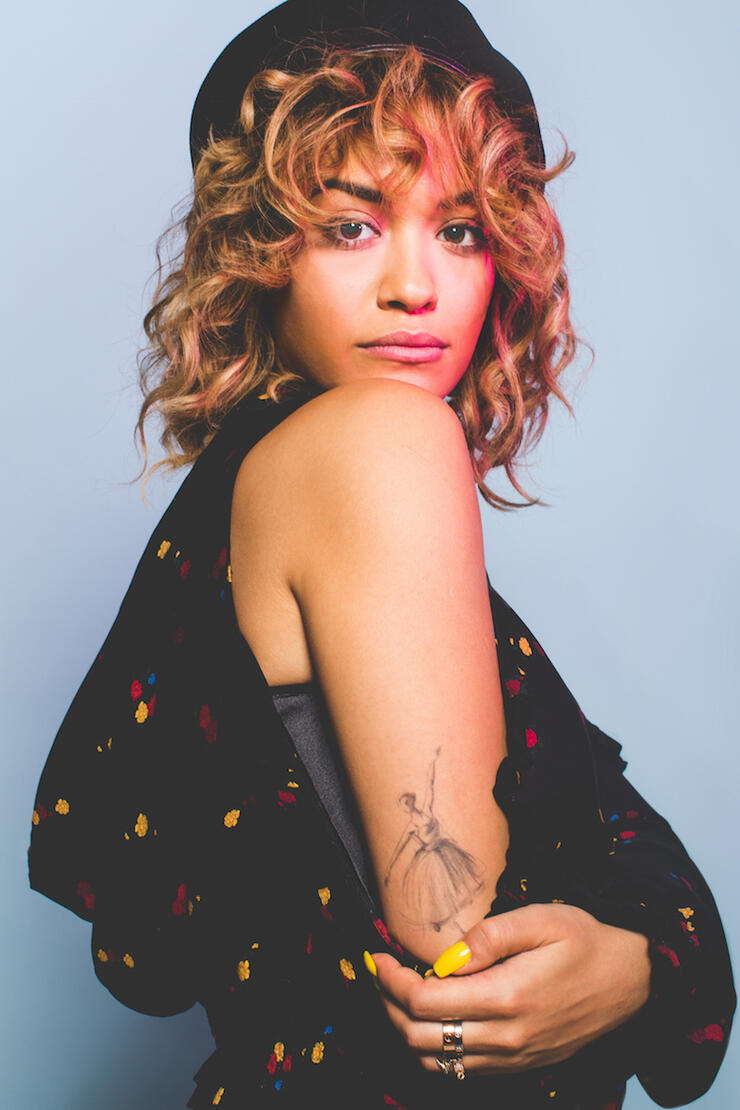 On the Ballerina tattoo on her Right Arm
"I've got a ballerina here with my other best friend Anda, because we always made jokes that at 9, when we were at 92 we were going to be ballerinas if we survived."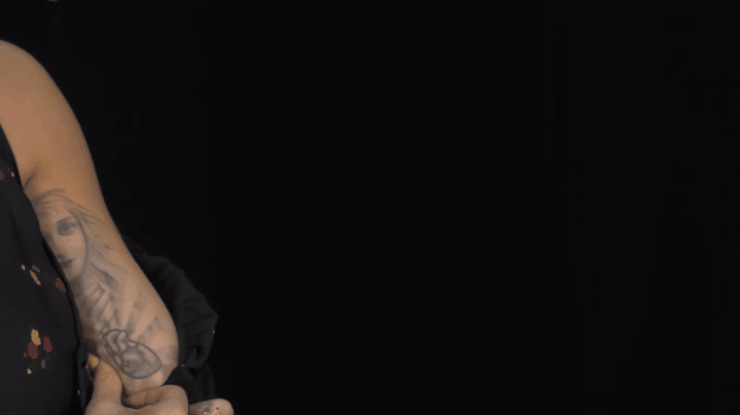 On the Aphrodite tattoo on her Left Arm
"I have Aphrodite over here. I got Aphrodite because she's the goddess of love. I had just a human heart, but it looked a bit like a shriveled up prune, so then I decided to get this around it, because it was much better that way."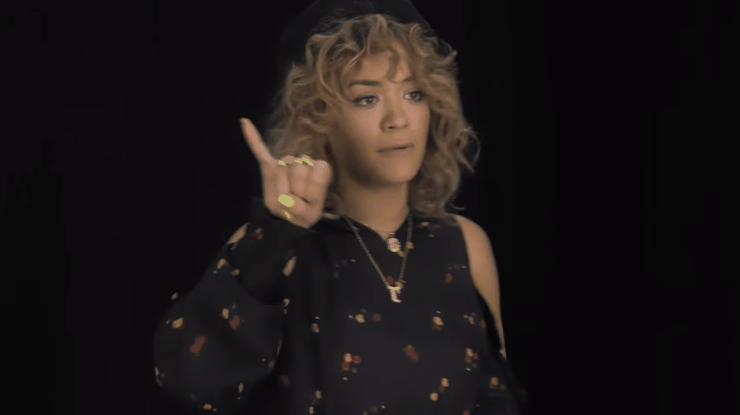 On her "Pinky Promise" tattoo
"Then I have a pinky promise that I got with my best friends. We just kind of pinky promise everything."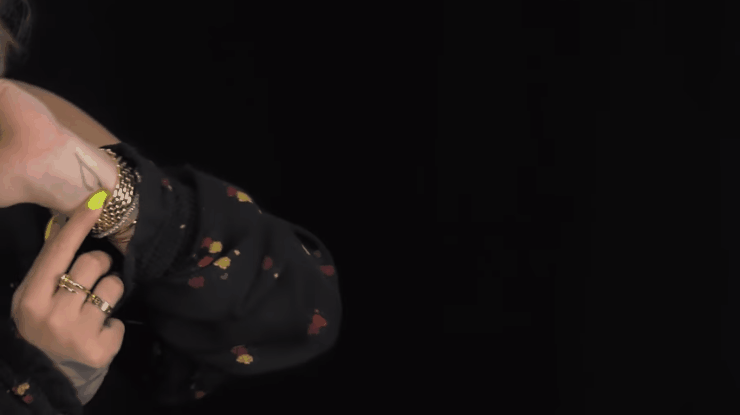 On the Wishbone tattoo on her Left Wrist
"I have a wishbone, which every Christmas, me and the family, whoever gets the wishbone breaks, and you make a wish."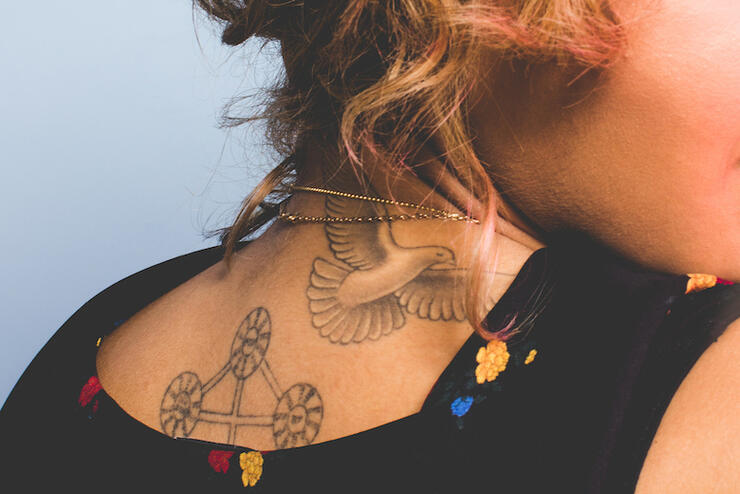 On the "Sacred Geometry" tattoo on her Upper Back
"It's sacred geometry. It's all the elements of life, and it was done by one of the biggest legends in the tattoo world, Mark Mahoney, who I've been a fan of for so many years. So, when he tattooed me, I was freaking out. He's amazing."
On the Pinup Girl on her Right Abdomen
"Actually, the most painful one was this one. This took about six hours. It's my biggest one. It's that big and it's awesome. It's a lady. It's an illustrator called Alberto Vargas, who basically sketched out the first vision of a pinup, back in the day. And so, it's a very old-school pinup lady."
Watch Rita Ora's official "Your Song" music video below!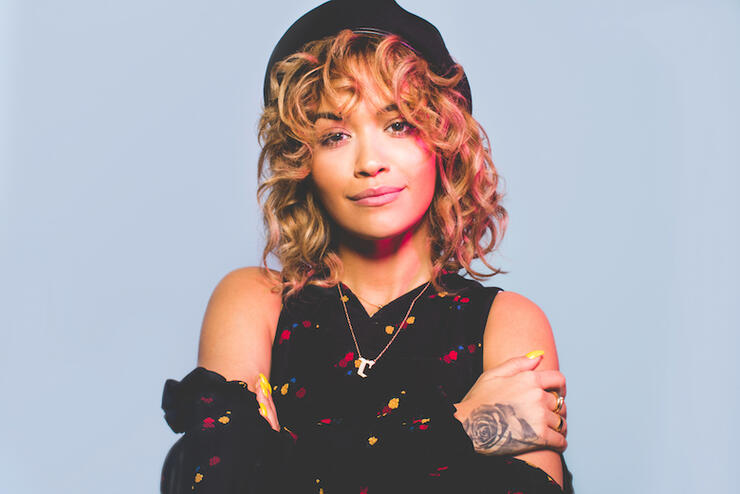 Chat About Tattoo Stories with Rita Ora