Sleeping With Sirens: iHeartRadio On The Verge Artist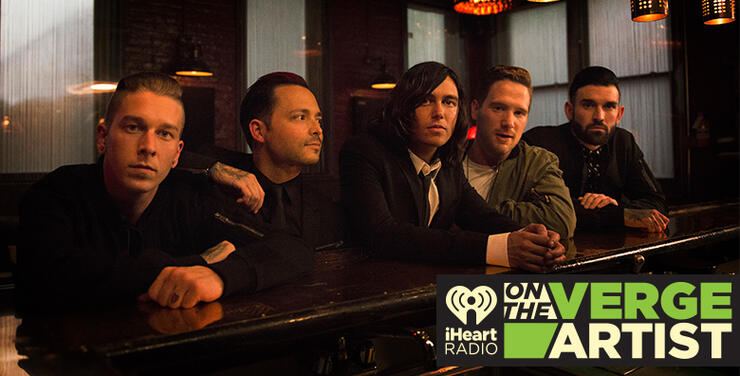 T.S. Eliot once famously claimed, "Only those who will risk going too far can possibly find out how far one can go."
Risk catalyzes Sleeping With Sirens on their fifth full-length and first for Warner Bros. Records, Gossip. Through taking quantum sonic leaps, the quintet—Kellin Quinn [vocals, keyboards], Jack Fowler [lead guitar], Nick Martin [rhythm guitar], Justin Hills [bass], and Gabe Barham [drums]—reach the artistic heights they began angling for nearly 10 years ago, while amplifying musical hallmarks such as soaring and soul-striking vocals, wildly catchy riffing, and intricate beats.
At its heart, the record reflects not only creative progression, but personal as well…
"The story of Gossip really begins in me transitioning from a boy to a man," admits Kellin. "I grew up basically my entire life playing music in this group. This record is me figuring out who I'm supposed to be as a musician, a husband, and a father. It's a hard, scary, rewarding, and daring process that gets chronicled in the lyrics. Musically, I feel like it's the first Sirens record that sounds specifically like us. We took chances, experimented, and continued to do what we do best: create art. It's something new. It has an authentic sound that we've been working towards all this time."
After a whirlwind 2016, the guys hunkered down in January 2017 and commenced work on what would become Gossip for the next six months.
The sessions earmarked a few firsts for Sleeping With Sirens. It's the first time that they recorded in multiple states, working everywhere from Los Angeles and Nashville to New Jersey. It's also the first time they collaborated with producer David Bendeth [Paramore, All Time Low]. Often tackling one vocal or guitar part for eight hours straight, the musicians meticulously tapped into what Kellin dubs an "Electric" energy.
"We finally captured the live experience with Bendeth," says the frontman. "We have the production, but there's a rawness that comes through. David is very old school. He really pushed us, and we pushed ourselves. We realized what we could do as artists, and we evolved."
That growth shines through the first single "Legends." Piano and drums resound as Kellin empoweringly chants, "We could be legends after all." It's a triumphant call-to-arms bolstered by swells of hulking hooks and guitar.
"It's about looking at your life and all of the obstacles in front of you and maintaining faith, belief, and love in yourself no matter what," he goes on. "If you want to be somebody great, you must have that confidence. We're in an age where everyone is surrounded by social media and constantly being judged. So strength comes from within. It's a reminder that the work and time will pay off in the end."
Over propulsive clapping on the title track "Gossip," Kellin presciently croons, "I got that new sound and when I come 'round I'll be your nightmare, I'm coming for you don't be scared." It sums up the album's mission statement, proudly addressing the evolution over snapping six-string distortion and the scorching falsetto that turned the conversation towards Sleeping With Sirens in the first place.
"The song discusses what people say about you," he explains. "It correlates to social media again and how humans generally act. Everybody always has an opinion, whether it's good or bad. It's such a different record for us. We took the leap. We stand behind it."
Gossip signals the start of another chapter for the band as well. In 2017, they inked their first major label deal with Warner Bros. Records as Kellin puts it, "They operate like an indie and automatically felt like family. It was like the stars aligned."
Ultimately, the risks yield Sleeping With Sirens' boldest, brightest, and best work to date.
"No matter what anyone says, I want to encourage listeners to take risks of their own," Kellin leaves off. "Our band took a chance. We're going to back it. That's all you can do as an artist. This is my diary. It's who I am."
Check it out...
Chat About Sleeping With Sirens: iHeartRadio On The Verge Artist