Old Dominion Focus On Their Core On 'Happy Endings' | #iHeartUnfiltered
By Joshua Criswell
August 21, 2017
#iHeartUnfiltered gives fans an exclusive glimpse at a day in the life of some of your favorite stars. From behind-the-scenes photos to candid quotes, iHeartRadio's series is all about providing readers with a one-of-a-kind look into the routines of the rich and famous.
As Old Dominion launch their sophomore album, Happy Endings, reflection on the band's improbable journey is inevitable.
Matthew Ramsey, Trevor Rosen, Whit Sellers, Geoff Sprung and Brad Tursi couldn't have envisioned this moment in 2007. At that point in time, the band was formed primarily as a way for the friends and singer-songwriters to showcase their music. This evolved into living room performances at house parties, charging somewhere in the neighborhood of $200 a night and eventually led to their first studio album, Meat and Candy, which dropped in November 2015. The debut project struck gold, literally, and it's been a non-stop roller coaster for Old Dominion ever since opening for the likes of Kenny Chesney and Lady Antebellum and embarking on their own nationwide tour.
While much has changed for the band, they are still at their core the same crew of friends that came together years ago with the common goal of looking to make it in Nashville. The writing process for Happy Endings has remained largely the same, even if the birthplace of some songs has moved from the Music City to the tour bus. As a result, fans can expect plenty more of the catchy hooks, rock-inspired instrumentals and country charm that made their debut, Meat and Candy, such a crossover hit.
On the day of the release of their second studio effort, Old Dominion stopped by the iHeart Theatre in Burbank to celebrate the milestone with an iHeartRadio Album Release Party. In the hours leading up to the performance, we accompanied the band to catch a glimpse of what it would be like as a member of the country quintet. Take a look below at our latest installment of #iHeartUnfiltered with Old Dominion!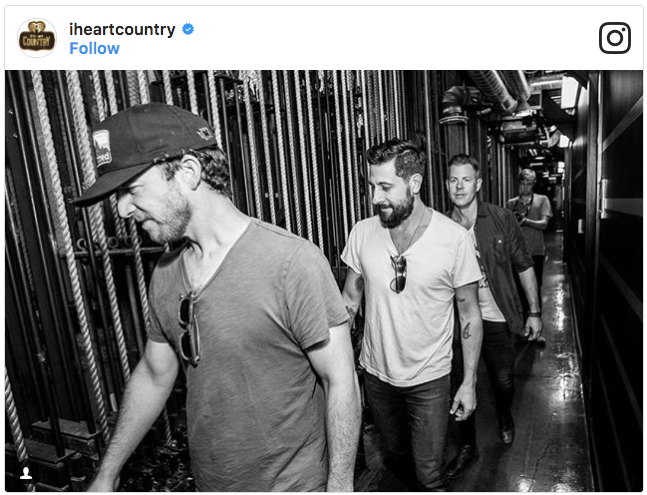 3:30 PM: Old Dominion arrives at the iHeart Theatre in Burbank and heads straight to the green room with less than four hours from their iHeartRadio Album Release Party. Matthew and Geoff lounge on the couches as the band reflects on their time so far in Los Angeles.
3:47 PM: The conversation turns to music videos, and the need to get in touch with their director, Steve Condon, about an upcoming release. The band's relationships with Steve and their tour manager, Tommy, highlight a recurring theme for Old Dominion — staying loyal to people that were with them from the beginning. Tommy was the first person Matthew met upon moving to Nashville, and Steve has directed each of their music videos.
3:55 PM: It's off to soundcheck, where the guys practice one final run-through before that night's Release Party.
4:45 PM: A funny moment with CMT's Cody Allen, the host for the evening, unfolds as the soundcheck comes to a close. Cody jokingly refers to them as The Band Perry when practicing the intro, evoking laughter across the stage and setting the tone for a fun night at the iHeart Theatre.
5:12 PM: As alluded to earlier, it's been a whirlwind past couple years for Old Dominion. They watched their first studio album go gold and have now launched a highly-anticipated follow up that already features one hit, "No Such Thing As a Broken Heart", in the Top 10 of the Country Billboard Top 100. During a sit-down interview, the guys elaborate on the crazy nature in which certain songs pick up traction and what it's been like to watch this one take off.
"All we really knew was that it resonated with us, and that's what has opened doors for us in the past," Matthew said. "We just pay attention to what excites us and what moves us as songwriters, and not try and chase what we think people want to hear. We write things that matter to us, and usually those are the ones that work the best. In this case, I think it was just that.
"We wrote a song that we wanted to hear. It's a message that we would tell our families, and that we would hope people tell us. So, I think that's probably why it's resonating, because it's a true emotion, a true feeling that other people have, too."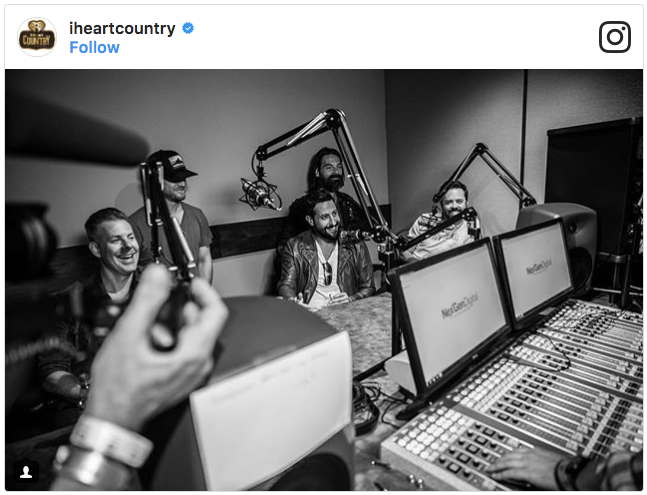 5:25 PM: Originality is one of the traits that has driven Old Dominion's rise from a little-known collection of singer-songwriters to one of the hottest names in country music — something that is on full display in their music videos. Director Steve, as he's affectionately referred to, has been with the band since Matthew had hair past his shoulders and with talents to match his loyalty, is a perfect fit.
"Be With Me" is one music video from the Happy Endings album that has struck a particular chord with the audience, as Steve gathered Old Dominion's moms and closest female fans for a surprise video shoot.
"On the surface, it's a pick-up line, a getting the girl song," Matthew remarks. "But the deeper you dig, you finally get the deeper message, which is where the video came from."
5:56 PM: The effects of a seemingly never-ending grind are evident as the group films a segment for Entertainment Tonight, with answers beginning to wander as the shoot comes to a close. However, this weariness disappears and faces light up as they greet a swarm of fans lined up out the door for a chance to meet them.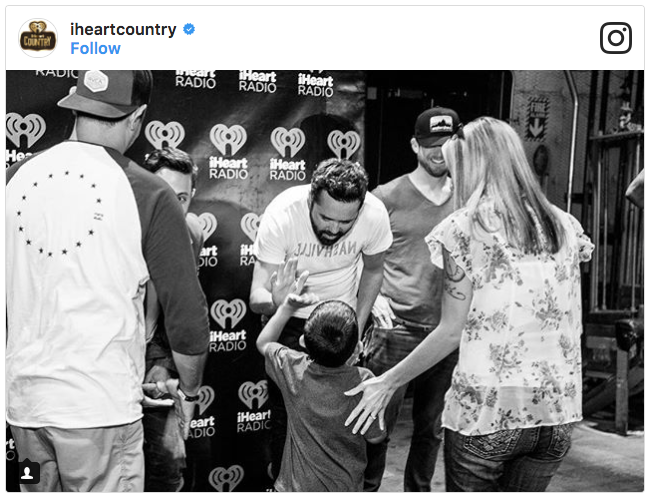 6:05 PM: As the guys sit down in front of the camera for an edition of Young Hollywood "Backstage Diaries", more of each individual's colorful personality begins to surface. The friends take turns sitting in the "hot seat," which evolves into playful jabs about Matthew, the band's lead singer.
"My favorite thing about working with Matthew is how understanding he is about everyone's moments of weakness," Geoff remarks as his bandmates burst out laughing. "Sarcasm...Heavy sarcasm," Trevor confirms.
6:15 PM: In these backstage moments, something else that becomes clear is Old Dominion's appreciation for where they are today. In particular, the opportunity to take their music all over the world and share the experience with some of their closest friends. "We're living the dream," Whit says, pausing momentarily to reminisce. "It's incredible enough just to be able to go and just play music for a living, but to also be able to do it with friends I've had forever is just, it's kinda too much. I can't really believe it. But that's the reality, that's what I get to do."
6:20 PM: Old Dominion returns to the tour bus and unwinds for a half-hour, recharging for the night's performance.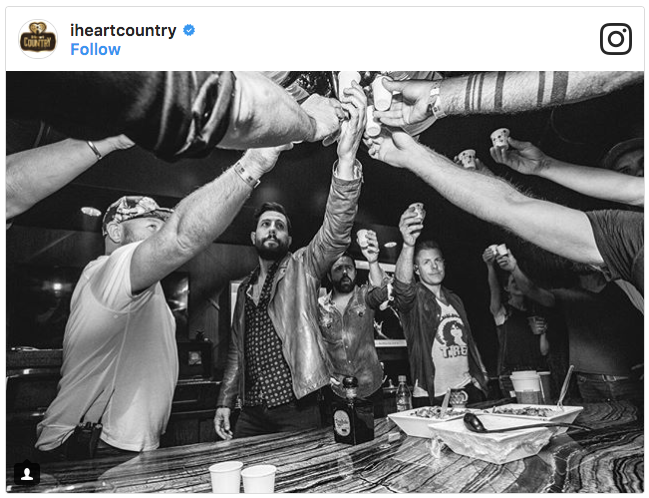 6:53 PM: With a packed iHeart Theatre full of fans waiting, Matthew raises a shot glass of Don Julio and delivers a final message to his bandmates — and those behind the scenes — as they embark on the next stage in their journey.
"I don't have a clever, funny thing to say, but I will say that it's crazy to me to see the growth that's happened and the amount of people that it takes to make this thing happen," he toasts. "It used to be just the five of us, and our team grows and grows and grows, so here's to a growing family. Thank you guys."
7:00 PM: Cody welcomes Old Dominion on-stage to a chorus of cheers. They open with a rendition of "No Such Thing As A Broken Heart", allowing the crowd to finish out their new hit and setting the pace for an electric performance.
8:15 PM: As Old Dominion retreats to the green room one last time, you witness the band in the most relaxed state they have been in all day. They crack jokes, grab a beer and reflect on the evening. Trevor talks about how surreal it was watching fans in the crowd follow along with every word of their new songs, despite the album releasing just that day.
8:45 PM: Old Dominion says goodnight from the iHeart Theatre.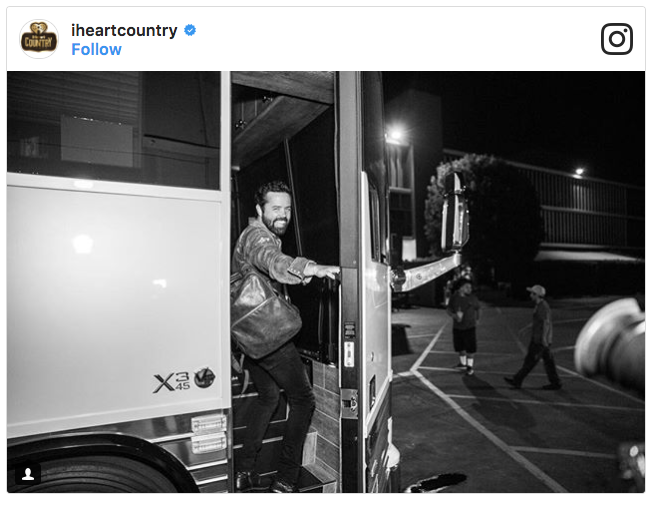 Photo: Wes and Alex for iHeartRadio