Devin Dawson: iHeartRadio On The Verge Artist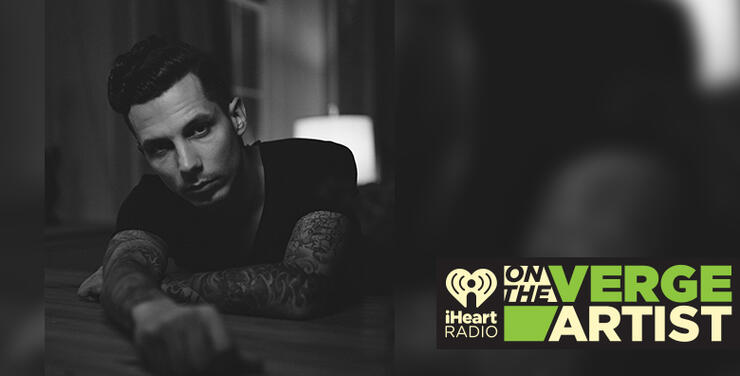 A tattooed former metal head with a poet's soul, Devin Dawson is not your typical country artist. Poised as the next bolt of lightning to hit country's family tree, he's an edgy study in contrast whose songs speak the language of a new generation – fans with no use for genre labels.
But make no mistake; he's more than a curiosity.
Signed to Atlantic Records / Warner Music Nashville, Dawson's approach to country is not different on purpose, it's different with purpose. With a knack for razor sharp stories that cut straight to the heart, full of detail and clever turns of phrase, he is establishing a reputation in Nashville as one of the most exciting modern singer-songwriters around.
"I don't like falling in the center," he admits, dressed head to toe in black with a faded Def Leppard t-shirt and a leather jacket.
Twenty-eight years old and from Orangevale, California, Dawson grew up just outside the gates of Folsom Prison. He heard the sirens at night, and sang along to Johnny Cash, Alan Jackson, Marvin Gaye and Creedence Clearwater Revival. Just out of high school he played bass in a touring death metal band.
But in the midst of a breakup, he discovered the need to express himself through songwriting that metal didn't fully facilitate. Translating his hardcore roots into stories that stirred his soul, Dawson traded furious guitars and pounding drums for intense emotion and clever wordplay.
"I'm such a lyric guy," he explains, "and with the element of storytelling that's what really drives country music. I needed that. It's a completely different feeling being vulnerable onstage singing a song about your heart instead of head banging with your friends."
For his forthcoming debut Dark Horse, Dawson teamed with an equally daring producer in Jay Joyce (Eric
Church, Little Big Town). With a co-write credit on every track, the result is a delightfully dangerous mix of organic roots and high-voltage power pop, full of romance and delivered with a distinctive sawtoothed vocal.
"I like to describe it as a new Nashville sound," he says. "There's country in the way I let you in. There's soul in my melodies and voice. And there's a lot of rock in the energy – I'm not afraid to get heavy. I was like '[Jay], let's do whatever we want. Let's make it dark, let's make it sexy. Let's say things that people aren't saying right now.'"
His first single "All On Me," which he co-wrote with fraternal twin brother Jacob Durrett and guitarist Austin Smith, provides a sunny groove for dark times. "Secondhand Hurt" turns the tables on a broken heart, while "I Don't Care Who Sees" portrays the complete opposite: a couple so in love they can't be bothered by onlookers witnessing a little PDA. The sounds are all over the map – from hip hop and rock to modern country – and for this tireless songwriter, it's only a clue of what's to come.
Since the release of "All On Me" in February of this year, Dawson has already made his television debut on Late Night with Seth Meyers, landed his first handful of Grand Ole Opry performances, and received critical praise from a multitude of outlets including ELLE, Entertainment Weekly, Rolling Stone, The Tennessean, HITS Magazine and more.
"This is it," Dawson says. "I ain't turning back."
[Click here to download "All On Me"]
Check it out....
Chat About Devin Dawson: iHeartRadio On The Verge Artist