P!nk Gives Career-Spanning VMA Performance, Accepts Video Vanguard Award
By Nicole Mastrogiannis
August 27, 2017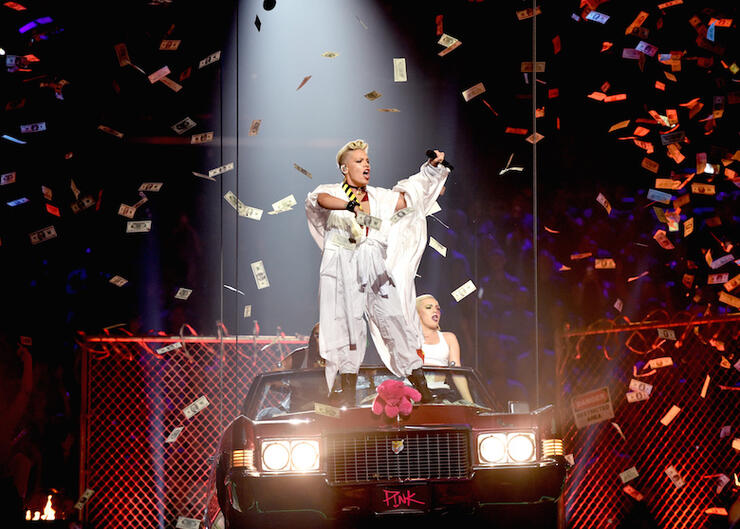 There is no doubt that P!nk is a pop icon. With a 17-year career under her belt, over 50 million albums sold, 3 Grammy Awards and 6 VMAs won, arenas sold out all over the world, and is a Unicef Ambassador, she is one strong, fierce female superstar.
P!nk was honored as this year's Michael Jackson Video Vanguard Award recipient at the MTV VMAs, and also performed a stunning career-spanning medley of her biggest hits, including her most recent single "What About Us" from her upcoming seventh studio album Beautiful Trauma.
P!nk literally got the party started by performing hits from over the course of her career, including "Raise Your Glass," "So What," "Get the Party Started," "Just Give Me a Reason" and "Perfect." And while she may not have taken to her signature aerial routine, she did drive out into the crowd in a convertible during a confetti shower.
Goals.
P!nk ended her performance by re-creating her stunning, choreographic "What About Us" music video with a cast of super talented dancers, at one point going out into the crowd as she moved from one part of the stage to another.
If you are jealous of the bodies attached the hands she's shaking here, you're not alone.
Following her performance, Ellen DeGeneres came out on stage to present P!nk with the Video Vanguard Award. She explained that since Cher, last year's recipient, couldn't make it to present P!nk with the award, the pop star had called Ellen to ask her to fill in. Ellen said, "I think she's the most incredible performer. When she said she'd like me to give her this award, I was honored."
P!nk's family was on hand to see her accept her award first hand, including her husband Carey Hart and six-year-old daughter Willow. They all wore matching outfits on the carpet (so cute).
During her speech, she launched into a story about a moment with her daughter, who told her mom she didn't feel pretty and that she looks like "a boy with long hair" ... to which P!nk's response was to put together a Powerpoint presentation of "androgynous rockstars and artists, who that live their truth, are probably made fun of every day of their life, and carry on, and wave their flag, and inspire the rest of us." She mentioned artists like Michael Jackson, David Bowie, Prince, and more among this list.
Ultimately, she ended with a message for her daughter saying, "We don't change. We take the gravel and the shell, and we make a pearl. We help other people to change, so that they can see more kinds of beauty."
P!nk also shouted out her peers saying, "To all the artists here, I'm so inspired by all of you. Thank you for being your true selves and for lighting the way for us. I'm so inspired by you guys. There's so much rad sh*t happening right now in music. And keep doing it. Keep shining or the rest of us to see."
The newly crowned Video Vanguard Award recipient ended her speech with a message to her daughter, "And you, my darling girl, are beautiful. And I love you."
Congratulations to P!nk! The pop icon is set to perform next month in Las Vegas at the 2017 iHeartRadio Music Festival.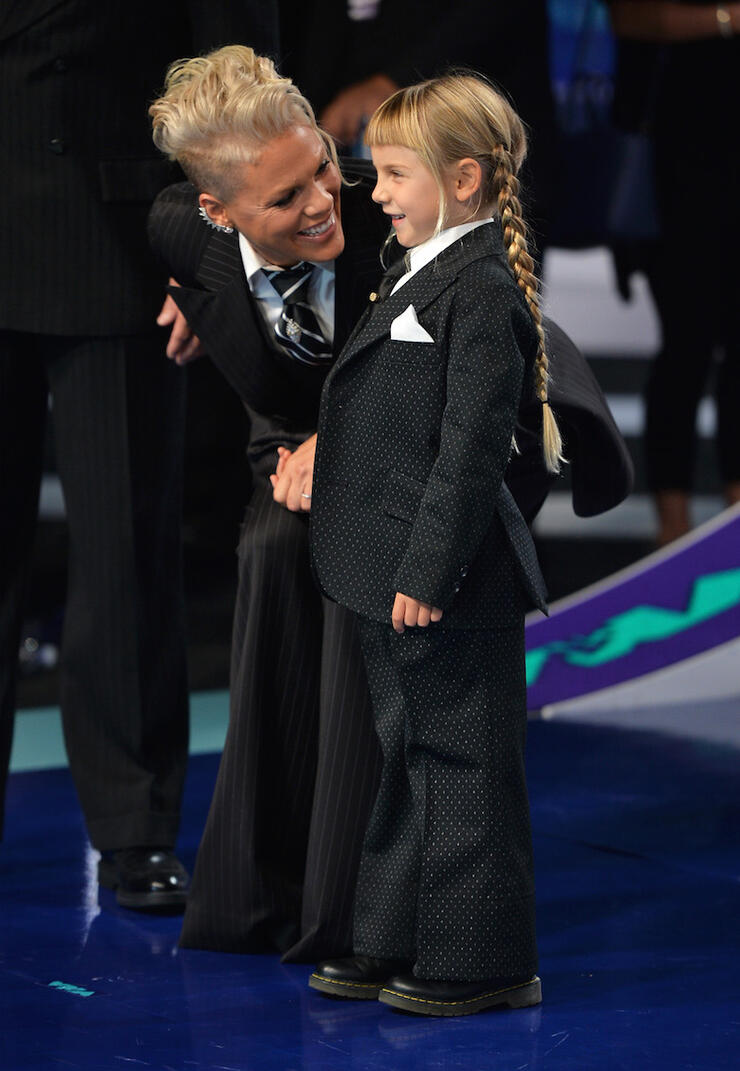 Chat About P!nk Gives Career-Spanning VMA Performance, Accepts Video Vanguard Award