Diplo Clarifies That Rihanna Studio Diss: 'Hopefully, We Can Connect'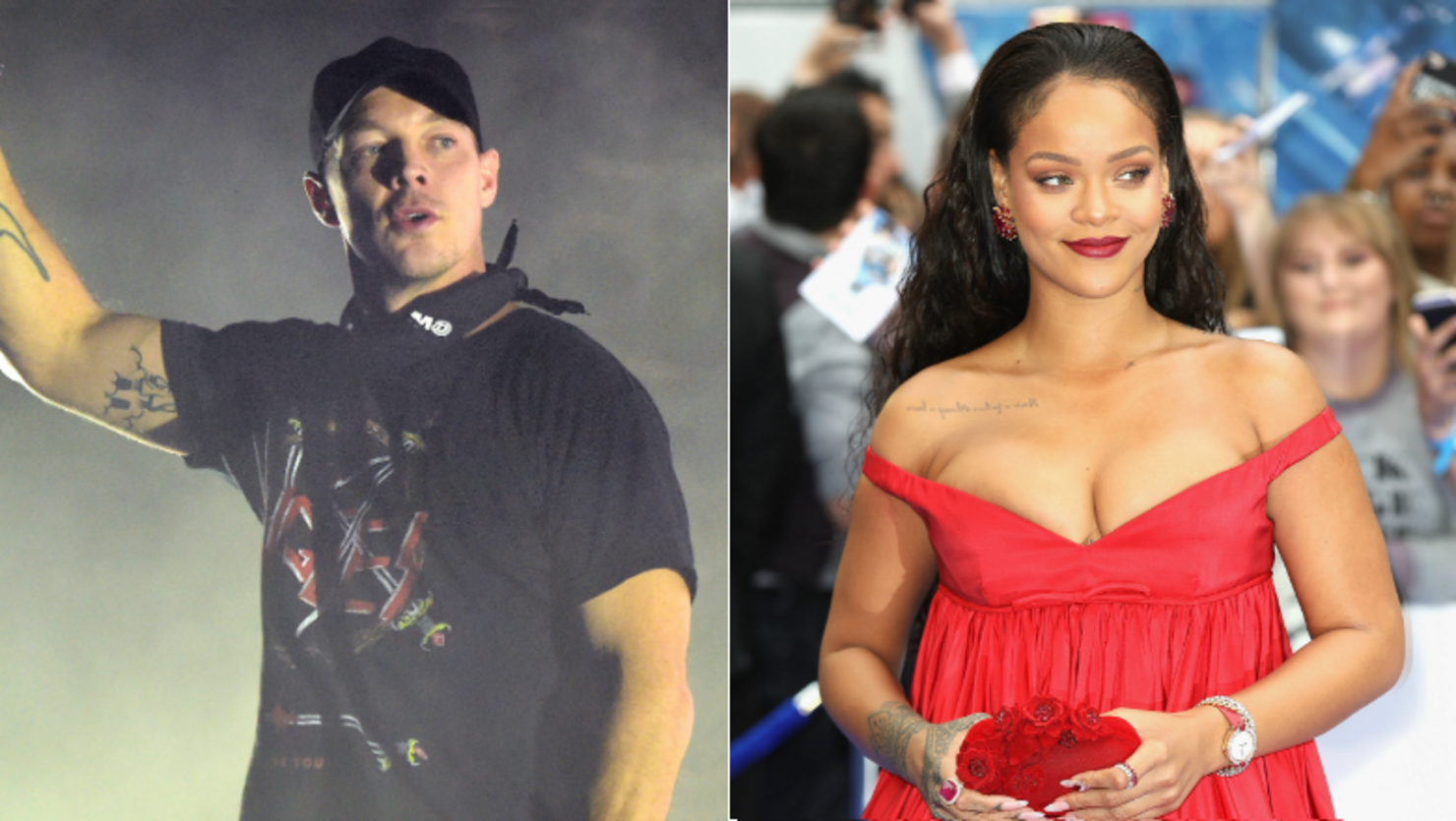 Press works in funny ways, especially for an artist as in-demand as Diplo. Deep into his August feature for GQ Style, the Major Lazer head honcho casually revealed that Rihannaturned down a couple of his song pitches, in particular his 2015 mega-smash, "Lean On," and went as far as comparing his productions to something like a "reggae song at an airport." As you saw all over your timelines, the news took the blogosphere by storm and even prompted the pop titan to semi-apologize for the studio diss.
Ahead of his 2017 Billboard Hot 100 Festival set with Jillionaire and Walshy Fire, Diplo invited iHeartRadio into his dressing room to shed a little more light about his hopes to team up with the Barbadian beauty, the ever-changing music landscape and how the progressive Brazilian gay scene led to the creation of recent single, "Sua Cara," with the budding Anitta and drag superstar Pabllo Vittar. 
iHeartRadio: You're closing out the Billboard Hot 100 Festival. As somebody that is quite familiar with the festival scene, how do you go about maintaining the chaos of it all?
Diplo: Tonight, I guess, we're just going to play our record and a couple of cool things. Hopefully, the kids are into it. It's a very young crowd tonight, so hopefully, they get a vibe. It's a different festival and it's weird. It's like 16 to 21, which is very cool. The last time I did that was maybe someone's sweet 16, which is also flyer.
"Sua Cara" is my jam even though I don't know a lot of what the ladies are saying. You have these two huge Brazilian stars. Anitta's doing her thing and this premiere Brazilian drag queen, Pabllo Vittar. How did you come across both of them? 
Anitta ... I met her at a party, a Jeremy Scott party, and was just like, "This girl's beautiful." I just got her number, honestly, and we just kept in touch. I had no idea she was a star. I didn't know who she was. I just thought she was cool and she loved hip-hop and I didn't know she was a pop star. We just said, "Hey, maybe we'll do a song one day." When she came to LA, we started that song and I finished it.
And Pabllo, I've known her for three years because she covered "Lean On." [That] was the first thing she did and she covered "Revolution," one of my songs. I always helped her with the production. I was like, "This girl is amazing. She's beautiful, but she can sing." I feel like, when it comes to drag queens, even in America, we don't have that many that are pop stars, you know? I feel like Brazil, the gay scene there is just so advanced, like, musically, culturally. It's just a different vibe. I was like, "How can we help explode this girl? How can we make this awesome music with her?" So, we did that. I put her on the song with Anitta. Anitta was totally excited. She was like, "This is a great way for me to build up with that scene as well. This is an amazing artist for me to put on." That makes Anitta a trendsetter. I think it's insane how much Pabllo blew up after this whole situation. She's on her way up anyway, but that help with Anitta and the song I think [in] Brazil, it was like two superheroes coming together.
Plus, Brazil is all about Twitter!
It is. It is literally about superheroes and the artists are like gods to them, you know? These two coming together was just like ... I'm just happy to be part of it.
When it comes to the landscape, how do you feel about the transition from a focus on albums to singles?
I mean, I would love to be back in a world with albums. I'm a DJ and a producer and a collector of music and I love albums and I love the way they made me feel growing up. I was like, "This is an album." Listening to Nine Inch Nails, listening to Eminem, listening to The Beatles or Marilyn Manson or whatever it was; this album reflects a moment. This is like a year of my life. It's a great moment but, as somebody who works in 2017, it's all about singles. Major Lazer's always been someone to put their weight behind singles. 
Even with this EP ... even though it's an EP with six songs, every one of them is a single. We have the Brazilian single. We have the African single, with "Particula." We have the American single, "Know No Better," which is also in Europe, and then we have "Buscando Huellas" with J. Balvin. We got lucky with this EP. Every song on their is something happening in music right now. Major Lazer has always been looking for that. Finding ways to stay ahead of the game. We have to work every song, every single.
Camila Cabello performed earlier today. Have you worked on her debut?
I'm not sure how much there is on her debut. I just work on music for her. I don't know what it's for, sometimes. I'm probably her most chill producer. We don't really work on a deadline or anything. We just did this song together. We've done a lot of scratches [and] many, many, many ideas. If we can get some more stuff together, that's cool, but I'm never in a rush. It's much cooler for her to be on my record, to be honest, than for me to work on her album, which I would love to, but if it doesn't happen. I mean, I just want to keep helping her produce and be part of her project.
After checking your social media, you guys are friends, too.
She was friends first and foremost. Honestly, when I'm sitting in the interview with her a minute ago for Billboard, I never thought I would talk about having a song with her [that we're] about to perform. Everybody I work with has been ... like J Balvin, even Anitta, they're literally my friends. I was like, "Hey, maybe one day we'll work, but I want you to be my friend. You know, this is cool. I love what you're doing musically. I'm a fan." It's cool to connect with them and make music. I think when you build that relationship first, the music becomes more authentic.
I'd assume it's more difficult to get in the lab with someone that you're just not really ...
That's actually not ... In LA, that's what the world is. It's the role of songwriters and stuff like that. But I've always been against that world. That's why I write records for Major Lazer because I don't feel like being part of camps and being part of turning out music in a factory. I just like to work on music on my own.
You received a lot of press for your GQ Style interview when you talked about collaborators; particularly Rihanna. She made a post afterwards, which was like a subtle nod to be like, "I see you." Have you heard from her after that or beyond that?
No, I can't believe that reached her. It's such a funny story. I don't even think she remembers that time in the studio, but it was a funny story and I thought the quote was very funny. The demo we played her was actually very silly. At the moment, I thought it might be something. You never know when you're with Rihanna. You have the chance to play one or three songs to get her attention, and I have like 100 songs. But it's funny. You always gotta to be on your toes and work harder and she made me feel that way and I love her to death. We talked a little bit because she's writing a lot of new music right now for her next project and, hopefully, we can connect. I know that we both have the same affinity for dancehall and reggae and things like that. I know she knows she's a fan of our music. I'm just happy that ... But the funny thing is it was a joke I made on myself and it became a story that Rihanna hates my music, or whatever, but it was really just a funny story.
And the headlines, literally, took it out of context.
Yeah, it was very out of context and the crazy thing is that ... Good and bad news is that it made me look kind of silly but I don't care. It's kind of my personality.
But it made us want the collab. You know what I mean?
At the same time, people could read the story, which is about music in Africa. Maybe [because] it's a GQ story, maybe no one would be able to read it but, if it got anymore attention to that story, that's dope because the trip to Africa was one of the best things I've done in my life; to create the music there and be part of the scene there.
To that point, you've done so much this year. You have the "Give Me Future" documentary and you have this EP. What are you most proud of in this last year?
This EP, the way that things are shaping up, it's like all these little songs having their own little life. But Give Me Future [and] playing in Havana, which was last April, was the highlight of my life. Just being part of the scene, man, where like Marshall is playing with us. Then there's another stage where, like, A$AP Ferg and Rich the Kid ... these guys I know I'm working with ... I feel like our graduating class is here and we're doing all this music together.