Inside Lorde's Magical, Once-In-a-Lifetime Performance at Houdini Estate
By Sierra Marquina
August 30, 2017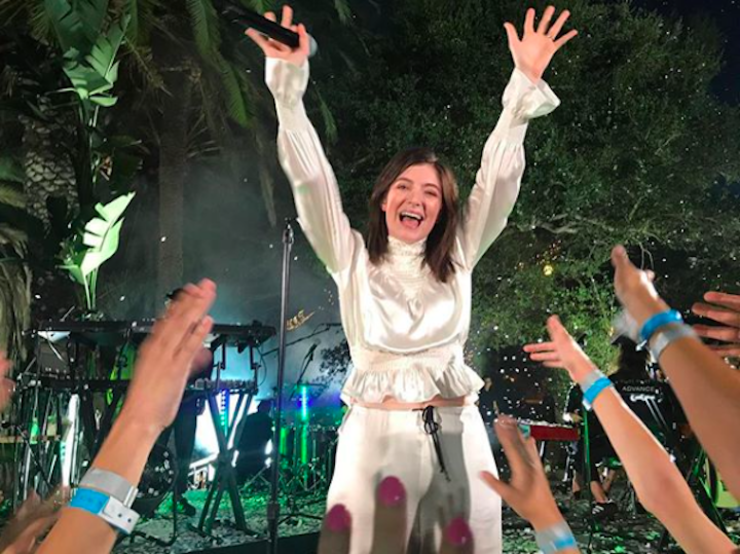 What flu?! Lorde brought Los Angeles' Houdini Estate to life during an intimate yet powerful iHeartRadio Secret Sessions performance in the Hollywood Hills on Tuesday, August 29.
The songstress, who was unable to sing at the 2017 MTV VMAs due to the flu on Sunday, kicked the cold and performed an 11-track setlist before an eagerly awaiting crowd who were earlier shuttled to the secret location.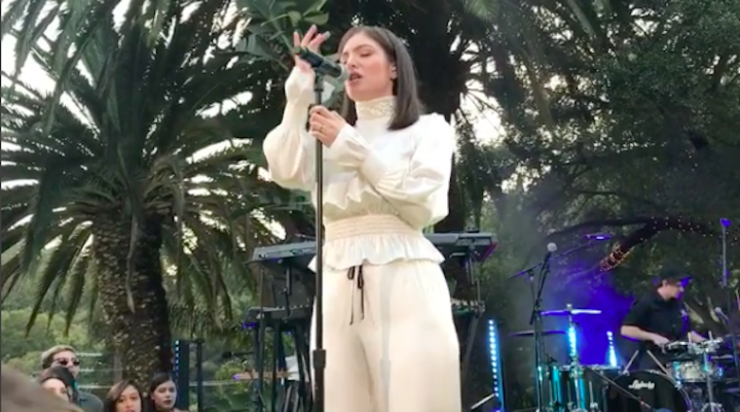 The Melodrama songstress kicked off the evening — which was held in the center of the enchanted gardens of the legendary five-acre property — with "Homemade Dynamite." Among those in attendance was pal Vanessa Hudgens.
Breathing in the applause, Lorde then immediately went into "Hard Feelings" before taking a moment to connect with her fans.
"How are you doing?" Lorde asked between sips from her water bottle. "It is so lovely to be here with you … This is one of the first times I've played in a real garden."
The majestic location with expansive lawns and perfectly terraced gardens and waterfalls couldn't have been a more perfect fit for Lorde and the truly magical night.
"I'm just reclaiming my voice now," she shared after performing "Buzzcut Season." "This is the sickest I've ever been in my life. … I'm recovering from the flu."
Sickness aside, Lorde handled it like a pro. The Grammy winner, who opted for a white silk ensemble for the evening, then belted out Pure Heroine track "Ribs" after informing the crowd that the 2013 released song is "about growing up."
"This is from the new record," she shared of the next track, "Sober II (Melodrama)."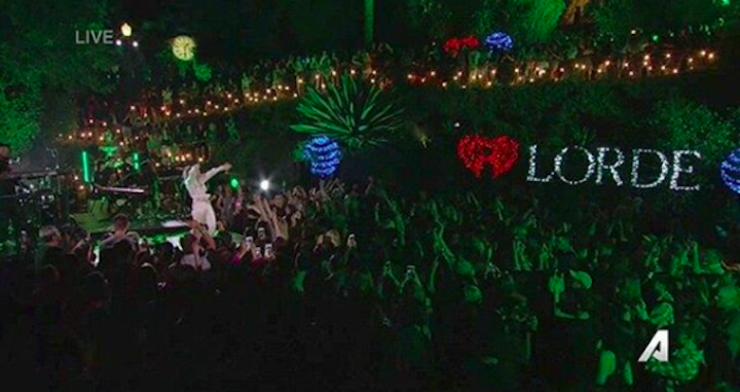 "It was made in Palm Springs, but you would think it was made in a cave or something," she added while taking a seat on the small stage.
Lorde, like the rest of us, was mesmerized by the location. "I also did a lot of googling about the Houdini Estate and it turns out this place is so haunted," she told the crowd before performing "Writer In the Dark."
She then dived into a candid explanation of "Liability."
"This is one of the saddest songs on Melodrama," Lorde shared. "It means a lot to me and I think it'll mean a lot to me for a long time. … This song was like the most potent hour — I had to get it down. It was the craziest feeling. I'll never forget it."
"Sometimes you just have to get out of the house and go for a walk ... it was such an angry walk," she recalled. "I think I got 8 or 10 kilometers ... I started crying in the back of this Uber. I was listening to 'Higher' by Rihanna … I was just crying … I was feeling too much for somebody ... tak[ing] up too much space."
Lorde added that she felt like "no one could ever love me for all that I am" and that she acknowledges the stress her life as a songwriter may place on a significant other.
"You may discover that a small conversation we had becomes a pop song," she reflected. "We wrote ['Liability'] in Los Angeles ... in a very similar place to this … ever since I wrote that song I felt such a suit of armor. Writing the song helped me celebrate being too much ... it makes me feel powerful now," she revealed. "I want you to know you are not too much. You are perfect ... This is 'Liability.'"
After performing the vulnerable track, next up was "The Louvre." Lorde then skipped previously scheduled track "SuperCut" and went straight into her rise to fame track "Royals."
She concluded the evening with an upbeat performance of "Perfect Places" and "Green Light."
The secret session ended with a bang — literally. The entire Houdini Estate gardens was covered with confetti as it shot through the air.
"It has been such a pleasure hanging out with you tonight," she shared with the crowd as confetti fell around us all. "Thank you for coming. Thank you again, honestly, thank you."
Chat About Inside Lorde's Magical, Once-In-a-Lifetime Performance at Houdini Estate