Sam Smith Talks 'Too Good At Goodbyes' & Previews Second Album
By Nicole Mastrogiannis
September 11, 2017
From what is one of the most anticipated albums of 2017, Sam Smith has finally given us a glimpse into his next body of work. The 25-year-old London native has taken time, laying low between releasing his debut Grammy-winning album In The Lonely Hour, and has now returned to deliver the first single "Too Good At Goodbyes" from his yet-to-be-titled second studio album.
Over the last few years, and when Sam began to write this new record, he aimed to go back to the mindset he had before writing In The Lonely Hour. "My aim at the beginning of the writing process was to go back to how I felt, mentally and emotionally, before and during the writing of my first album, and that's what I did," Sam explains to iHeartRadio. "I'd hang out with my sisters, and my best friends, and my family, and met new amazing people, and just stayed in London, and created as many memories as I could, so that when I got into the studio, I could draw stuff from those experiences."
The Inspiration Behind "Too Good At Goodbyes"
One of these experiences leads us to Sam's new single "Too Good At Goodbyes." In the song, we hear Sam singing about an impending breakup. He croons, "Every time you hurt me/The less that I cry/Every time you walk out/The less I love you/Baby, we don't stand a chance/It's sad, but it's true."
"Too Good At Goodbyes" was, in fact, inspired by the end of a relationship that Sam had, although he says he's not the one who broke it off. He tells us, "This song is about a relationship I was in, and just my mindset towards the end of the relationship. I didn't end it, but…"
What To Expect From The Second Album
Sam's sophomore full-length studio album, which he describes the music included on the record as "strong, but soft at the same time," features two songs that were written in Nashville. It was important for him to travel this time around, having written so much in his native London. "I loved Nashville when I played there. It's just such a musical place," Sam explains. "When I was there, I was just inspired by all the music being played in all the bars, and it was just an amazing experience, and really good for me to change it up.
Just as "Too Good At Goodbyes" was inspired by a real life experience, so is the rest of Sam's second studio album, whether they are his own experiences or his family's. And taking time for himself after In The Lonely Hour helped him to do this. He says, "I can't write music from a real place, unless I'm in a real place. It was harder to do, because my life is very different now, but I feel like I did a good job with it. And the reason why I know I did a good job is because I feel, coming into it now, the last few weeks of working, it's been a shock. Because my life has been so different for the last year."
Sam describes each song on his new album as its own short story. The tracks on the record come from not only his experiences, but his family, and his views on what's going on in the world. He tells us, "I feel like I have grown as a songwriter. I've really tried to push myself, and not just write songs that are about me and my relationships. They're about my family, and I've spoken a bit about the world and my views on that. Every single song on this album is a little short story. It's heartfelt, it's not the happiest album, I'm never gonna write the happiest music, because what's the fun in that?"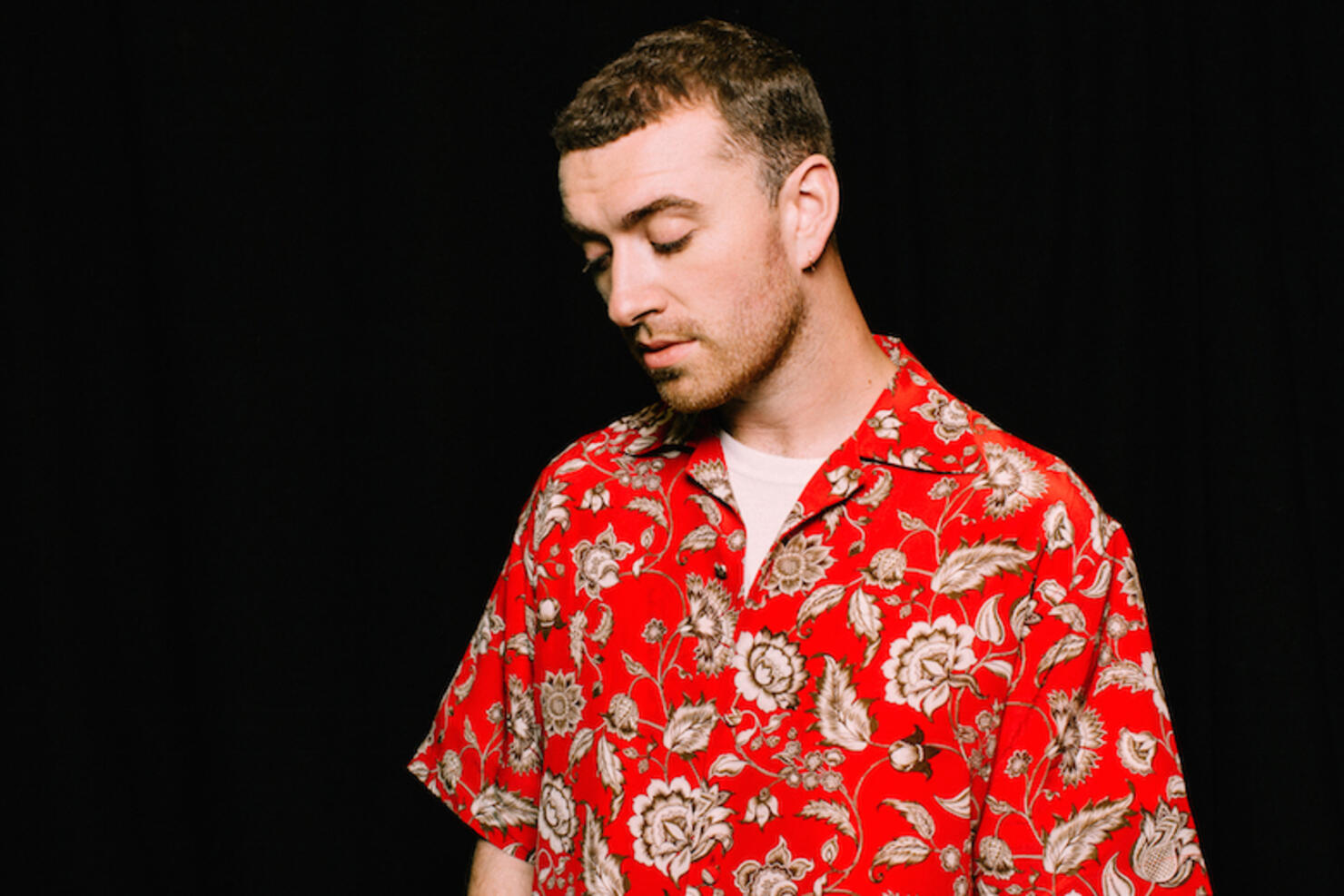 Evolution: From In The Lonely Hour to Album 2
As Sam explained, the singer/songwriter's life has changed over the last few years, and with that change, he has also evolved as a songwriter. He describes this new body of work as "more grown up." He tells us, "I feel rawer in it. I feel like I'm actually showing more of myself." In fact, Sam tells us someone described the change from album one to album two as follows to him: "In The Lonely Hour is like a gin & tonic with your friends, and this album is like a whiskey, late at night, by yourself."
Moving on from his debut album to his second album, Sam does take what he's learned from the process of putting together a full-length LP for the first time, and has applied that knowledge while putting together this new set of songs.
"What I learned from In The Lonely Hour and that whole process was just how important I feel songs are, and how it's important to me to make songs that are very classic sounding in the way they sound. And I'm addicted to the sound of hearing people sing my songs back to me. It's an amazing feeling, and it makes me feel content in that moment, and I don't feel content any other time except that moment. So, the songs are the most important thing, and I'll always be trying to write that song."
Speaking of songs, Sam wrote over 130 songs for this new album with his longtime collaborator Jimmy Napes. And the importance of making the songs "classic sounding" are what helps narrow the music down to a much smaller track list -- and the songs themselves lead the way. Sam explains, "I don't feel like it's my choice, it's the songs. The songs lead the way. And it's the ones that stick around in everyone's mind. When I write music, I do, I think, and I hope I'm good at detaching myself from it, because I let my teams really listen, and it's the ones that affect them."