INTERVIEW: Tattoo Stories With Ty Dolla Sign
By Isha Thorpe
October 6, 2017
Ty Dolla $ign is a work of art from the inside out and we have receipts to prove this.
On the inside, Ty holds a beautiful; memorizing voice that immediately puts you in a trance from the very first note sang. Ty's voice is one of the main reasons why he's such an incredible recording artist. After all, everyone doesn't call on him to collaborate for no reason.
If you're familiar with his music, Ty does it all. He sings, writes his own tracks; he plays the guitar, drums, and piano; and he produces. That's why we're so excited for the artist's upcoming Beach House 3 album. The project is dropping on Oct. 27 and will feature TWENTY songs! Excited yet?
"Recording Beach House 3 has been a movie," Ty exclusively told iHeartRadio. "It's kind of been like recording everything else, except I think we got a little bit better this time and we have some cool surprise guests that I always wanted to work with." Now that we know how amazing Ty's talent is, let's talk about why he's a work of art on the outside – literally. The singer/songwriter/producer has a countless amount of sick tattoos inked all over his body and we wanted to learn more about them. From his arms, legs, stomach, chest, back, and even his head; Ty Dolla is all about that ink life.
iHeartRadio got the opportunity to speak to the artist about his tattoos, why certain ones mean so much to him, the meanings behind some tattoos and more. And don't worry! We snapped some photos of them just for you, too.
Check out Ty Dolla $ign speaking about his tattoos below. On His Neck Tattoo
"This is my signature tattoo, right here on the side of my neck. That's how people know ... say I walk into a restaurant or wherever, people are like, 'Yo, who is that?' Is that Ty Dolla? Is that 2 Chainz? Oh, It's Ty, he's got the neck tattoo.' That's how they know it's me."
On His 'Free TC' Tattoo
"I got Free TC, the name of my first album. And before the album I had that because my brother's locked up. I'm screaming, 'Free TC,' until he's out."
On His Right Hand Tattoos
"I have a portrait of Jesus on my hand right here. Of course, I believe in Jesus.

"And whoop right here is my gang, my crew. On Tattoos That He Regrets
"I had a treble clef here (points to his left triceps) and that was my first tattoo ever... I got it covered up right now because I drew it and it was wack. And I have my ex's name here (points to left chest area) and I covered that up. Don't ever get your girlfriend tatted [on you]."
On His Right Hand Tattoos
'Fast,' everything fast in my life, like it just happens like out of nowhere."

"I got Jecassa right here. That's one of my best friends, he passed away."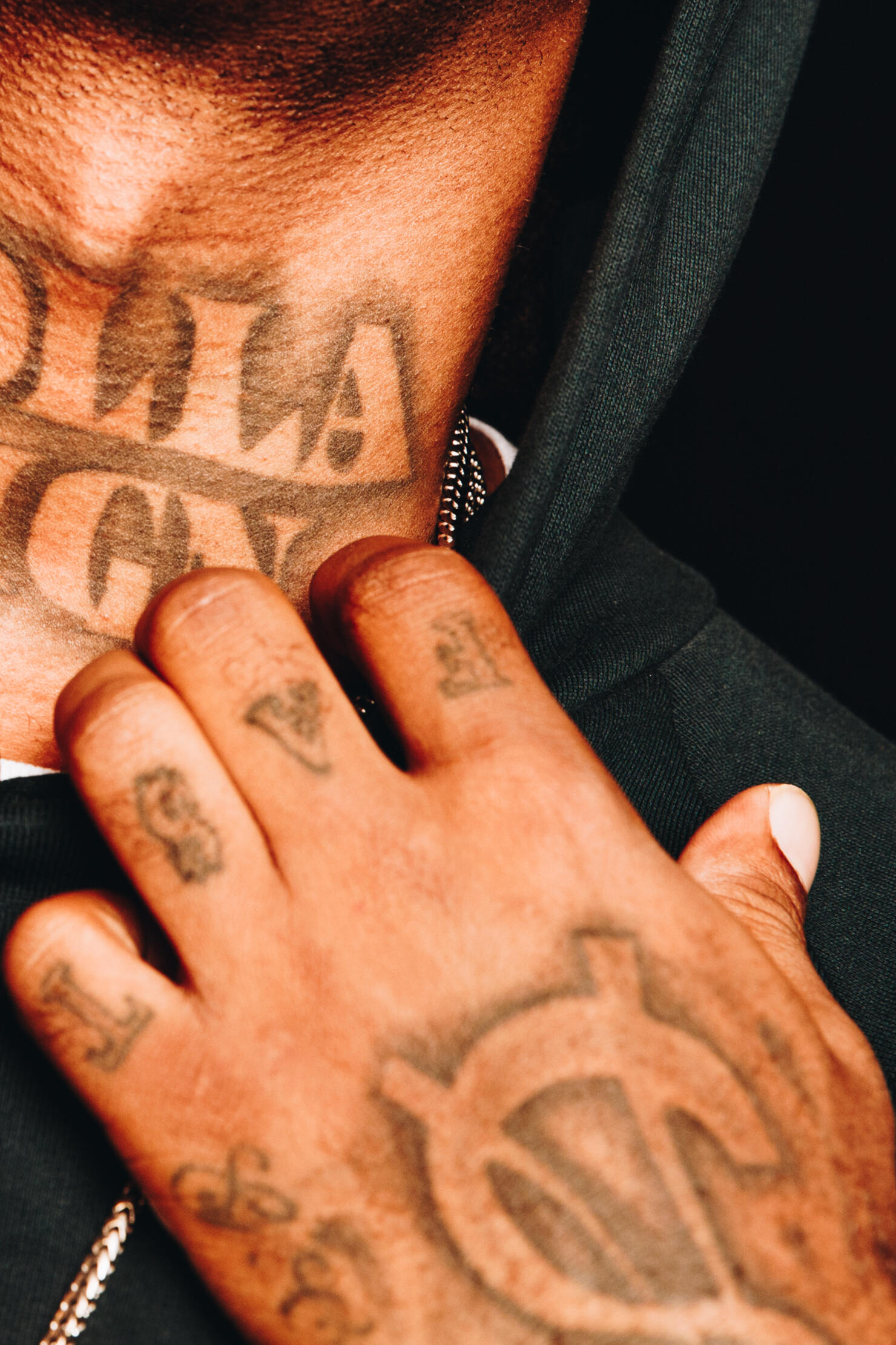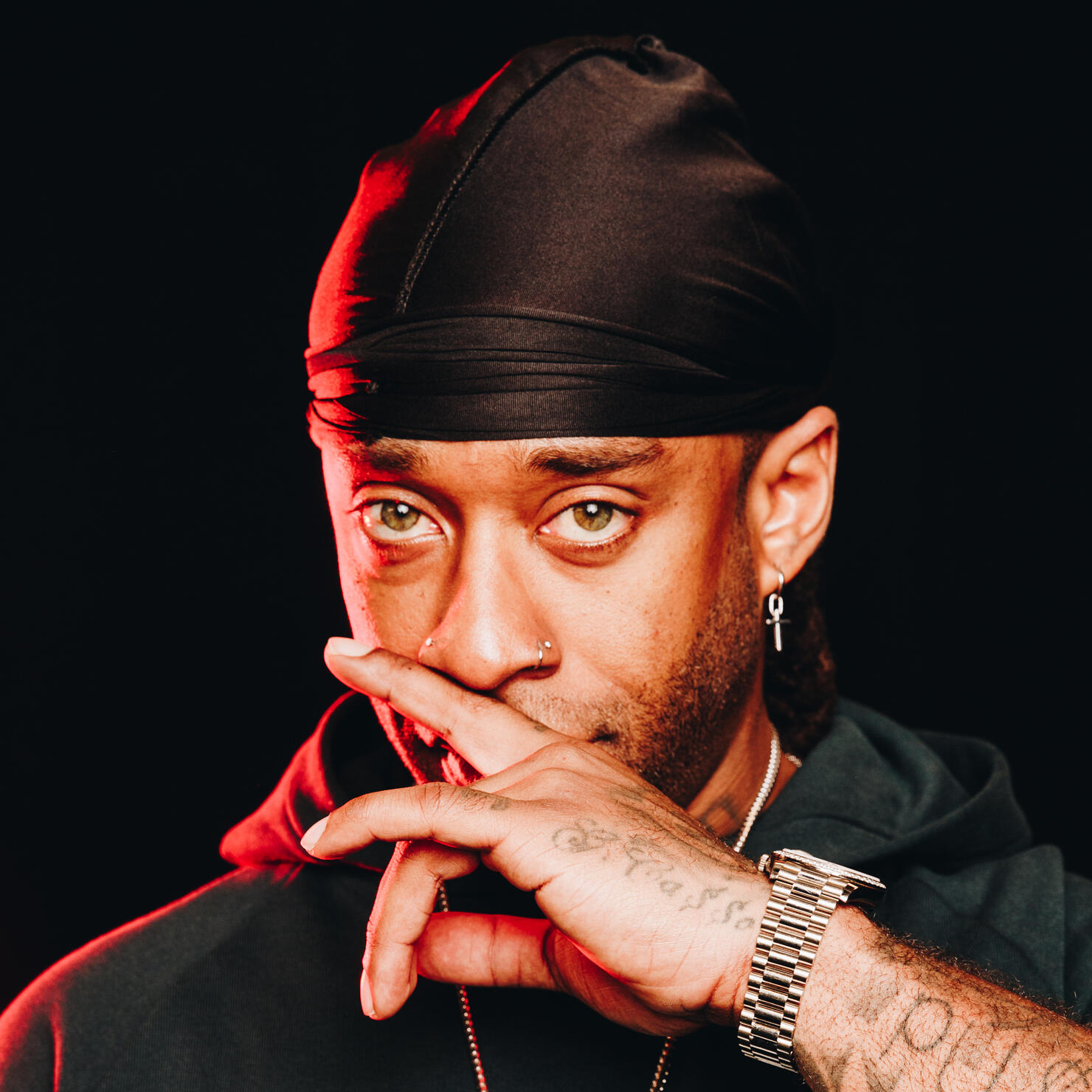 On His First Dolla $ign Tattoo
"This is one of my first tattoos, I drew this as well, my first dollar sign logo. But, I hated it and it's on my hand forever. It's just to remind me of next time, think things through. Everybody that has that one tat..." On His Most Special Tattoos
"The most special tattoos to me are my daughter's portrait, my dad's portrait, my mom's portrait, my granny's portrait, all the portraits. My sister I got, as well, my brother I got, as well. I like to get them when they are alive. I just like portraits." On His Most Painful Tattoo
My most painful tattoo had to be my legs. That shit was f**king crazy... If I tried to be on my phone, or just lay down and try and close my eyes and take it, it wasn't happening. I literally had to look everywhere the needle was going to prepare myself for the pain. But the neck, a lot of people ask about that and that tickled. It didn't hurt at all... My fingers were very painful, as well.
On His Chest Tattoo – A Griffin
"My last name is Griffin. People will be like, 'Yo, why the f**k Ty got the devil tatted on him?' I'm like, 'Yo, it's not the f**king devil, idiot!'" On Tattoo That's Taking The Longest To Do
"The tattoo that's taking the longest to do is my back. It probably wouldn't take that long if I actually just spent a day there and did it, but I haven't had a lot of time so ... Actually when I recorded 'Zaddy,' and when I recorded 'Dolla' off of Campaign, if you listen very closely, you hear the tattoo gun in there. I was recording while getting tatted, like freestyling. Crazy s**t."
On His Kiss Tattoo
"The kiss tattoo is just because my mama used to always give me kisses." On His L.A. Tattoo
"The L.A. tattoo is my city, my home. You know, it's where the most love is and that's where I'm from." On His B-Dog Tattoo
"This right here is just an old tattoo from when I was a kid. It's a B-Dog." On His '$24.00' Tattoo
"$24.00" is a project I'm about to drop soon. It's myself and 24hrs, and we both got it tatted. On If He'll Get Anymore Ink
I'm for sure going to get more. I got so much real estate to go. Got to cover it up... Just finish my legs. Not going to do my ass. Just everywhere else. I won't do anymore to my face. I'm good. Beach House 3 drops Oct. 27. Preorder the album here.
Photos: Rachel Kaplan for iHeartRadio