INTERVIEW: iHeartRadio's On The Verge Artist MAJOR. Talks Music & More
By Isha Thorpe
October 19, 2017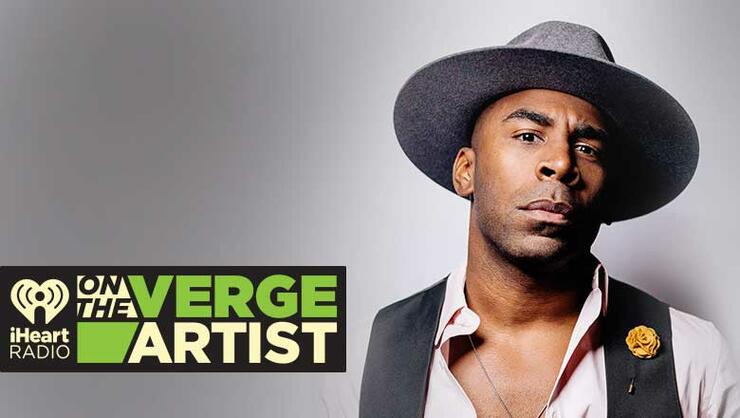 MAJOR. is as huge as his name sounds. The upcoming singer/songwriter first hit the music scene last year when he dropped "Why I Love You" and "Keep On" featuring Kevin McCall.
Since these releases, MAJOR. has been making a name for himself in the industry. The records are both incredible in their own right, as they allow listeners to see just how limitless and unique the rising star's voice truly is. Hearing his vocals is an experience like no other.
MAJOR.'s music is so incredible that a few famous icons have expressed that they're big fans of his work. Music legends such as Patti LaBelle and Stevie Wonder dig his tunes! How many newcomers in the game can say these words? With "Why I Love You" peaking at the 12th spot of the Billboard's Adult R&B Songs last year, as well, it's already looking like the sky is the limit for this guy.
We at iHeartRadio are major fans of MAJOR. So, that's why the phenomenal talent is our very first Urban Adult Contemporary On The Verge Artist. We spoke with him about his music, what inspires him and more much.
Check out iHeartRadio's interview with MAJOR. below.
Buy his new single "Honest" here.
Describe your sound for someone who has yet to hear it.
Pop soul... where R&B meets Soul, meets magic, and it's all from the heart.
Who are 'Why I Love You' and 'Keep On' inspired by?
The world around me. All of creation deserves an anthem that'll push them into the greater things of life. Over 28 million views and counting... I'm blown away by the love.
What do you love most about making music?
I love putting melody to the response I have for making the world a sweeter place. Music has a way of reaching hearts much easier than simple words. When I get a chance to hit the stage with it -- it's MAJOR.
How does it feel to have legends like Patti LaBelle and Stevie Wonder say they love your music?
Crazy! They've been the soundtrack to life before me and even now... So, having their public support only confirms what I've always dreamed about -- inspiring the world one song at a time. Just the beginning, I plan on being legendary, too.
How is it writing songs for other artists, as well? Can you name some who you've written for?
It's an honor! Being able to help capture the conversation they want to have with the world is dope. I've written music for movies, TV and commercials like Think Like A Man Too, Tyler Perry's Haves And Have Nots, American Idol, and more. I'm also one of the writers behind a few pop hits including 'Over & Over Again' by Nathan Sykes and Ariana Grande -- my first Billboard hit!
What's the meaning behind your name, MAJOR.?
It's MAJOR. -- all caps with a period. Believe it or not, MAJOR. is the name my mama gave me. I hated my name growing up because it was different from everyone else's. However, when I was about to graduate college, my mom finally told me she named me MAJOR. in hopes that I make a major. impact on the world. Why did she wait so long? I then knew I had to rise up and embrace my difference -- that's my superpower. So, without apology, I am MAJOR.
What new music are you working on now?
The best music I've ever written thus far is on it's way! Oct. 20 I drop my single & video 'Honest' that I feel is perfect for the times we're living in. It's gonna move the heart of the world. Just watch! Then, my full project comes at the top of the year, all produced by the great Harmony 'HMoney' Samuels. The revolution will be televised. I'm so amped about it!
Watch the official music video for "Honest"
Chat About INTERVIEW: iHeartRadio's On The Verge Artist MAJOR. Talks Music & More